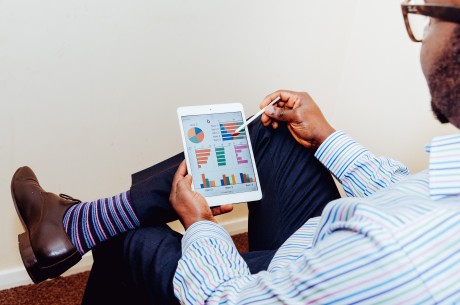 Recognizing that today's business world is increasingly dependent on data, Stonehill College will launch a new Data Analytics Master's Degree Program this fall at its Leo J. Meehan School of Business.
Stonehill's Data Analytics Master of Professional Studies (MPS) Degree Program will provide students with the skills needed to fill a noticeable job market gap: According to a study by Accenture, one of the world's largest consulting firms, some 90 percent of clients have data analytics goals in their strategic plans—but when it came time to hire employees with these skills, over 60 percent of searches failed.
"Never before has data been so important in our lives," said Data Analytics Program Director Michael Salé. "Not only does it help organizations make decisions, but it's of critical importance to the success of virtually every industry. Data analysis is a hugely sought-after skill in today's job market, and it looks to only grow increasingly more so."
PROGRAM ADVANTAGES
With Stonehill's program, students will not only earn a Master's degree in just 12 months, but they will also earn a joint certificate from the SAS Institute, affirming their technical competencies in various SAS analytics products – the largest market share holder in the field.
Meanwhile, the program's "executive format"—a blended model of online and weekend courses—fits seamlessly into students' professional lives while fostering valuable networking and learning opportunities with classmates. Students also attend a three-day intensive seminar at the start of each semester, learning from faculty with extensive field experience.
PROGRAM OUTCOMES
After completion of the program, graduates will:
Earn SAS Joint Certification
Identify a business problem or opportunity and how data analytics can be applied to solve the problem and/or increase business value
Acquire, access, assay and prepare data for analysis
Conduct data analysis with regard for security, privacy and ethics
Interpret and communicate analysis results to stakeholders without bias
CAREER BENEFITS
Career benefits from this program include:
MPS degree emphasizes skills today's employers want
Incorporates hands-on research and client engagements
Executive format built to fit in with life's other demands and foster networking bonds
The launch of this degree is the latest in a string of innovations at Stonehill, including two new schools and accompanying state-of-the-art buildings, plans for additional master's degree programs, a growing list of leadership initiatives, and new majors.

For more information on this program, visit here.