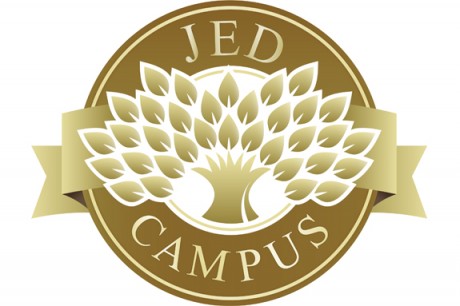 Stonehill's comprehensive programming for student mental health needs has been recognized by the Jed Foundation, a leading organization that works to promote emotional health and prevent suicide among college and university students.
The College is one of just 42 schools across the nation to receive the JedCampus Seal, which recognizes schools that exhibit wide-ranging mental health promotion and suicide prevention programming on campus. The seal, valid for two-years, is part of the Jed Foundation's JedCampus program, which helps schools assess and enhance their mental health support system from a campus-wide perspective.
"The health and well-being of our students is our top priority, so we are pleased to learn our mental health programming has received this very important accolade," said Stonehill's Vice President for Student Affairs Pauline Dobrowski. "The extensive review of our programming by the Jed Foundation has allowed us to identify not only areas we are excelling in, but also areas in which we can further strengthen our efforts in providing our students with the appropriate resources they may need," she added.
Stonehill Health and Wellness Educator Jessica Greene oversaw the completion of the self-assessment, working closely with members of the Student Affairs Division. The assessment then went under a thorough review by the Jed Foundation.
"Jessica Greene was the driving force behind this process, and she has been a strong advocate for student emotional health initiatives at the College," noted Dobrowski. "Her efforts, in addition to the great work of members of our Counseling and Health Services staff, are a critical component in how we best support our students' overall well-being and success."
The Jed assessment looked at several different areas, such as the school's strategic planning, gatekeeper education and crisis management.
The Jed Foundation noted the College's strength in several areas, including its gatekeeper training programs, overall mental health support services, crisis management, and stress management programming.
Jed also highlighted the College's 1-2 QPR (Question, Persuade, and Refer) trainings, which teach participants the signs of suicide and how to help someone and are offered each semester by the Health and Wellness Office. Additionally, Counseling Services and the Health and Wellness Office hold two trainings for Recognizing and Responding to Students in Distress each semester for faculty and staff.
"Receiving the JedCampus Seal validates what we do here for our students," said Stonehill Director of Counseling Services Maria Kavanaugh. "We work hard in providing a caring and supportive environment for our students."
Other programs and initiatives by the Health and Wellness Office include a freshman survival series, stress relief and time management programs and workshops, as well as a stress free relaxation program held during the week of final exams.
Stonehill's Counseling Services offer a wide-range of support services to students, including individual and group counseling, personality assessment, various mental health screening tools, anger assessment, crisis intervention, and a variety of peer education programs.