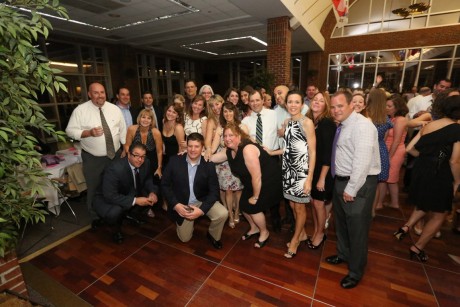 Participation: With more than 800 reunion alumni, Reunion 2013 was officially the largest ever in College history.
Young Alums: Alumni from 2008 now hold the record for the largest turnout ever by a single class, as one third of the class, 230 alumni, returned to celebrate their first Reunion.
Platinum: With more than 100 members present, the Class of 1993 set a new record for attendance at a 20th class reunion at the College.
Classes: Alumni representing 21 classes, from 1952 to 2008, participated in more than 25 events.
Induction: 35 members of the Class of 1963 were inducted into the Pillar Society, the official group for those who have celebrated the 50th anniversary of their graduation.
Time Capsule: On Friday night, the Class of 1988 became the first class to open a time capsule.
Vows Renewed: Nine alumni couples renewed their wedding vows in the Chapel of Mary at a ceremony with new Alumni Chaplain Rev. Tony Szakaly, C.S.C.
Romance: They started dating in their senior year, and, on Friday May 31, Michael Betschart '08 chose Stonehill as the location to propose to Ashley Danella '08 who said yes.
Campus Life: Close to 400 people sampled campus life by staying in the Residence Halls over the weekend.
Generosity: Alumni presented the College with a Reunion gift of $295,559.
Students: 35 members of the Student Alumni Association served as volunteers at Reunion, welcoming alumni, shuttling them across campus, and helping to make the three-day Reunion a success.
Photos: For photo highlights from Reunion 2013, visit here.
Thanks: To all Reunion alumni, thank you for returning to campus and for remaining so loyal to Stonehill.