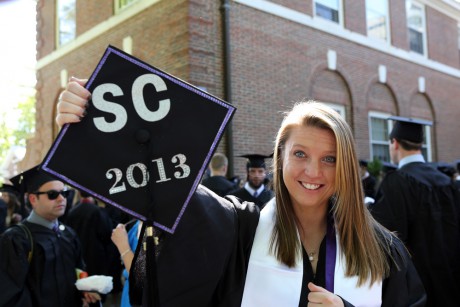 Seek mentorship, take risks,and never stop learning. Avon CEO Sheri McCoy offered Stonehill's Class of 2013 those three key pieces of advice as they enter the next phase in their lives. A total of 633 students, the largest class in history, participated in the College's 62nd Commencement ceremony under clear, sunny skies on Sunday. McCoy, Northeast Utilities CEO Thomas J. May '69 and his wife Donna M. (Jermyn) May '70, as well as President of St. Edward's University Dr. George E. Martin received honorary degrees.
"I rely on mentors to help keep me balanced and provide an outside perspective that is both candid and unvarnished. I take risks. Certainly I took risks in moving to my current job, leaving a company where I'd worked for 30 years to lead a turnaround effort in an industry that was new to me…And I never stop learning– from my colleagues, my customers, and, sometimes, from my mistakes," McCoy told the graduates.
"In closing, consider this wonderful moment of graduation as not just the end of your college years, but the beginning of a life of learning and growing. Stonehill College has given you a wonderful foundation. Now it's up to you to go out and build a great life…I can't wait to see what you'll do next," she concluded.
Thomas May, along with his wife Donna, were presented with honorary Doctor of Business Administration and Doctor of Humane Letters degrees, respectively. Long-time supporters of the College, the two have also devoted their time, talent and resources to Boston Children's Hospital, Dana-Farber Cancer Institute, the United Way, Camp Harbor View and the Boys & Girls Club.

Dr. Martin, who has devoted his life to Catholic higher education, was awarded a Doctor of Education honorary degree. As the President of St. Edward's University in Texas since 1999, he has helped the school grow by leaps and bounds. In both 2010 and 2011, it was named an "Up and Coming University" by U.S. News & World Report.

In addressing her fellow students, Frances Walsh '13 compared her Stonehill experience to tie-dye shirts. "It sounds unconventional, but I can guarantee you that tie-dye is, in fact, the only way to truly reflect on my college experience," Walsh explained.
"Today, we all look around and see our friends, the buildings where we took classes, the quad where we threw a Frisbee around, the athletic fields where we showed our physical prowess, and the library where we suffered to get good grades…but four or five years ago, when we took our tour, Stonehill was just another college. Or maybe just another white shirt," Walsh continued.
"It was up to us to add color and passion to our lives. Think of all the activities you did that added something to your clean, white shirts… While we may be reluctant to leave Stonehill, our temporary home, we must go forward recognizing that the best in our lives is always around the corner. The lessons we learned in college, the people we met, and the experiences that have lit our passions are not behind us. Instead, they are part of us forevermore," Walsh concluded.

President of the Senior Class, Lindsay Beauregard '13, presented President Mark T. Cregan, C.S.C. '78 with the largest Senior Class Gift in history of $13,000. Alumni Council President Catherine Campbell '96 followed by welcoming the Class of 2013 into the Alumni Association, which now consists of over 24,000 alumni (Jenna Lee Morris '13 became Stonehill's 24,000th graduate).
Speaking on behalf of all Stonehill alumni in attendance, who were asked to stand, Campbell said "It is our distinct honor to be the first to greet each of you as a fellow Stonehill College graduate. On behalf of the 61 classes who have graduated before you, we offer you, the graduates of the Class of 2013, congratulations and a very warm welcome."
In his closing remarks, President Cregan first paid homage to Rev. John Denning, C.S.C., who on Friday, was elected Stonehill's next president. In September, Cregan announced he was stepping down after 13 successful years of leading the College. Rev. Denning will assume the presidency on July 1.
As he continued on in his final Commencement address, President Cregan spoke of love and gratitude. "I am grateful to all of you and in a special way to the Class of 2013. You have taught me much in your time here and have energized me in so many ways…As you and I both go forth from this place we all love so much, we go with a knowledge that this institution will continue to prepare young men & women for great futures."
"I salute you the Class of 2013. My prayers will be with you…And let us all continue to support the work of Fr. Denning and all here at Stonehill as it continues to be a place of light and hope for all who are a part of this community," Cregan concluded.