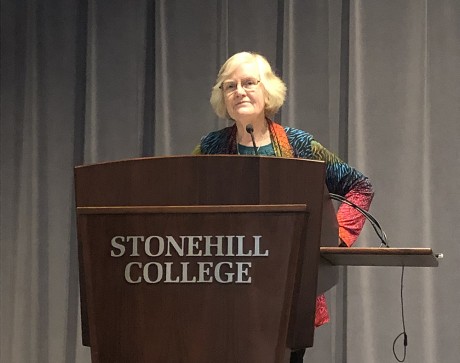 A marine scientist and a concerned citizen, Judith McDowell '69 has devoted her professional career and personal life to the protection and preservation of the environment. When she entered college, women had two career choices—teaching or nursing but McDowell had her heart set on science and she pursued that goal tenaciously and successfully.
A pioneering woman, she went on to become an esteemed scholar, a teacher, a dean, and an advocate for nature, our oceans, clean water and the health of our planet. In addition, she has been a mentor to many young scientists, especially women. In 2005, the College honored her with the Outstanding Alumnus Award in tribute to her professional and scientific accomplishments.
Below are the remarks she gave to the Class of 1969 on the occasion of their 50th anniversary of graduating from Stonehill. In them, she reflects on the spirit of the sixties, women in science and environmental issues.
A Half-Century Later
It is hard to believe that a half-century ago we graduated from Stonehill College. I can remember my first day, as if it were yesterday. As the first class of women who were accepted as residents on campus, we heard a few weeks before we arrived that construction of a new dorm was delayed, but we would be living in brand new apartments in the center of North Easton. The day my parents drove me to Stonehill, we arrived at the designated address in North Easton that the new apartments were so new that they hadn't been completed! What to do next? My stern but sweet father was ready to return home, but my practical and equally sweet mother convinced him to drive to campus and find out the plan. The plan was to house us in a reconverted cow barn that served as the seminary retreat house. OK, not the expected, but we go with the new plan.
Settling in on Campus
We were all excited to settle in to our new home, although we learned that it was only temporary until a better solution was found. We started classes and got used to campus life, made new friends, and all was well. The first major snowstorm that years was in October and since the retreat house was not winterized, it was time to move.
Where to? Our next big adventure began and we moved to the Westgate Apartments in Brockton to 2-bedroom apartments, 4 girls to an apartment.
We had a house mother, Mrs. Callahan, who did bed checks every night, we learned to cook, plan our meals and other expenses, and a school bus picked us up every morning and brought us back every evening. Not the expected, but we adopted the new plan.
First Women's Residence Hall
Two years later we moved to the first women's dormitory, Boland Hall, and finally shared the campus life that we had expected during our freshmen year. I use this example of our time at Stonehill because I think dealing with the unexpected built our resiliency, maturity, and determination to succeed.
When my children ask me about college life in the 1960s, they want to know what we wore, how long was our hair, did we protest, our favorite music, etc. My roommates can attest that my sewing machine was always available to design a new dress or make a pair of bell-bottoms as I did for Jimmy Doherty (now Father James Doherty) with a psychedelic tie for a school dance.
Beyond Fashion & Music
But the 1960s meant more than fashion and music. The 1960s brought great changes to the political and social landscape in the United States. Americans made their voices heard in the streets and inside the voting booth. More Americans were voting in the 1960s than in any other decade since World War II.
The Civil Rights Movement, Anti-War demonstrations, equality for women challenged the existing order of American society. The violent loss of popular political leaders such as John F. Kennedy, Martin Luther King, and Robert F. Kennedy reminded us of the fragile nature of our society. The 1960s were a time of great social upheaval and change.
When I reflect on the sixties and the social and political turmoil that occurred across the nation, I appreciate our ability to discuss complex topics of the day on campus without retribution for diverse opinions. We grew into adults amidst one of the most dramatic periods of social and political transformation of the century, but that transformation made our generation one of the most active voices for positive change for the remaining decades of the 20th century. We are the generation that pushed for social justice, greater equity, and greater acceptance of all people.
Environmental Revolution
During the 1960s there was also an environmental revolution, championed by an unlikely hero – a petite marine biologist and talented writer, Rachel Carson. I never had the opportunity to meet Rachel Carson, but her legacy influenced my future career choices. There is a statue of Carson in Woods Hole, on the shore where she spent so much time analyzing biological samples.
For the first 30 years of her life, Rachel Carson worked hard to gain credibility as a woman in the sciences. She was one of the few women to work for the U.S. Fish and Wildlife Service.
Her exceptional writing skills were a professional asset, and a source of supplemental income. She wrote beautiful prose about her observations of the sea - The Sea Around Us, The Edge of the Sea, were NY Times bestsellers, but it is her book Silent Spring that launched an environmental movement over excessive pesticide use and its effects on wildlife and other living systems. In the late '50s, Carson moved to Massachusetts, where she received a letter from the custodian of a local bird sanctuary destroyed by the pesticide DDT used in neighboring fields.
Chemical Industry Pushback
DDT was introduced during World War II and there is no doubt that its use in tropical regions for mosquito control saved many lives from malaria. That was its intended use, but widespread use on agricultural fields in the U.S. at unregulated doses supported profits for the chemical industry, but slowly destroyed wildlife populations and livestock throughout the country.
In Silent Spring, Carson documented not only the loss of wildlife, but also the loss of livestock due to DDT poisoning on the same farms where the pesticide was used to treat crop pests. Carson presented the scientific data that linked pesticide use with unintended consequences.
Even before Silent Spring went to press, the chemical industry launched a vicious campaign against Carson. They threatened her with lawsuits, attacked her credentials, advised the press to dismiss her as a "hysterical woman," and even suggested she must be a Communist. But Carson's publishers stood by her work and her book was published. Since the 1962 publication of "Silent Spring" - in which Carson described the effects of pesticide use on the environment – the chemical industry criticized her for questioning the "irresponsibility of an industrialized, technological society toward the natural world."
Despite attempts by the chemical industry to discredit Carson's science, her work is credited with beginning the American environmental movement, the creation of the Environmental Protection Agency, and the 1972 ban on DDT. Her book educated many people about the dangers of indiscriminate pesticide use, and challenged them to become informed and to act.
President John F. Kennedy after reading Silent Spring asked his science advisor, Dr. Jerome B. Wiesner, to study the pesticide issue to produce a report containing recommendations for the use and regulation of pesticides in the United States. "The Use of Pesticides," issued on May 15, 1963, called for decreased use of toxic chemicals and the development of chemical controls that were less persistent in the environment: "Until the publication of Silent Spring, people were generally unaware of the toxicity of pesticides."
At the time of Rachel Carson's battle with the chemical industry, she was also battling breast cancer and died in 1964, but her legacy launched an environmental movement that led to legislation to protect our drinking water, the air we breathe, our coastlines, and our protected lands.
Protecting Future Generations
It is with Carson's legacy and the work that needed to be done that launched me on my career path. I chose to take my science background from my education at Stonehill to continue the journey that Carson started and for the past 50 years I have devoted my energy to implementing science-based policies that protect our environment for future generations.
After Stonehill, I went to the University of New Hampshire for a Ph.D. in Zoology combining interests in physiology, chemistry and the environment. After completion of my doctoral degree I went on to join the staff of the Woods Hole Oceanographic Institution. There were very few women in the field when I started, but that started to change. The early 1970s were a critical turning point; interest in environmental regulations and research was exploding at the same time that opportunities for women in science were rapidly expanding.
We have seen much progress during the last fifty years in improvement in environmental regulations and protection of the environment, but the job is not done. We need to impress on the next generation that Earth is a fragile planet that needs our protection and wise management for future generations.