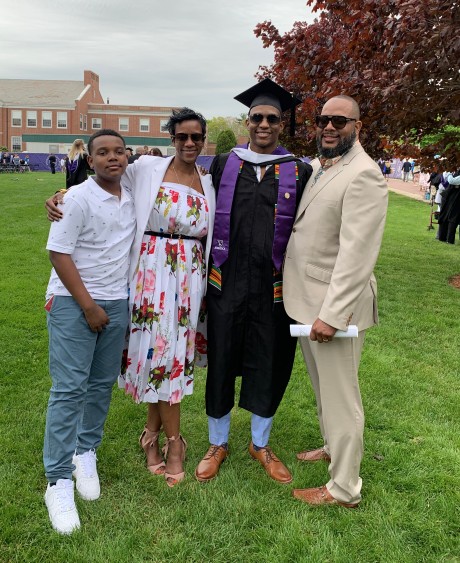 Billy Wingo '19 knows about beneficial pain.
As a hard-playing linebacker on the Skyhawks' football team all four years, he knows how to take a hit for the team.
But "beneficial pain" took on a whole new meaning this past Valentine's Day, when Wingo was diagnosed with testicular cancer.
He initially went to Compass Medical Urgent Care near campus, complaining of back pain and constipation. He expected a quick fix. But the doctor examined more closely.
"I knew something was wrong. She told me to call my mom before she talked to me," says Wingo, 22. The doctor had "noticed a mass close to my lungs, and told me to get further evaluation."

Wingo flew home to Baltimore that night to his family—dad William, mom Desiree, and brother Malcom, 12—and was in the Johns Hopkins Hospital emergency room by 11:30 p.m. He was seen around 6 a.m., and tests started right away.
Tears and Questions
"Testicular cancer had spread to my lymph nodes and lungs. It was Stage 3. That's when it really hit me. That's when the tears started to come. The 'why' questions—why me, why now," he recalls.

After surgery, Wingo started his months-long chemo treatment on Feb. 26, the day before his 22nd birthday.
Despite an initial dip in his spirits, Wingo soon began to rally and push back against the disease.
"I just knew there was a lot of stuff I wanted to still do in life. I wasn't going to let this impede me from doing them."
Pushing Back
Putting self-pity aside, he focused his mind and energies on being strong during treatment.

The chemo ravaged his football player's frame—taking him from 220 pounds down to 180. Yet he remained enrolled in three courses—two art class and a philosophy class—while at home going through treatments.
"I had the syllabus, and worked with my professors through e-mail. I had weeks off in between chemo—I'd have full week of chemo where I had to go [to the hospital] every day. When I was sitting there for eight hours of chemo, I did my homework."

After his last day of treatment, he returned to Stonehill for graduation.

Director of Academic Services and Advising Zach Brown, "was a huge help in guiding me and making sure I would walk for graduation," says Wingo, adding that he had to take two summer online courses.

"What a mature student, always upbeat and looking towards the future. His perseverance to pursue his academic endeavors while battling his health condition was so impressive," recalls Senior Associate Director of Athletics, Cindy MacDonald.

"Billy has a tremendous heart and was very determined to persevere through this adversity," adds Head Football Coach, Eli Gardner. "His main focus was to overcome his circumstances and walk at graduation with his teammates and brothers. It was no surprise to us that Billy accomplished something he set out to do."
From Diagnosis to Blessing
Two years before Wingo's diagnosis, he and eight pals were talking, when one friend complained about paying money to get his car fixed.
Another told him: "Yeah, but then you'll have your car back. That's beneficial pain."
Wingo, a Marketing major, recalls: "We jumped on him: 'Where did you get that? Did you make that up? That's a great name! We could make a company out of that.'"

While in chemo treatments, aside from keeping up with his Stonehill coursework, he also starting building a nonprofit: Beneficial Pain.

"This is what we talked about before. I can get this company off the ground. In many ways, cancer was a blessing… When I got diagnosed, I recalled that idea of beneficial pain, and it played right into my approach to battling the disease. This concept is what we wanted our company to be about. The idea burst into life."
He purchased the Web site name, made T-shirts, designed a logo, and crafted a mission statement. He sent out a group text: "This is my plan to bring it back, whoever wants to be a part can join. I'm taking this more seriously now."
All eight of his friends joined him.
Inspiring Others
Today, Wingo is cancer-free and the CEO of Beneficial Pain, a Baltimore-based nonprofit with the slogan "Pain is inevitable, make it beneficial," and the mission to "hear the stories of others, with the goal to inspire one another, lift up one another, and remind us all that it's not about the destination but the journey."
The organization "partners with non profits and community organizations that align with the BP mission." Their newly-launched Instagram account already has more than 1K followers. They recently held a Spin-a-thon fundraiser to help the Ulman Foundation, a cancer support group for young adults.
Beneficial Pain's message of hope is not just for cancer patients, Wingo says, but for people dealing with anything from addiction to anxiety, relationship issues to sports injuries, obesity to LGBTQ issues. They're tentatively planning a fundraiser to help area school kids for the fall.
"When you're young, you feel invincible. I know I did," says Wingo, who also works as a broker at New Day USA, a mortgage company for veterans.
"It's not until later that you realize death is real—being diagnosed allowed me to realize that. That's a blessing, because I look at life differently. I don't take things for granted."


by Lauren Daley '05