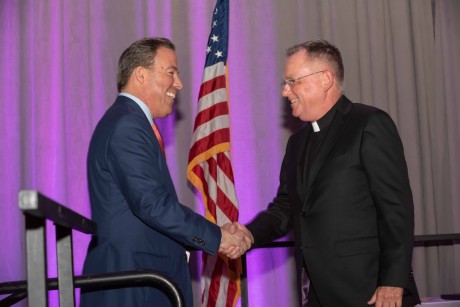 Bob Rivers '86 shared the following remarks upon receiving the 2019 President's Award for Excellence in the Sally Blair Ames Sports Complex on Thursday, May 30.
Good evening! It is truly a special evening to be among so many fellow alums, colleagues, and friends, especially here at a place that has such a profound impact upon my life and career.
Serving on the Board of Trustees at the College has been truly a "bucket list" item for me and something I am deeply honored and humbled to have the opportunity to do.
As some of you know, I grew up just six miles down Route 138 in Stoughton and I will tell you that as a 17-year old high school graduate I would have been very surprised – shocked, in fact – to be standing before you this evening.
You see, Stonehill was the only private college to which I was accepted that I could afford to attend by working as a part-time bank teller and a full-time bank janitor.
As a result of a scholarship that covered most of my tuition, I was able to pay the difference on my own, something my parents were not in a position to do.
I was a commuter, but I could not afford a car, so I instead traveled here by bus, on the Brockton Area Transit (also known as the "BAT Bus"), which took a circuitous route from Stoughton Center through downtown Brockton to Stonehill, which took about an hour versus what would otherwise have been a 15-minute drive. Believe me, you made very sure that you did not fall asleep on that bus and miss your stop!
Although I made friends quickly with fellow students who lived on-campus, much of my time was spent right here, studying and waiting for the bus which picked me up and dropped me off where the Martin Institute is today.
My Stonehill education led directly to my role at Eastern Bank today, not only because of finance and accounting courses supported by a strong liberal arts foundation, but also because of a specific assignment given in my senior year.
Thirty-three years ago, the head of the Business Department at Stonehill was a gentleman by the name of Bill Burke, a former CFO at a large chemical company, who taught here for 25 years.
For that assignment, Professor Burke asked us to write a "business plan" for our life after college, outlining an ultimate goal and the steps necessary to achieve it.
Furthermore, in establishing this ultimate goal, he told us to aim high, for something seemingly unreachable, with the idea if we aimed way up here, but fell short, we'd still end up further ahead than if we had established what we would consider to be a more reasonable target.
This was a daunting task. Most of us were focused on getting a good job within the next few months and hadn't even begun to consider our career over the next few years, let alone few decades!
After a few days of thinking about this challenge, I decided to write down "become the President of the largest bank headquartered in Boston by age 40".
I had absolutely no reason to think this was possible. In addition to my working class roots and limited financial resources, I was about to become just the second person in my family to graduate from college.
No one in my family had ever been in banking and had no connections to anyone in the industry whatsoever. In fact, I had just been rejected for a slot in the Bank of Boston's then-coveted training program!
However, by virtue of being a teller at my hometown bank, I was already in banking and I liked it. And Professor Burke told me to aim high, so why not?
Over the next two decades through a lot of hard work and some lucky bounces, I became the President of Eastern Bank at age 42.
And it was here at Stonehill that I met a young woman who would become my wife and who later ignited my passion for social justice and sustainability, principles that I am so proud to say that the College upholds in so many ways today.
So, as you can see, Stonehill College has very much made me the person I am today, not the least of which is my pursuit of equal access and opportunity for all to pay forward the life-changing experience that Stonehill provided for me.
Thanks to all of you for your support of Stonehill College and for the opportunity to share my story.