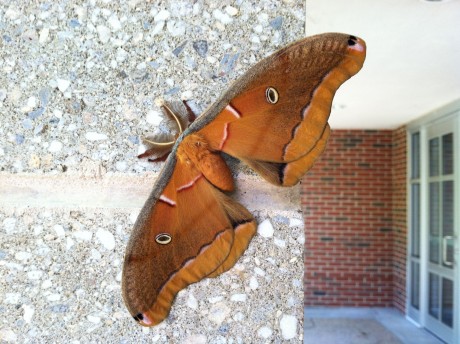 Stonehill facilities worker John Hepburn is part of a maintenance team at the College, but, in addition to keeping campus buildings in prime condition, he has an eye for nature. When he spotted an unusually large moth near the Notre Dame du Lac residence hall, he alerted Biology Professor Maura Tyrrell.
She was able to key it out from John's picture as a polyphemus moth. When she looked up polyphemus moths in Massachusetts she found they were not included in the Butterflies and Moths of North America (BAMONA) database for Bristol County
Tyyrell then reported the sighting to BAMONA and it is now represented on the species map.
Tyrrell notes, "Credit goes to John for appreciating what he saw and sharing it with us. I am always impressed by how our Facilities staff take such pride in the beauty of our campus."
The polyphemus moth is one of the largest and most beautiful silk moths. Tan in color, its average wingspan is six inches long. The most notable feature of the moth is its large, purplish eyespots on its two hind-wings.