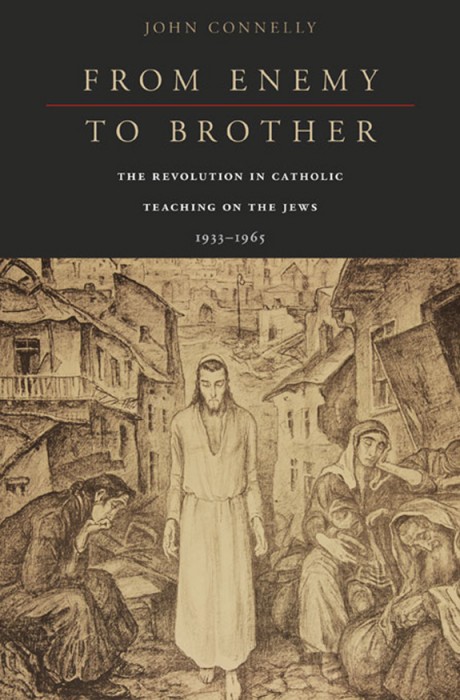 Author and University of California- Berkeley History Professor John Connelly will discuss his new book, From Enemy to Brother: The Revolution in Catholic Teachings on the Jews, 1933-1965, as part of the annual Kenneally Lecture Series on Tuesday, Oct. 22 at 4 p.m. in the Martin Institute.
Each semester, Stonehill welcomes a leader in interfaith dialogue to lead the lecture, named after former professor emeritus of history James J. Kenneally.
Connelly's newest work, From Enemy to Brother, focuses on the dramatic change of the Vatican in its views on Jews. In 1965, the Second Vatican Council declared that "God Loves the Jews," but in the decades prior, where millions of Jews across Europe were slaughtered during the Holocaust, the Church continued to teach that Jews were responsible for the death of Christ. Connelly discusses the shifts undertaken inside the Vatican, and how a small group of Catholic converts fought to change the Church's teaching on Jews.
Besides his most recent work, Connelly has also published the award-winning book Captive University: The Sovietization of East German, Czech, and Polish Higher Education, 1945-1966. Published in 2000, the work has been translated into both Czech and Ukrainian, and was awarded the 2001 George L. Beer Prize of the American Historical Association. Connelly has also written countless essays and scholarly articles. He received both his masters and Ph.D. in history from Harvard after completing his bachelor's degree in international relations from Georgetown.
About the Annual James J. Kenneally Lecture
The Stonehill Catholic-Jewish Dialogue Committee was founded in 1993 following a program on the Holocaust at the College. Recognizing the need for greater understanding and dialogue between Christians and Jews, Stonehill History Professor James J. Kenneally invited interested individuals from the College and surrounding areas to join together to promote interfaith dialogue. The Committee serves to educate the public about the Jewish and Catholic faiths.
On March 20, 2002, the Catholic-Jewish Dialogue Committee honored its founder and former chair, Dr. James J. Kenneally, by naming the annual lecture in his name. Professor of History Rev. Kevin Spicer, C.S.C. '87 chairs the committee.