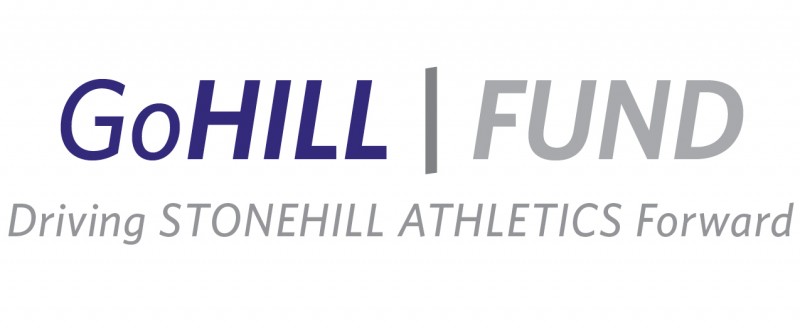 A quality collegiate athletic program has always relied upon successful collaboration to achieve goals, and it is no different at Stonehill. Through the hard work and dedication of our student-athletes and coaches and the generosity of our alumni, Stonehill's athletics program continues to produce incredible results.
Gifts to the GoHill Fund advance the development of Stonehill Athletics. They provide the means to grant scholarships, improve facilities, fund out-of-region travel and foster the growth and development of students and staff.
Giving to the GoHill Fund ensures we can fulfill our commitment to:
Compete and succeed at the highest level in each of our 22 varsity sports.
Uphold the highest standards of academic and athletic integrity.
Provide a transformative experience for our student-athletes.
Support the College's mission to educate the whole person so that each Stonehill graduate thinks, cts, and leads with courage toward the creation of a more just and compassionate world.
SUPPORT ATHLETICS WITH A GIFT TO THE GOHILL FUND
Join us for GoHill Day | Saturday, November 2, 2019
5 Home Athletic Competitions
Men's Soccer | Football | Women's Soccer | Women's Volleyball | Ice Hockey
Reception at the tent at W.B. Mason Stadium
12:00 PM - 3:00 PM
REGISTER FOR GOHILL DAY ON NOVEMBER 2
Family friendly event!
BBQ Buffet
GoHill Fund T-Shirt Giveaway
Activities for kids and visits from Ace the Skyhawk
Visit with Stonehill Varsity Coaches
Corn hole boards at the tent
Yard Sale of Athletics Uniforms and Gear | Field House, Sally Blair Ames Sports Complex
While the reception is complimentary, advance registration is required.
Please click to register for GoHill Day.
All games are complimentary, with the exception of football.
You will be provided with a link to purchase football tickets after you complete registration.
Home Athletic Schedule
Men's Soccer vs Saint Michael's
11:00 AM | Skyhawk Field
Football vs Southern Connecticut State
1:00 PM | W.B. Mason Stadium
Women's Soccer vs Saint Anselm
2:00 PM | Skyhawk Field
Women's Volleyball vs Adelphi
3:00 PM | Merkert Gymnasium
Ice Hockey vs UMass Dartmouth
7:30 PM | Foxboro Sports Complex