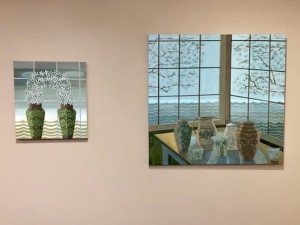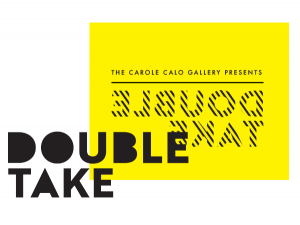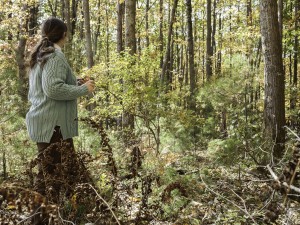 Gail Spaien: Renegade Mirage Gallery Reception, February 11, 6:00 pm
Gail Spaien's recent series of paintings, entitled Renegade Mirage, invites viewers to take the time to pause and gaze out at a world that is free from unpleasant things.
Learn more
Double Take: Monday, November 5 through December 14, 2018
Double Take challenges viewpoints through varying optical perspectives. A viewer's subjectivity is influenced by both visual and physiological means. Double Take centers on abstraction and aims to alter one's perception of reality..
John Hirsch And Again: Photographs From the Harvard Forest
In the midst of the exhibited photographs, please join us for a conversation between photographer John Hirsch, Visual and Performing Arts and Environmental Science faculty about the intersections of art and science and how they can support each other.
Dare to Blush : Stephanie Cardon
Oser Rougir (Dare to Blush) - 2017 Chiffon, bias tape, thread, glue, hooks - 72 x 48 x 7 inches (variable) Stephanie Cardon is a cross-disciplinary artist from France and the United States with long-standing interest in space and architecture, language and text-based forms, photography and the image…
Calo Gallery to Exhibit Down To Earth
The Carole Calo Gallery at Stonehill College is pleased to present Down To Earth, featuring the work of Nedret Andre, Resa Blatman, Terry Gipps, Plotform (Jane D. Marsching and Andi Sutton), Richella Simard, Maryjean Viano Crowe, and Deb Todd Wheeler from November 9th- December 12th.
In addition to exhibits by professional artists from outside the College, there are also several yearly exhibits that include:
A rotating Faculty/Alumni Exhibition
The Exhibitions and Collections Course exhibition
Graphic Design Annual
The Senior Fine Arts Annual
A valuable resource for art students
Networking opportunities
The relationship between art students and alumni who have gone through the program is robust. Alumni remain connected and are a great resource for students currently in the program. In addition, the gallery director organizes an annual career roundtable that provides VPA students an opportunity to interact with arts professionals in a small personal setting. Typically, there are 5-7 panelists, including some alumni, who have a broad range of experiences and backgrounds.
Gallery experience
An average of 6-7 work-study gallery assistants are hired each year. Many continue as gallery assistants throughout their time at Stonehill. Over time, each assistant executes all duties necessary to install a professional exhibition. This includes helping to assess artist submissions, clerical organization, exhibition planning, layout, physically installing and uninstalling exhibits and assisting in any graphic design projects. This real world experience is a major advantage for students applying for internships and professional positions. Aneleise Ruggles, who graduated in 2010 with a degree in Studio Arts and was actively involved in organizing Carole Calo Gallery exhibits, is now exhibitions coordinator at the Arsenal Center for the Arts.
Courses directly affected by gallery programming
Exhibitions and Collections
Senior Studio Seminar
Graphic Design Senior Portfolio
Mission Statement
The Carole Calo Gallery, within the Fine Arts Department of Stonehill College, promotes the accessibility of all forms of visual art to students throughout the college and to the Easton, Massachusetts community at large.
It is our belief that the exhibition and viewing of quality works of art serves to inspire high standards of excellence not only in the creation of art, but also in the professional, scholarly, and varied creative endeavors of all Stonehill students. The Carol Calo Gallery exists to encourage an exploration and appreciation of diversity in the visual arts.
As an organization we strive to nurture the development of connections between our students, our community and the wide field of art and culture.