Rev. John Denning, C.S.C.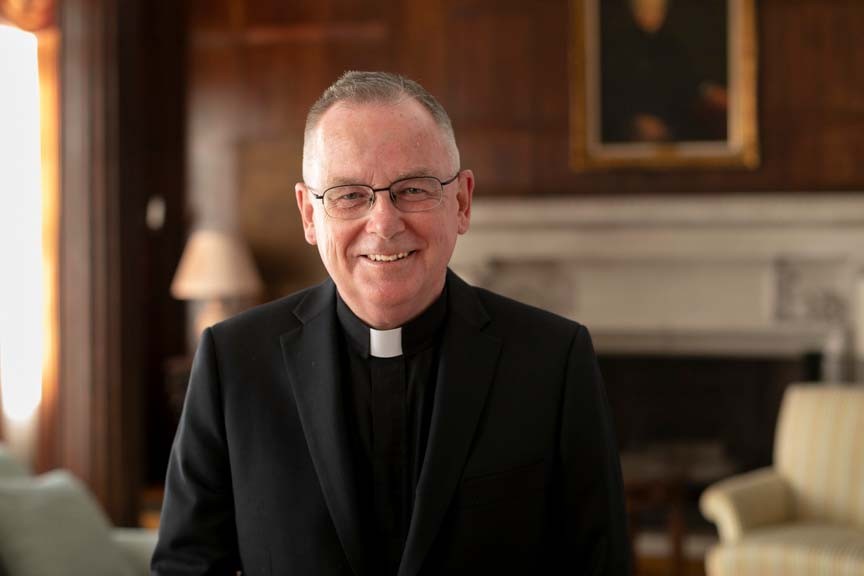 Rev. John F. Denning, C.S.C., took office as the tenth president of Stonehill College in 2013. A student-focused educator in the faith, he is committed to enhancing the College's scholarly reputation, its Catholic identity and the student experience.
Fr. Denning has established programs that ensure students' success and encourage them to think, act and lead in ways that positively impact the world. He not only presided over the development of several new graduate programs, but also led the College's reorganization into two schools: the May School of Arts & Sciences and the Meehan School of Business. In 2019, he oversaw the re-accreditation process for the New England Commission of Higher Education. In Fall 2021, he oversaw the launch of Stonehill's Center for the Study of Race, Ethnicity, and Social Justice. Most recently, he guided the College through its COVID-19 response efforts and helped shepherd To Be Bold, Stonehill's $75 million comprehensive campaign.
Additionally, he strengthened the College's physical infrastructure with several major building improvement projects, including the construction of the Leo J. Meehan School of Business; the Thomas & Donna May School of Arts & Sciences; the Rev. Mark T. Cregan, C.S.C., Athletic and Fitness Center; and the Rev. Thomas Feeley, C.S.C., Pedestrian Bridge. He also oversaw the installation of solar panels on campus and the dedication of Thomas F. and Kathleen A. Bogan Hall, a residence hall.
Fr. Denning serves as a trustee on the boards of many other institutions and organizations, including King's College; Xaverian Brothers High School; the Diocese of Fall River Catholic Schools Board; and the NCAA Division II President's Council.
Prior to his presidency, Fr. Denning served as the College's Vice President for Student Affairs, as well as the inaugural Vice President for Mission, launching initiatives to enhance Stonehill's Catholic identity. He began his service at the College in 2000 as Director of Campus Ministry.
Fr. Denning's breadth of experience extends beyond Stonehill College. He was a campus minister at the Catholic Center at Bridgewater State University; teacher, coach, and chaplain at Coyle & Cassidy High School; and vocations director for the Congregation of Holy Cross. He was ordained as a Holy Cross priest in 1987.
A Rhode Island native, Fr. Denning graduated from LaSalle Academy in Providence. He received a bachelor of arts degree from Tulane University. He holds a master of divinity degree from the University of St. Michael's College in the University of Toronto. He earned a doctorate in higher education from the University of Massachusetts Boston.
Presidential Inauguration
The Presidential Inauguration for Rev. John F. Denning, C.S.C., the tenth President of Stonehill, was held Friday, September 20, 2013, in the College's Sports Complex.

Stonehill College has named Rev. John Denning, C.S.C., as its tenth President following a unanimous vote by its Board of Trustees on Friday, May 17, 2013.