In case you haven't noticed...early last year our Knowledge Base got a significant upgrade. The new KB contains all the useful information from our old one and offers a variety of helpful new features. Click the Knowledge Base link from its new, prominent location on our navigation menu to check it out.

One of the new features we'd like to spotlight today is the Feedback feature. This allows you to leave comments to IT letting us know whether you found an article helpful or not. We value your feedback and opinions, so if you have thoughts on a particular article, use the buttons at the bottom of every article (example pictured below) and leave us a comment to let us know!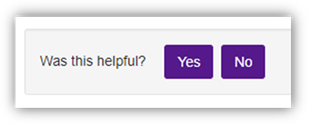 If you have any questions about accessing or utilizing these new web resources, please contact the IT Service Desk at 508-565-1111 or email service-desk@stonehill.edu.