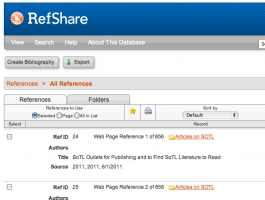 Thanks to the hard work of our CTL Faculty Fellow, John Lanci, and our student Communications Assistant, Greg Passineau, the CTL is now maintaining a bibliography of Scholarship of Teaching and Learning resources using the RefWorks database.
Searchable by keyword -- and also organized by topic -- the database is an easy way to access articles on a variety of teaching topics, such as community-based learning, faculty-student collaboration, spirituality in the classroom, and general "good teaching" advice. It also lists many of the books available in the CTL's Reading Room.
Access the database here. And if you're interested in learning more about using RefWorks to organize your own bibliographies, check in with one of our reference librarians.