The Farm at Stonehill Mobile Market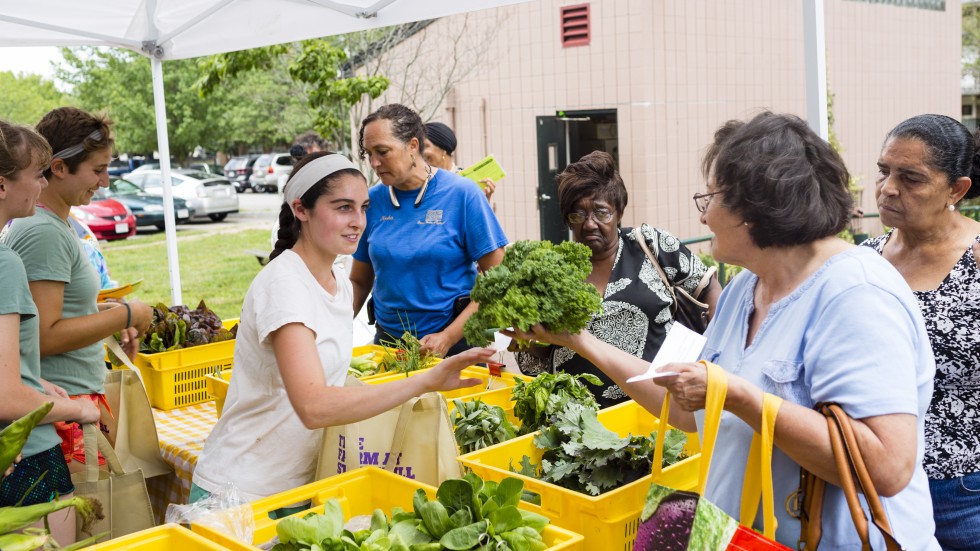 About the Mobile Market
The Farm's Mobile Market gives residents who do not live near grocery stores access to healthy eating options, and share information about other efforts to increase wellness in the community. The Mobile Market does this by partnering with other organizations to offer cooking demonstrations, recipes, and nutritional information to visitors.
In September 2015, The Farm at Stonehill began selling organic produce at or below cost in the parking lot currently shared by The Family Center at Community Connections of Brockton and the Trinity Baptist Church at 1367 Main Street. 
In 2016, The Farm at Stonehill, through a $5,000 grant from Project Bread, a $10,000 grant from the Vela Foundation and a $1,250 grant from Inner Spark Foundation, and a partnership with the Brockton Neighborhood Health Center, was able to furthering its mission of providing our neighbors in Brockton with fresh, affordable produce with the launch of a Mobile Market at two locations in Brockton. In 2016 the market operated at 63 Main St every Wednesday from mid-June through October. 
In 2017 and 2018 we worked with BNHC to add a second location at 1380 Main St and alternated each week between 63 Main and 1380 Main St. In 2019, our partners shared that residents at 10 Kennedy Drive could benefit from the market as they lacked programming and easy access to fresh, locally grown produce. Thus, in 2019 we alternated weely between 63 Main St and 10 Kennedy Drive.
The 2020 season arrived with the challenges of Covid-19. To keep patients and residents safe while still making our farm's produce available and address food insecurity we worked with our partners at BNHC to create bags of mixed vegetables, fruits and herbs each week from July 1 through October. Each Wednesday our Community Health Worker partners pick up and deliver at least 10 bags of diverse and freshly picked produce to patients who are facing food insecurity who they know will benefit from access to fresh, locally grown produce.
The Mobile Market extends The Farm at Stonehill's commitment to addressing food desert conditions and provide healthy and affordable food to Brockton residents.