Retreats
Retreats are available for students to deepen their faith life and spirituality. Campus Ministry sponsors the Stonehill Christ Encounters Weekend, a First Year Retreat, a Senior Retreat, Women's & Men's Retreats, and less formal opportunities to discuss faith issues and share prayer.
Christ Encounters Retreat
The Christ Encounters Retreat is Stonehill's most popular retreat. The retreat takes place at Camp Wonderland in Sharon, Massachusetts in late November, and again in April. The retreat is organized almost completely by students under the guidance of our Campus Ministers.
Through talks, reflection, conversation, and prayer, participants will discover how they encounter Christ in their everyday life. You will meet wonderful people, discover Jesus' presence in your life, learn about yourself, think reflectively about faith and spirituality, and have a great weekend away from Stonehill. Registration for these retreats along with further information will become available mid-October, and in mid-February. Feel free to contact Campus Minister for Retreats and Faith Formation, Br. James Walters, C.S.C. with any questions.
Senior Retreat
This is a wonderful opportunity for our seniors to go away for a weekend, reflect upon their time at Stonehill, and prepare themselves for their last semester. Whether you have attended retreats throughout your 4 years or this would be your first one, we welcome all seniors to join us for these few days dedicated to them. This retreat is typically held early in the Spring semester at Camp Toah Nipi in New Hampshire. Contact Campus Minister for Retreats and Faith Formation, Br. James Walters, C.S.C. with any questions.
Interfaith Women's Retreat
The Interfaith Women's Retreat at Stonehill creates a space for students and employees to explore the spiritual dimensions of being women at Stonehill through the lens of the Catholic faith. The Interfaith Women's Retreat offers an opportunity for women to come together in a spiritually nourishing environment to discuss women's issues through a holistic experience which engages the essence of the feminine identity. Working closely with the Moore Center for Gender Equity and the club Women's Health and Empowerment Now! (WHEN!) the Office of Campus Ministry is proud to offer an inclusive and exciting opportunity for women. For information about the Interfaith Women's Spirituality Group, which meets biweekly throughout the year to discuss what it means to be a woman of faith at Stonehill or the Interfaith Women's Retreat, contact Campus Minister for Community Engagement, Brittany Lorgeree.
Men's Retreat
Each Spring, we offer an opportunity for men to get away for a simple day with one another. The day consists of an event - hiking, or an obstacle course, or something of the kind - as well as time to be with one another and address some of the biggest questions of our lives that we don't always have the opportunity to address. "They must also be a way for men of faith to explore the life of the spirit with one another, lest we should speak least about what means most to us" (CSC Constitutions, #4: Brotherhood). Keep on the lookout for more information. If you have any questions, Feel free to contact Campus Minister for Retreats and Faith Formation, Br. James Walters, C.S.C..
First-Year Student Retreat
The First Year Student Retreat is a one day experience held in September and is an opportunity for students new to campus to begin their personal journey at Stonehill and to begin to ask some of the big questions that are part of the college experience, such as "What do I hope to get out of my time at Stonehill?" and "How can God be a part of my life in college?"
The Retreat is led by our Campus Ministers and Student Leaders with the goal of building community, familiarize students with the offerings of Campus Ministry, and giving students a deeper understanding of spirituality and faith at college. This opportunity is open to first year students of all faith backgrounds. No previous experience on retreats is required! For more information please contact our Campus Minister for Retreats and Faith Formation, Br. James Walters, C.S.C.. Registration will be open the first week of classes in the Fall.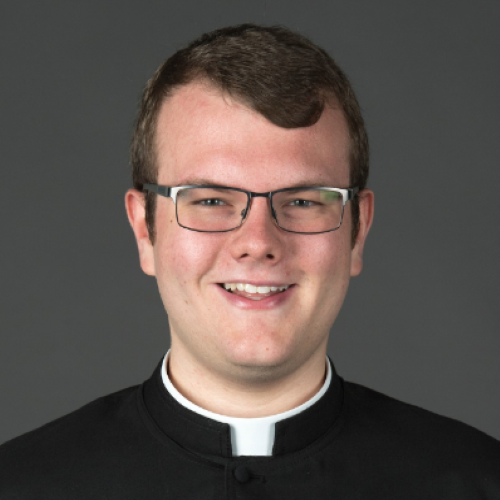 Campus Minister for Retreats & Faith Formation
Campus Minister for Community Engagement