The People Behind the Pathways
A brief history of Stonehill's streets and their namesakes.
Ever wonder who are the people behind the street signs when driving on campus? In honor of Stonehill College's 75th anniversary, we uncovered brief histories on the past priests of the Congregation of Holy Cross who helped build roadways for student success, both literal and figurative, throughout our institution's history. In 2013, some of these dedicated individuals were previously honored when the College named its streets.
Get to know some of the trailblazers who helped drive Stonehill's mission these last 75 years:
Holy Cross Drive
Named after the religious congregation with over 1,200 religious brothers and priests that founded and guides Stonehill College, Holy Cross Drive is one of the most-traveled roads on campus. It begins at the West entrance to campus on Route 138 and runs up to Parking Lot 17. Holy Cross Drive meets with Moreau Drive, creating a cross at the main thoroughfare of our campus.
Blessed Basil Moreau Drive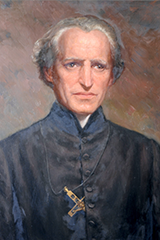 Moreau Drive begins at the main entrance of the campus on Route 123 and ends at the four-way stop sign on campus. As one of Stonehill's main streets, it is fittingly named after Blessed Basil Moreau, C.S.C., who founded the Congregation of Holy Cross in 1837. Fr. Moreau envisioned that educational institutions built by the Congregation would serve as communities of scholarship and faith where students could engage in a dynamic exchange of ideas. Members of the Stonehill community continue Fr. Moreau's good work every day by working together to create a more just and compassionate world.
Fr. James Donahue Hill Drive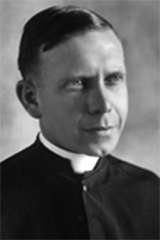 The road that circles Donahue Hall is named after Rev. James Donahue, C.S.C., who served as the Superior General for the Congregation of the Holy Cross from 1926 to 1938. Under his leadership, the Congregation expanded locations from Indiana to the East Coast with the establishment of a seminary in North Dartmouth, Massachusetts. Fr. Donahue later moved the seminary to Stonehill College's current campus with the vision of growing it into a four-year college.
Fr. Francis Walsh Way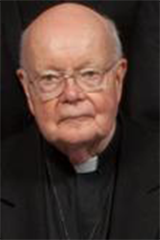 This street is in front of Alumni Hall. It honors Rev. Francis Walsh, C.S.C., a member of the first seminary class to graduate from Stonehill College in 1953. He later returned to the College as a faculty member in the psychology department in 1966. In addition, he served as a counseling psychologist from 1966 to 1968 and Director of the Counseling Center from 1970 to 1973 and 1986 to 1993, after which he returned to teaching fulltime until his retirement in 2008.
Saint André Drive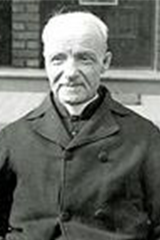 Saint André Drive begins near the Roche Commons and extends to Bogan Hall. Its namesake is the first Holy Cross religious to be canonized. He spent many years serving as a humble porter welcoming people to the College de Notre Dame in Montreal. He was known for his simplicity of life, his service to others and his devotion to St. Joseph.
Fr. David Arthur Way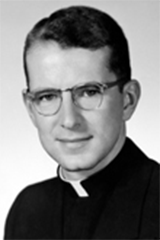 Located in front of the Sally Blair Ames Sports Complex, Fr. David Arthur Way honors a Holy Cross priest who joined Stonehill's faculty in 1954. He taught philosophy and mathematics. He also served as the College's Intramurals Athletic Director. In 1960, he was named Library Director and supervised the construction of the former Cushing-Martin Library. From 1966-1970, he served as Academic Dean. After a brief sabbatical, Fr. Arthur returned to Stonehill and was appointed as Stonehill's first Director of Institutional Research, a position he held until his retirement in 2000.
Fr. Robert Kruse Way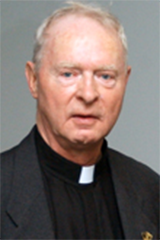 This pathway leads from the Sally Blair Ames Sports Complex to the Holy Cross Center. It is named in recognition of Rev. Robert Kruse, C.S.C., a specialist in 19th and 20th century religious thought who helped guide the College through many decades of change and growth. Fr. Kruse graduated from Stonehill in 1955 and returned in 1961 as a faculty member. From 1966 to 1978, he served as the chair of the Religious Studies Department and as a member of many college committees. In 1978, he was appointed Academic Dean. In 1987, he assumed the role of Executive Vice President. After semi-retiring in 2000, he served as an Assistant to the President until 2010. 
Fr. Francis Hurley Way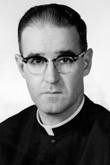 The road leading from Moreau Drive, which passes by the Science Center and ends at the Merkert Gymnasium, is called Fr. Francis Hurley Way. The uncle of Trustee Patrick Burke '84, Rev. Francis Hurley, C.S.C., was one of the founders of the science discipline at Stonehill. He served as Chair of the Biology Department for 32 years. During his tenure, he was also Chair of the first Governance Committee established in 1970. In 2003, Fr. Hurley received the Stonehill President's Medal for Excellence. That same year, the Rev. Francis J. Hurley, C.S.C., Scholarship Fund was established. 
Fr. John McCarthy Way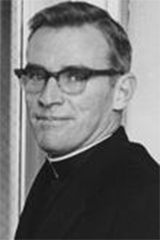 The street extending from Moreau Drive to O'Hara Hall is Fr. McCarthy Way. Universally known as "Fr. Mac," Rev. McCarthy, C.S.C., came to Stonehill in 1964 and held various roles, including Religious Superior, Campus Minister, faculty member, Chaplain and Director of Campus Ministry. In 1991, he was appointed as Stonehill's first Alumni Minister, a role he held until his death in 2003. During his tenure, Fr. Mac advised hundreds of students and alumni, presided at countless weddings, baptisms and funerals, and was beloved by two generations of graduates.