Stonehill Adds New Faculty
We are pleased to welcome six new faculty members and to reintroduce two visiting professors who now have tenure track positions.
With six recent hires and two visiting faculty members now with tenure track positions, the College has more than 300 full and part-time faculty members. Our new faculty bring expertise in Religious Studies, Business Administration, Physics, Mathematics, Psychology, Healthcare Administration, Environmental Science and Political Science.
Meet our new faculty:
Heather M. DuBois, Ph.D.
Assistant Professor, Religious Studies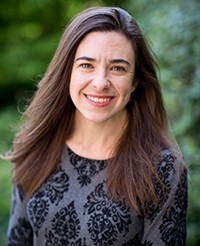 Education: B.A., Political Science and English, Tulane University; M.A., Conflict Resolution, University of Bradford (United Kingdom); M.A., Theology, Fordham University; Ph.D., Peace Studies and Theology, University of Notre Dame
Experience: DuBois comes to Stonehill after serving as the Gannon Post-doctoral Fellow at Florida State University. Her recent publications have focused on pluralism and undoing violent ideologies. She is working on a book that uses the texts of Judith Butler and John of the Cross to understand intrapersonal transformation in situations of impasse. DuBois has received a number of academic honors, including the Founders' Circle Essay Prize from the Society for the Study of Christian Spirituality.
Her research has appeared in journals such as Spiritus and (forthcoming) The Journal of Religious Ethics as well as chapters in the books The Oxford Handbook of Religion, Conflict, and Peacebuilding and Suffering and the Christian Life.
Ferdi Eruysal, Ph.D.
Assistant Professor, Business Administration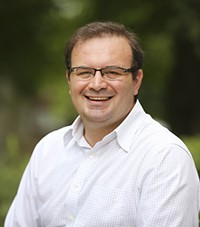 Education: B.S., Industrial Engineering, Middle East Technical University (Turkey); M.S., Information Technology, Bahcesehir University (Turkey); Ph.D., Management Information Systems, University of Illinois at Chicago
Experience: Eruysal joins Stonehill after serving in academic appointments at Texas A&M University-Central Texas and Drew University. His main research interest is the economics of information systems with a focus on the implications of big data and business intelligence. He builds game-theoretical economic models to study how big data and business intelligence affect firms, consumers, and policymakers.
Eruysal's research has been published in leading academic journals, including Electronic Commerce Research and Applications. His teaching areas include data analytics, visualization, and deep learning. Before embarking on an academic career, Eruysal worked in the IT industry and was involved in the design, development, and implementation of information systems.
Francesca Fornasini, Ph.D.
Assistant Professor, Physics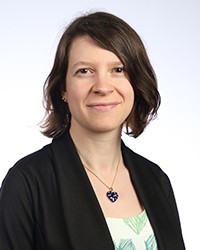 Education: B.S., Physics and English, College of William & Mary; M.A. and Ph.D., Astrophysics, University of California, Berkeley
Experience: Fornasini completed her doctoral studies at UC Berkeley in 2016, where her thesis focused on black holes and neutron stars in stellar binary systems. Since then, she has been serving as a post-doctoral fellow at the Center for Astrophysics | Harvard & Smithsonian, where she has been studying the co-evolution of supermassive black holes and galaxies over cosmic time.
Fornasini is the first author of six articles published in astrophysical research journals and co-author of 24 more. She is the recipient of a number of academic awards and honors, including the UC Berkeley Astronomy Department's Trumpler Award and UC Berkeley's Teaching Effectiveness Award and Outstanding Graduate Student Instructor Award.
Janelle K. Hammond, Ph.D.
Assistant Professor, Mathematics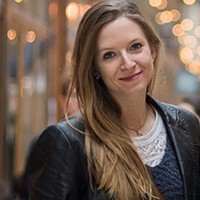 Education: B.S., Mathematics and French, University of Wisconsin-La Crosse; M.S., Mathematics, Université Pierre et Marie Curie (France); Ph.D., Applied Mathematics, Université Paris-Est (France)
Experience: Hammond comes to Stonehill from France where she was a post-doctoral researcher at the Inria Foundation, a pioneer in supporting the development of digital sciences. There, she was a member of the ANGE research team working on the project "Uncertainty Quantification for air quality simulation at urban scale." In addition, Hammond served as an adjunct professor at Sorbonne Université, where she taught general and applied mathematics.
Her research interests include model order reduction, data assimilation, and uncertainty quantification, with applications in air quality modeling. Hammond's work has appeared in academic journals such as Applied Mathematical Modeling and Journal of Computational and Applied Mathematics.
Pamela Naab, Ph.D.
Assistant Professor, Psychology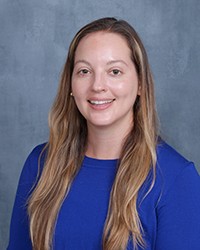 Education: B.A., Psychology, St. Mary's College; M.A., Social & Cultural Psychology, and M.A. Mental Health Counseling, Boston College; Ph.D., Counseling Psychology, Northeastern University
Experience: Naab is a Licensed Clinical Psychologist who joins the faculty for a one-year appointment. Recently, she has been with Metrowest Neuropsychology in Westborough, where she has been administering, scoring and interpreting neuropsychological measures for children and adults. In addition, she has served as an instructor at Boston University's Metropolitan College, where she taught art and play therapy and developmental psychology.
Naab's research on gender, cross-cultural, and individual differences in emotion, health behaviors, weight management, and substance abuse have appeared in Emotion and Nicotine & Tobacco Research.
Danielle A. Waldron, Ph.D.
Assistant Professor, Healthcare Administration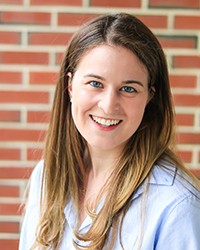 Education: B.S., Health Policy and Management, Providence College; M.S. and Ph.D., Gerontology, University of Massachusetts, Boston
Experience: Waldron, a newly minted Gerontologist from the University of Massachusetts, Boston, joins the Stonehill faculty after completing a fellowship in Leadership Education in Neurodevelopmental and Related Disabilities (LEND) at the University of Massachusetts Medical School, which was federally funded through the Maternal and Child Health Bureau of the Health Resources and Services Administration.
Waldron's research interests include the health, healthcare, and social experiences of adults and older adults on the Autism Spectrum (AS). She is committed to bridging the gap between research and policy to improve care for older adults and individuals with disabilities. Waldron regularly presents at regional and national conferences and has published work related to healthcare reform, AS, and student empowerment.
Visiting Faculty Promoted
In addition to the new faculty, two former visiting faculty members will begin this fall as tenure track, assistant professors.
Eric G. LeFlore, Ph.D.
Assistant Professor, Environmental Sciences and Studies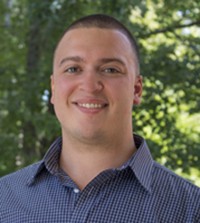 Education: B.A., Environmental Studies, Connecticut College; M.S. and Ph.D., Environmental Conservation (Wildlife, Fish, and Conservation Biology), University of Massachusetts, Amherst.
Experience: Last year, LeFlore was a Postdoctoral Teaching Fellow with the Environmental Sciences and Studies Program here at Stonehill. Prior to arriving at Stonehill, he was an instructor and on-site director for Brown University's Environmental Leadership Lab, a summer pre-college program focused on environmental studies, ecology, and socially responsible leadership. LeFlore was also an instructor at the University of Massachusetts, Amherst where, as a graduate student, he received a Fulbright Scholarship, among other honors and awards.
LeFlore's research interests broadly center around wildlife conservation and bridging the gaps between the ecological and human dimensions of environmental studies. His doctoral research investigated human-lion conflict and coexistence in the Okavango Delta of northern Botswana.
Anwar Mhajne, Ph.D.
Assistant Professor, Political Science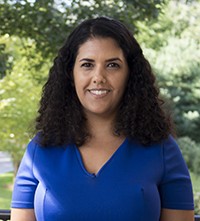 Education: B.Med Lab Sc., Ben-Gurion University of the Negev (Israel); M.A., Women's, Gender, and Sexuality Studies, and Ph.D., Political Science, University of Cincinnati
Experience: Mhajne specializes in international relations and comparative politics with a focus on gender and politics. Her current research is at the intersection of gender, religion, and Middle Eastern politics. Mhajne is interested in how Islamic beliefs and institutions in the Middle East structure Muslim women's political understandings, agencies, and opportunities at local, national, and international levels.
With her diverse interdisciplinary training, Mhajne's additional research areas include governance and institutions and civil society and activism. Her work has been featured in The International Feminist Journal of Politics, Political Research Quarterly, The Conversation, Times of Israel, Haaretz, Middle East Eye, +974 Magazine, Quartz, The Defense Post, The Jerusalem Post, and Carnegie Endowment for International Peace.