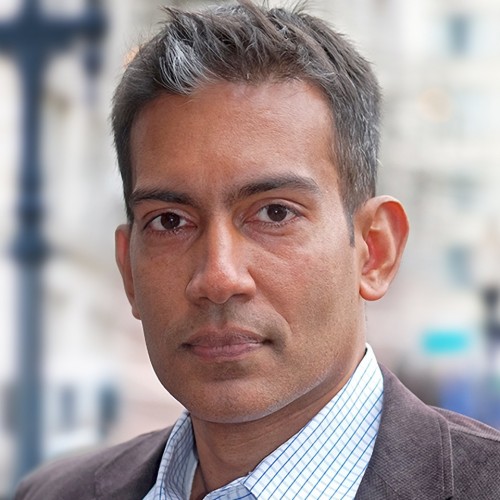 Stanley I. Thangaraj
James E. Hayden Chair for the Study of Race, Ethnicity, & Social Justice, Professor of Anthropology and Sociology
Biography
Stanley Thangaraj, Ph.D., joined the Stonehill College community in 2022. As the inaugural James E. Hayden Chair for the Study of Race, Ethnicity, and Social Justice, he leads the Center for the Study of Race, Ethnicity, and Social Justice, an interdisciplinary hub supporting faculty and student research that examines how race, ethnicity, and other categories of difference are infused in structures of power.
Thangaraj's scholarship focuses on the ways in which race, gender, ethnicity, sexuality, class and citizenship shape the experiences of immigrant and refugee communities in the U.S. South. His 2015 book, Desi Hoop Dreams: Pickup Basketball and the Making of Asian American Masculinity, investigates how South Asian American men express their identities and cultivate a sense of belonging in the United States through sports. He has also been interviewed frequently to provide insights on the experiences of the Asian American community, particularly Asian American athletes.
Thangaraj comes to Stonehill from the City College of New York, where he served as an associate professor of anthropology, gender studies, and international studies. He worked with students, staff, and faculty on a Gender Task Force that played a pivotal role in the creation of the LGBTQI Center on campus. He served as chair of City College of New York's Faculty Senate Diversity Committee, facilitating anti-racist dialogue to help recruit and retain students and faculty of color while addressing issues of accessibility, gender, sexuality, and ethnicity. He was also an active member of the City University of New York Advisory Council on Diversity, Equity, and Inclusion.
Education
B.A., Anthropology and Political Science, Emory University
M.A., Social Sciences, University of Chicago
Ph.D., Socio-cultural Anthropology, University of Illinois, Urbana-Champaign
Research Interests
Anthropology of the U.S. South
Asian American Studies
South Asian American Studies
Gender Theory
Anthropology of Sport
Selected Publications
""We share the same ancestry": US Kurdish Diasporas and the Aspirational and Ascriptive Practices of Race." American Anthropologist 124(1): 104-117.
"Racing the Muslim: Strategies for Teaching Race and Ethnic Studies in the Education Curriculum." Urban Education 56(7): 1042-1066.
""I was raised Buddhist": Tiger Woods, Race, and Asian-ness." Sociology of Sport Journal 37(3).
"Kurdish Diasporic Matters: Signaling New Epistemologies of Diaspora." Journal of Ethnic and Cultural Studies 6(2).
"Sporting Protests and Asian America: An Event Review of Sidelined." Asian Diasporic Visual Cultures and the Americas 5(1-2).
Thangaraj, Stanley, Aarti Ratna, Daniel Burdsey, and Erica Rand. "Leisure and the Racing of National Populism." Leisure Studies 37(6).
"They said 'Go Back to Afghanistan': U.S. Publics, Playing Basketball, and Challenging the American Terror(ist)" Amerasia 41(2): 25-46.
Burdsey, Daniel, Stanley Thangaraj, and Rajinder Dudrah. "Playing through Time and Space: South Asian Diasporas and Sport." South Asian Popular Culture 11(3).
"Competing Masculinities: Ethnic Sport Leagues and South Asian American Masculinity." South Asian Popular Culture 11(3).
"Playing through Difference: The Black-White Racial Logic and Interrogating South Asian American Identity." Journal of Ethnic and Racial Studies 35(6).
"Liting it Up: Popular Culture, Indo-Pak Basketball, and South Asian American Institutions" Cosmopolitan Civil Societies: An Interdisciplinary Journal 2(2).
"Ballin' Indo-Pak Style: Pleasures, Desires, and Expressive Practices of "South Asian American" Masculinity." International Review for the Sociology of Sport 45(3).