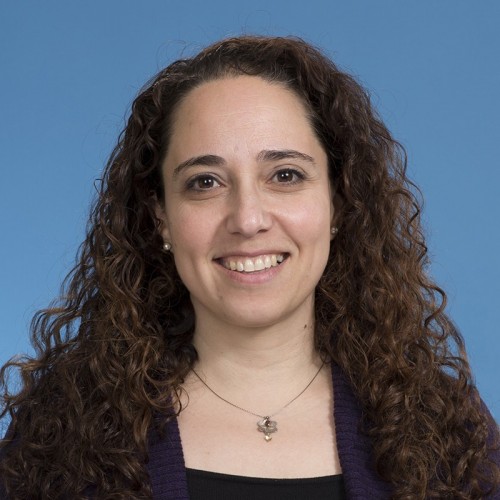 Shari L. Lowin
Professor of Religious Studies & Theology, Middle Eastern Studies Program Director
Biography
My research centers on the interplay between Judaism and Islam in the early and early medieval Islamic periods, c. 800-1200 CE, focusing mainly on the development of Jewish and Muslim exegetical narratives. I am particularly interested in the ways in which the Muslim and Jews living in Islamic societies interacted with one another, namely as they contributed to and drew from each other's exegetical corpus on shared scriptural forefathers. Earlier scholarship has attributed any similarities between the two textual traditions to Judaism's influence on Islam. However, this is an oversimplified reading of the materials that does not take into account both Islam's original creativity and Judaism's openness to influence from outside traditions.
The most recent fruits of my interest in the relationship between Judaism and Islam is Arabic and Hebrew Love Poems of al-Andalus (Routledge, 2013). In the seven chapters of this book, I examine Hebrew and Arabic eros poetry (shirat ḥesheq/ `ishq poems) of religious scholars in 10th-13th century Muslim Spain. I investigate the ways in which religious scholars incorporated and manipulated their tradition's sacred scriptural imagery in their decidedly secular poems of physical passion. This perspective has been largely overlooked by scholars of Golden Age Spain, who maintain that scriptural allusions serve mostly as literary ornaments to the poems. I compare the scripturally inflected eros poems of these religious scholars with the exegetical Jewish and Muslim materials on the same scriptural accounts and characters. Such a comparison reveals a deeper trend at work. Namely, the Jewish scholar-poets of Muslim Spain used their desire poems as alternate sites for subversive biblical exegesis. The Muslim scholar-poets, by contrast, used religious materials in order to justify profane expressions of earthly love.
My earlier work on Judaism and its relationship with Islam focused on the narratives of Abraham and on accounts of enemies of God in the midrash aggadah and in the ḥadīth. In one such study, a monograph entitled The Making of a Forefather: Abraham in Islamic and Jewish Exegetical Narratives (Brill, 2006), I demonstrate that while Judaism and Islam used each other's narratives to create narratives of sacred history, they tweaked and adjusted each other's accounts in their retellings. In the case of the shared forefather Abraham, they did this in order to portray Abraham as the epitome of particularly Muslim or Jewish values.
At Stonehill, I teach courses on a variety of topics in Islam and Judaism, as well as a popular team-taught LC course that travels with the students to Europe.
Education
B.A., Columbia College, Columbia University, 1993
Ph.D., Department of Near Eastern Languages and Civilizations, University of Chicago, 2002
Accomplishments
Professional Development Grant, Stonehill College (Summer 2012, 2009, 2007, 2004, 2003)
Yad HaNadiv/ Beracha Foundation Fellowship, Fellow (2009-2010)
American Council of Learned Societies, Fellow (2008-2009)
Albright Institute Associate Fellowship, Fellow (2008-2010)
Albright Institute Educational and Cultural Affairs Fellowship, Awarded, Returned (2008-2009)
Brandeis Summer Institute in Israel Studies, Fellow (Summer 2006)
Conboy Fund Award, Stonehill College (Spring 2006)
Davis Grant Fellow, Stonehill College (Spring 2005)
Fuerstenberg Fellow, University of Chicago (2001-02, 1999-2000)
Whiting Foundation Doctoral Fellowship (2000-2001)
Memorial Foundation for Jewish Culture Fellowship (2000-01, 1999-2000)
Lady Davis Fellow, Hebrew University (1998-1999)
Interuniversity Fellow, Hebrew University (1998-1999)
Courses Taught
Demons, Devils, and Satans: Monsters of Religion
Islam and the Bible
Islamic Tradition
Religion & Culture of the Jewish People
Hard Rockin' Jews: Judaism & Pop Culture in Israel
Women in the Islamic Tradition
Sex and God: Jewish and Muslim Poetry of Muslim Spain
Publications
Arabic and Hebrew Love Poems of al-Andalus (London and New York: Routledge Press, 2013)  
The Making of a Forefather: Abraham in Islamic and Jewish Exegetical Narratives (Brill, 2006)
Select Articles
"Hard-Rockin' Jews: The Bible in Contemporary Israeli Popular Music" (in progress)
"Scripture and Exegesis," with Walid Saleh, The Routledge Handbook of Muslim-Jewish Relations. Edited by Josef Meri (Routledge Press, forthcoming, 2014-15)
"Narratives of Villainy: Titus, Nebuchadnezzar,and Nimrod in the ḥadīth and midrash aggadah," The Lineaments of Islam. Edited by Paul M. Cobb. (Leiden: E. J. Brill, 2012)
"Abraham in Islamic and Jewish Exegesis," Religion Compass, Vol. 5, no. 6 (June, 2011): 224-235
Encyclopedia of Jews in the Islamic World. Edited by Norman Stillman (Leiden and Boston: E. J. Brill, 2010)

Articles

Banu'l Nadir
Banu Qaynuqa'
Banu Qurayza
Constitution of Medina
Isra'iliyyat
Ka'b al-Ahbar
Ka'b al-Ashraf
Khaybar"

"Imams in Love: A Poem of the 11th Century." Connections: Newsletter of the National Association for Women in Catholic Higher Education (Spring 2005)
"Medieval Islamic and Jewish Traditions on Abraham." Al-`Usur al-Wusta: The Bulletin of Middle East Medievalists (October, 2004)
"Plagues." Encyclopaedia of the Qur'an, ed. Jane Dammen McAuliffe (Leiden: E.J. Brill, 2004)
"Revision and Alteration." Encyclopedia of the Qur'an, Leiden: E.J. Brill, 2004
Representative Book Reviews
"An Interwoven Partnership: Judaism, Islam, and 1,400 Years of Shared Intellectual and Lived History," H-Judaic, H-Net. February, 2012. https://www.h-net.org/reviews/showrev.php?id=33890 Journal of Near Eastern Studies, 66, no. 4 (2007): 308-9: "With Reverence for the Word: Medieval Scriptural Exegesis in Judaism, Christianity and Islam", eds. Jane Dammen McAuliffe, Barry D. Walfish, and Joseph W. Goering. Oxford and New York, Oxford University Press, 2003.
Journal of Near Eastern Studies, 66, no. 4, (2007) 309-10:  "Historical Dictionary of Prophets in Islam and Judaism," by Scott B. Noegel and Brannon M. Wheeler. Lanham, MD: Scarecrow Press, 2002
Journal of Religion, 86:1 (2006), 164-6, "Three New Introductions to Islam":  On: Brown, Daniel. A New Introduction to Islam. Malden, MA: Blackwell Publishing, 2004. Waines, David. An Introduction to Islam (2nd ed.). Cambridge: Cambridge University Press, 2003. Nigosian, S. A. Islam, Its History, Teaching and Practices. Bloomington, IN: Indiana University Press, 2004.
"Hebrew Love Poetry of Muslim Spain and the Rabbis Who Wrote It"
KOLOT, Synagogue Council of Massachusetts
"Jonah, Jesus, and the Day of Atonement"
Minyan Tehillah (Cambridge, MA)
"Ruth and Susannah: A Case Study in Rabbinic Acceptance and Rejection"     
Educational Retreat (NY)
"Poetic Justice and the Rape of Tamar: a Poem of Muslim Spain"
Temple Emmanuel (Newton, MA)
"Muhammad and the Jews of Arabia" JICNY (New York, NY)
"Abraham's Acquisition of Knowledge in Muslim and Jewish Texts"
Drisha Institute of Jewish Education (NY, NY)
"Islam, Warfare, Ethics and Religious Values"
St. Susannah, Adult Education Program (Dedham, MA)
" 'The Death of Alexander the Great' and the Islamic Influence on Midrash"
Rothschild Miscellany Series, Temple Emanuel, Newton, MA.
"The Dark Night of the Soul: Martyrdom in Islam and Judaism"
Women's Day of Learning (Swampscott, MA)
"Nimrod and the Box that Flew to Heaven: How Islam Saved a Midrash"
Scholar-in-Residence, Kesher Israel (Washington, D.C)
"Mel Gibson's The Passion of the Christ: Anti-Semitic Propaganda or Faith History?"
Stonehill College, Catholic-Jewish Dialogue Committee Symposium
"Wuxsha: Down but Not Out. Jewish Women under Islam"
Stonehill College, Catholic Jewish Dialogue Committee
Interviewed Scholar, Consultant Juifs et Musulmane—si loin si proches (2013)
Documentary film produced by Karim Miske, for ARTE TV (France)
Juror, Goldziher Prize in Islamic-Jewish Understanding (2009-present)