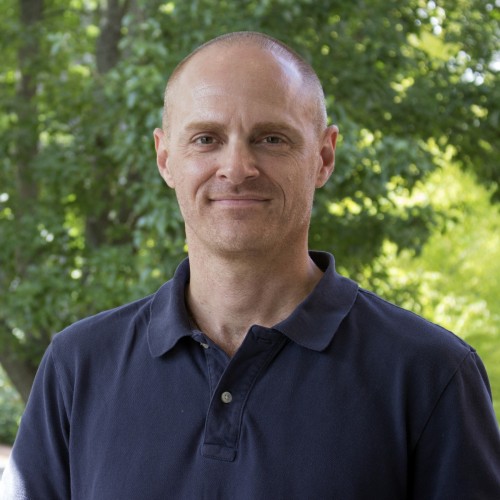 Matthew C. Greene
Associate Professor of Theater, Theatre Program Director
Biography
Matt spent six years as a Blue Man in the popular Blue Man Group where he performed more than 1,000 shows, playing in front of millions. A writer, director, actor and fight director, he has more than 70 theater and film credits at such theaters as the Astor Place Theatre (Off-Broadway), Charles Playhouse, Hartford Stage, Boston Theatre Marathon, Connecticut Repertory Theatre, Hartt School of Music, Eastern Conn State Univ., Western Conn State Univ., CCRI, Counter Productions Theatre Co., Dean College, and Carnegie Hall, to name a few. Matt had the fortune to work alongside Pulitzer Prize, two-time Academy Award and Emmy Award winning Horton Foote while serving as Fight Director on the 50th anniversary production of The Trip to Bountiful at Hartford Stage. A graduate of the University of Connecticut's Drama Department, he has also done graduate work in Directing at Indiana University and holds an MFA in Creative Writing (Stage and Screen) from Lesley University. His plays/screenplays include The East, CHOKE, For the Love of Dog, 160 North, The Heist, god in a 747, Black Diamond, The Architect, Rattlesnake Suitcase, Son of Valor and The American Dream. Local directing credits include: American Idiot, In The Heights, Cabaret, Talk Radio, The Crucible, Noises Off, The Boys Next Door, Rosencrantz and Guildenstern Are Dead, Little Shop of Horrors and Almost, Maine. His original play, The East, written with Craig Handel, was presented on Dean College's Main Stage in Franklin, Massachusetts, and was a National Presenting Production at the Kennedy Center American College Theatre Festival Region one. His play 160 North has been translated into Hindi and adapted for the screen where it was produced by Citoc Motion Pictures/Cineplay in Mumbai.
Currently, Matt is the Artistic Director and Program Director of the Theatre program at Stonehill College in Easton, Massachusetts.
He is also the founder and Artistic Director of the Target Stage Company.
Courses Taught
Acting 1
Acting 2
Directing
Playwriting
Stage Combat
Scene Study
Play Production