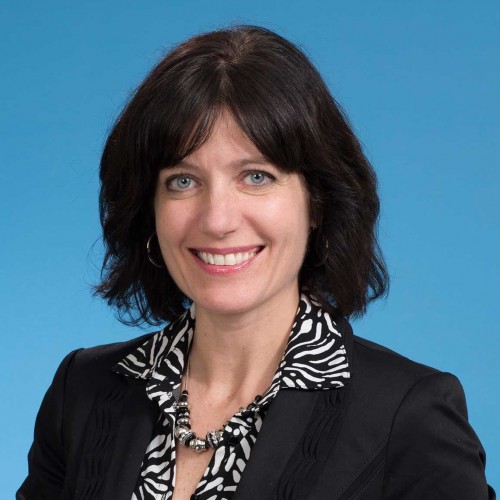 Marilena F. Hall
Professor of Chemistry, Associate Professor of Biochemistry, Associate Professor of Bioinorganic Chemistry, Chemistry Department Chair
Biography
Dr. Marilena Hall received her B.S. in Chemistry in 1992 from McGill University in Montreal, Canada. She then earned her Ph.D. at the California Institute of Technology (NSERC Fellowship) where she worked in the laboratory of Dr. Jacqueline K. Barton. Her thesis involved the design of a synthetic deoxyribonuclease using a chimera of a DNA-binding rhodium complex and a short Zn2+ -coordinating peptide.
From 1998-2000, Dr. Hall carried out post-doctoral research at New England Biolabs in Beverly, MA creating an artificial bifunctional intein capable of both protein splicing and homing endonuclease activity. During her post-doc, she was also an adjunct professor at Massasoit Community College, teaching general chemistry from 1999-2000. Professor Hall joined the Stonehill Department of Chemistry in the Fall of 2000.
Professor Hall's research program employs peptide phage display libraries to identify short peptides that can mimic the coordination of Zn2+ in zinc-containing metalloenzymes.
Several undergraduates have participated in projects that have involved (i) screening 7-mer and 12-mer peptide libraries to identify putative zinc-binding peptides, (ii) developing a phage-ELISA assay to quantify the zinc-binding of individual peptides sequences, and (iii) characterizing the structure of Zn2+-peptide complexes using NMR.
In screening the Ph.D.-7 phage display library from New England Biolabs against zinc, Prof. Hall's lab became aware of a target-unrelated peptide of the sequence HAIYPRH that has also been selected by several other laboratories using completely different targets.
The characterization of this particular clone led to the discovery that a point mutation in the phage genome causes a faster rate of phage propagation. The displayed peptide HAIYPRH is merely coincident with the mutation, and the enrichment of this clone in the pool of phage leads to its target-independent appearance in many experiments.
Future directions of this research will involve the investigation of how mutations in the ribosome-binding sites of M13 phage proteins affect phage propagation.
Education
B.S. Chemistry, McGill University
Ph.D. Chemistry, California Institute of Technology
Accomplishments
Research Corporation Cottrell College Science Award to fund project entitled Modeling the Zn2+ Coordination Site of Zinc Metalloenzymes Using Peptide Phage Display, 2003.
Courses Taught
Biochemistry Laboratory
Biochemistry I
General Chemistry I
General Chemistry II
Selected Publications, Articles & Presentations
L.A. Brammer, B. Bolduc, J.L. Kass, K.M. Felice, C.J. Noren, M. Fitzsimons Hall. "A Target-Unrelated Peptide in an M13 Phage Display Library Traced to an Advantageous Mutation in the Gene II Ribosome-binding Site." Anal. Biochem. 2008, 373, 88-98.
M. Fitzsimons Hall, C.J. Noren, F.B. Perler and I. Schildkraut. "Creation of an Artificial Bifunctional Intein by Grafting a Homing Endonuclease into a Mini-intein." J. Mol. Biol. 2002, 323, 173-179.
K.D. Copeland, M.P. Fitzsimons, R.P. Houser, and J.K. Barton. "DNA Hydrolysis and Oxidative Cleavage by Metal-Binding Peptides Tethered to Rhodium Intercalators." Biochemistry 2002, 41, 343-356.
R.P. Houser, M.P. Fitzsimons and J.K. Barton. "Metal-Dependent Intramolecular Chiral Induction: The Zn2+ Complex of an Ethidium-Peptide Conjugate." Inorg. Chem. 1999, 38, 1368-1370.
M.P. Fitzsimons and J.K. Barton. "The Design of a Synthetic Nuclease: DNA Hydrolysis by a Zinc-binding Peptide Tethered to a Rhodium Intercalator." J. Am. Chem. Soc. 1997, 119, 3379-80.
Marilena F. Hall and Barbara Anzivino, "Extending Guided-Inquiry Experiments to Research Proposals in General Chemistry." Lecture as part of Center for Workshops in the Chemical Sciences (CWCS) symposium: Promoting Innovation in Chemical Education Through Workshops and Community Building. 233rd American Chemical Society National Meeting, March 2007.
"Characterization of a Target-unrelated Peptide in the Ph.D.-7 Phage Display Library." Invited lecture as part of the Phage Display of Proteins and Peptides Course, Cold Spring Harbor Laboratory, November 12, 2006.