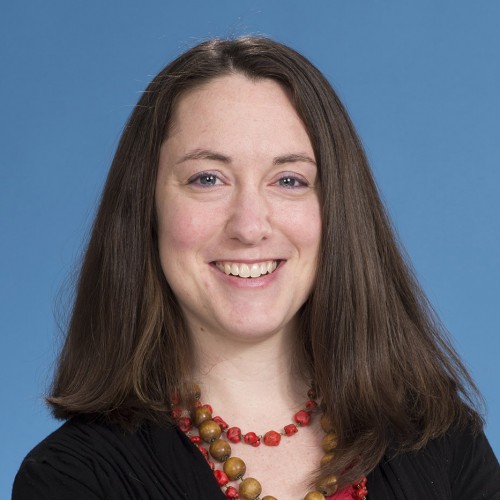 Katharine M. Harris
Assistant Professor of Chemistry, Assistant Professor of Biochemistry, Health Science Program Director
Biography
Dr. Harris received her B.S. in chemistry degree from the University of Massachusetts, Amherst. As an undergraduate she worked on the semi-synthesis of a model protein containing an unnatural amino acid isostere for protein folding studies in the laboratory of Distinguished Professor of Chemistry, Biochemistry and Molecular Biology Lila M. Gierasch, Ph.D.. Following her time as an undergraduate, Dr. Harris worked in the laboratory of Professor of Biochemistry Robert J. Hondal, Ph.D. on the role that the "21st" amino acid, selenocysteine, played in redox chemistry through thioredoxin reductase studies in the College of Medicine at the University of Vermont as a research technician. In graduate school, Dr. Harris worked in the laboratory of Professor Emeritus of Chemistry Evan R. Kantrowitz, Ph.D. studying allosteric enzyme regulation in the biosynthesis of glucose and pyrimidine nucleotides. She received her doctorate degree in 2012 and joined the faculty at Stonehill.
Education
Ph.D., Chemistry, Boston College
B.S., Chemistry, Commonwealth College at the University of Massachusetts, Amherst
Accomplishments
Journal of Peptide Science - "Best Publication Award", 2009
Research Interests
Peptide, protein and enzyme science
Bioanalytical chemistry
Structure/function studies
Courses Taught
General Chemistry I
General Chemistry II
Biochemistry Laboratory
Organic Chemistry I and II Laboratory
Organic Chemistry of the Cell
Selected Publications, Articles & Presentations
Crystallographic snapshots of the complete catalytic cycle of the unregulated aspartate transcarbamoylase from Bacillus subtilis, Journal of Molecular Biology, 2011, 411(1), 190-200.
A New Class of Inhibitors of Fructose 1,6-bisphosphatase Based Upon the Natural Product Achyrofuran, European Journal of Medicinal Chemistry, 2010, 45(4), 1478-84.
Investigation of the C-Terminal Redox Center of High-Mr Thioredoxin Reductase by Protein Engineering and Semisynthesis, Biochemistry, 2007, 46(33), 9472-83.
Studies in Deprotection of Cysteine and Selenocysteine Side-chain Protecting Groups, Journal of Peptide Science, 2007, 13(2), 81-93.
Semisynthesis and Characterization of Mammalian Thioredoxin Reductase, Biochemistry, 2006, 45(16), 5158-70.