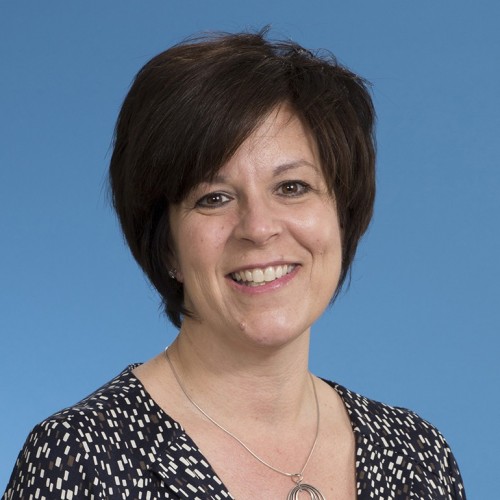 Karen L. Anderson
Professor of Education
Biography
Karen L. Anderson holds a Ph.D. in Developmental and Educational Psychology from Boston College, an M.S. in Mathematics Leadership from Bankstreet College of Education, an MS in Biology Education and a B.S. in Biology both from Long Island University. Dr. Anderson's research interests include early childhood education, curriculum development (with an emphasis on mathematics and science), and the professional development of practitioners in the field.
A recipient of numerous awards and grants, Dr. Anderson is a noted author who also serves as a consultant, reviewer, and lecturer at educational organizations including Boston College, the Arnold Arboretum of Harvard University, the National Center on Cultural and Linguistic Responsiveness, The Rhode Island and Maine Training and Technical Assistance Project, the National Head Start Family Literacy Center, and the Intel/Massachusetts DESE Mathematics Initiative.
Most recently Dr. Anderson received Robert Noyce Teacher Scholarship funding from the National Science Foundation ($1,199,965). Communities of Practice: Teacher Preparation and Beyond will increase the number and diversity of top-notch mathematics majors preparing for careers in K-12 education. Dr. Anderson is a former New York City middle school mathematics and science teacher.
Education
B.S., M.S. Long Island University
M.S. BankStreet College of Education
Ph.D. Boston College
Accomplishments
Cabot Family Charitable Trust, Science Preparation Outdoors for Teachers. ($26,644) Project Leader. (January 2010)
National Science Foundation-Robert Noyce Teacher Scholarships Program. Communities of Practice: Teacher Preparation and Beyond. ($1,199,965) Principal Investigator. (August 2012)
Courses Taught
Art, Music & Movement
Foundations of Education
Early Care & Education
Children in Preschools and Kindergarten
Practicum: Reflective Seminar
Research Interests
Throughout her career, Professor Anderson's philosophy for teaching and research has always been to connect theory to practice by emphasizing the application of developmental principles to teaching and learning. Her research reflects her passion for the field of education as well as her enthusiasm for working with other educational practitioners, whether they are pre-service teachers or seasoned professionals. The overarching goal of her scholarship is to improve the lives of children and their families through improving educational practice. Therefore the bulk of her scholarship is directed towards practitioners in the field who are working with and for children and their families.
Professor Anderson's scholarship can be best viewed as three converging lines:
The first, factors that impact strategy selection, began with her dissertation and is a consistent thread throughout all of her earlier publications (the 'Round the Rug mathematics series published by McGraw Hill in 2002 and a book chapter by Casey, Pezaris, Anderson, & Bassi, 2003), and an article in Mind, Brain, and Education (Anderson, Casey, Thompson, Burrage, Pezaris, & Kosslyn, 2008).
The second line relates to the scholarship of teaching and learning (SoTL). Professor Anderson published her first SoTL article in the summer of 2011 (Mooney & Anderson, 2011) and presented her first paper in the summer of 2012 at the International Center for Service-Learning in Teacher Education (ICSLTE). Utilizing a recently awarded $1.2 M National Science Foundation grant (based on a new model for the recruitment, training and retention of mathematics teachers which Dr. Anderson conceptualized), her work within SoTL will continue through the implementation, evaluation and dissemination of the results of this project.
The third line relates to her work to improve current practice of in-service teachers. Professor Anderson has developed and maintained a robust agenda for providing professional development to practitioners. This work has solidified her national presence in the field of early childhood education and has given her the opportunity to work with practitioners across the United States.
Selected Publications, Articles & Presentations
Vasilyeva, M., Casey, M. B., Ganley, C., Dulaney, A. Tillinger, M. & Anderson, K. L. (2013). Cognition and Instruction. How children determine the size of 3-D structures: Investigating factors influencing strategy choice.
Mooney, S.M., & Anderson, K.L. (summer 2011). Transformative learning and teaching of environmental science, from college sophomores to urban children, Science Education and Civic Engagement: An International Journal. p. 38-43.
Anderson, K.L., Casey, M.B., Thompson, W.L., Burrage, M.S. Pezaris, E, & Kosslyn, S.M. (2008, December). Performance on middle school geometry problems with geometry clues matched to three different cognitive styles. Mind, Brain, and Education. p. 187-196.
Yang, E., Anderson, K. L. and Burke, B.** (2012, June). The impact of service-learning on teacher candidates' self-efficacy in teaching STEM content to diverse learners. Presentation at the International Center for Service-Learning in Teacher Education (ICSLTE) Conference, Durham, North Carolina.
Anderson, K.L. (2011, November) Four year olds are NOT just small ten year olds, Part II. Invited Address for the Massachusetts Audubon Society Department of Education and Diversity, Belmont, Massachusetts.
Anderson, K.L. (2011, July) Understanding and fostering early math development. Invited address for the Early Childhood Leadership Series: Reflect, Renew, Re-energize. Rhode Island and Maine Training and Technical Assistance Project. Warwick, Rhode Island.
Martin, D.M. and Anderson, K.L. (2011, March) KWL+ 4-R's and inquiry = Science success. Presentation at The National Conference on Science Education, National Science Teachers Association (NSTA), San Francisco, California.
Anderson, K.L., Mooney, S., Martin, D.M., Gilfeather**, D., Klemonsky**, N., and Montano**, B., (2010, March) Project-based learning and the 4Rs of inquiry: Engaging students in urban explorations. Short Course presented at The National Conference on Science Education, National Science Teachers Association (NSTA), Philadelphia, Pennsylvania.
(** Indicates work done in conjunction with Stonehill College students)