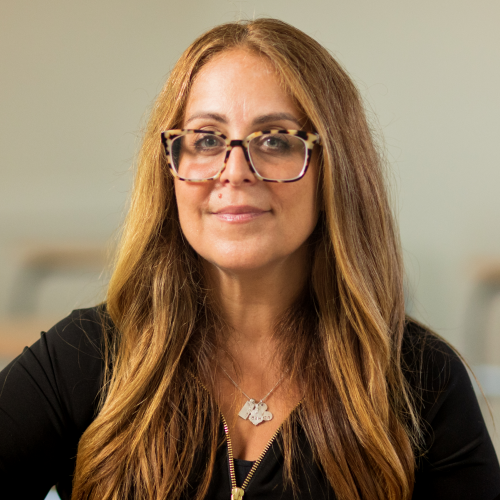 Elizabeth Stringer Keefe
Dean of Graduate and Professional Studies, Director of Stonehill on Cape Cod
Biography
Elizabeth Stringer Keefe, Ph.D., is Dean of Graduate and Professional Studies at Stonehill. She previously held positions at the College including associate professor and director of graduate teacher education at Stonehill and director of Stonehill on Cape Cod. She was the founding director of Graduate Inclusive Education.
Stringer Keefe's research agenda includes several current projects aimed at advancing the field of teacher education/preparation, particularly identifying innovations and new understandings about teacher preparation for diverse student groups and educational contexts. She is Principal Investigator of Project InSIDE: Instantiating Social Justice, Inclusivity, Democracy, and Equity: A Self-Study of Teacher Education Practices, examining how contemporary teacher education is preparing teachers to work constructively and successfully to address the endemic inequalities in educational opportunities and outcomes, especially those that persist between dominant and minoritized groups. She is Principal Investigator of Project SOLVE (Strategies and Opportunities for Leading Virtual Education), a multi-year national research project examining the impact of the pandemic on teachers and teaching and implications for teacher preparation programs. She is also Principal Investigator of the Inclusive Catholic Education Research (ICER) Project. Her research has also focused on teacher education policy initiatives and reforms, including Project TEER, a group of teacher education scholars and practitioners who collectively research issues related to teacher education, education reform, policy, and politics.
Education
B.A., University of Massachusetts, Amherst
M.Ed., Lesley College
Ph.D., Boston College
Courses Taught
Contemporary Issues in Education
Curricular Innovations and Assistive Technology
Disability and Democracy
Educational Equity and Inclusivity
Selected Publications, Awards and Accomplishments
Keefe, E.S. (2022). From detractive to democratic: The duty of teacher education to disrupt structural ableism and reimagine disability. Teachers College Record, v 124 (3).
Keefe, E.S. & Cochran-Smith, M. (2022). Advancing equity and democracy in teacher education. Teachers College Record, v 124 (3).
Cochran-Smith, M. & Keefe, E.S. (2022). Strong equity: Repositioning teacher education for social change. Teachers College Record, v 124 (3).
Keefe, E.S. and Marin, K.A. (2022). Beyond COVID: Extending teacher candidates' digital practice via virtual teaching, coaching, and supervision. In, Baumgartner, E., Kaplan-Rakowski, R., Ferdig, R.E., Hartshorne, R., & Mouza, C. (Eds.), A retrospective of teaching, technology, and teacher education during the COVID-19 pandemic (pp. 109-113). Association for the Advancement of Computing in Education (AACE). 
Miller, A., & Keefe, E.S. (2022). Neoliberal teacher education: Antithetical to social justice education? In, Sharma, A., Schmeichel, M., & Wurzburg, B. (Eds.): Progressive Neoliberalism & Schooling. Routledge. 
Keefe, E.S. & Miller, A.F. (2021). Training, technique, and automaticity: Teacher preparation at the Charles Sposato Graduate School of Education. The New Educator, 17(1), 1-20
Cochran-Smith, M., Keefe, E.S. & Jewett Smith, R. (2021). A Study in Contrasts: Multiple-Case Perspectives on Teacher Preparation at New Graduate Schools of Education. The New Educator, 17(1), 1-20.
Keefe, E.S. (2020). Learning to practice digitally: Advancing preservice teachers' preparation via virtual teaching and coaching. Journal of Technology & Teacher Education, 28 (2).
Cochran-Smith, M., Keefe, E.S., Carney, M.C., Sanchez, J.G., Olivo, M. & Smith, R.J. (2020). Teacher preparation at new graduate schools of education: Studying a controversial innovation. Teacher Education Quarterly, 47 (2).
Principal Investigator, Equity, Diversity, and Justice in Education (EDJE) Scholars Teacher Residency & Mentoring Initiative. Funded by the Massachusetts Department of Elementary and Secondary Education, $163,919. CO-PI: Dr. Rebekah Louis
Outstanding Faculty Service Leadership Award (2023), Stonehill College, Easton, Massachusetts    
Visiting Scholar in Teacher Education for Diversity, Equity, and Inclusivity (2021), Instituto de Estudios Avanzados en Educacion, Universidad de Chile, Santiago, Chile
Outstanding Book Award (2020), American Association of Colleges of Teacher Education
Exemplary Research on Teaching and Teacher Education Award (2020), American Educational Research Association | Teacher Education Division 
Outstanding Book Award (2019), Society of Professors of Education
Critics' Choice Award (2018), American Educational Studies Association