The Global Refugee Crisis: Can a Broken System be Fixed?
Janet Mancini Billson, Killam Visiting Professor at Bridgewater State University and Professor Emeritus of Sociology at Rhode Island College, will speak on "The Global Refugee Crisis: Can a Broken System be Fixed?"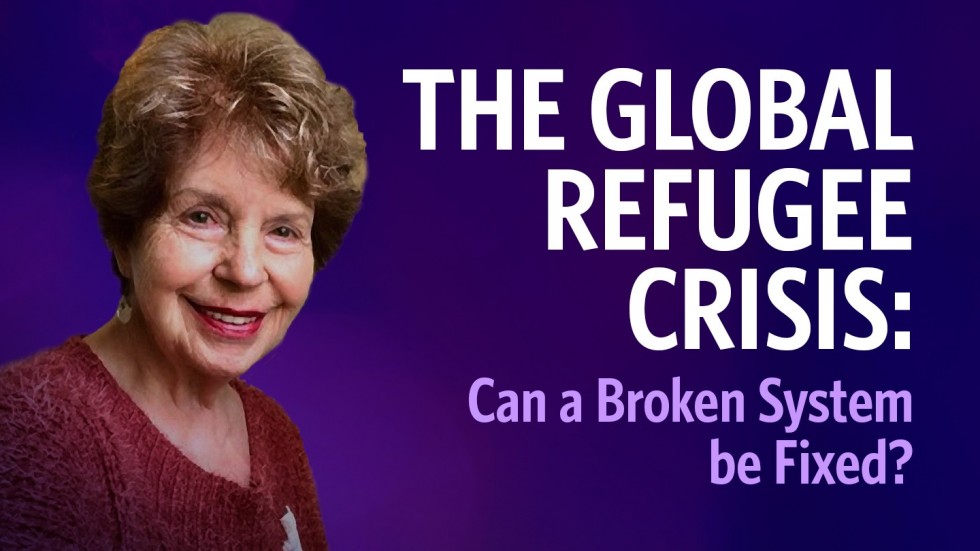 Janet Mancini Billson, PhD, CCS, is Director of Group Dimensions International and former Professor of Sociology at The George Washington University and Rhode Island College. She received her MA and PHD in Sociology from Brandeis University. She has conducted policy research since 1981, focusing on international development, social policy, organizational collaboration, and strategic planning. She is the author of several books on identity, marginality, refugee resettlement and integration, and social change, including two forthcoming books: Refugees in the Canadian Mosaic: Their Journey to Resettlement and Hope (Lexington Books, 2022) and People of Peace: How Persecution Leads to Protest and Terrorism (Purich, 2022). Female Well-Being: Towards a Global Theory of Social Change (with Carolyn Fluehr-Lobban, 2006, includes a chapter on women in Canada). Inuit Women: Their Powerful Spirit in A Century of Change (with Kyra Mancini, 2007) is based on twelve years of ethnographic research on Baffin Island. Keepers of the Culture: The Power of Tradition in Women's Lives (1995) is based on eight years of interviews with indigenous, immigrant, and religious minority women in Canada. She is also co-author (with Richard Majors) of Cool Pose: Dilemmas of Black Manhood in America.
Janet is author of numerous articles and book chapters on resettlement, women, and identity, and has lectured widely on women in development, Inuit resettlement, and the Millennium Development Goals/Sustainable Development Goals. She has written several training manuals for qualitative methods, including In Focus: How Focus Groups Can Improve Your Evaluations and The World Bank Institute Guidelines for Effective Focus Group Research (The World Bank); and Conducting Systematic and Dynamic Key Informant Interviews; The Power of Focus Groups for Social and Policy Research: Focus on International Development; and Conducting Effective Focus Groups in the Field: The GDI Mini-Manual (Skywood Press).
As founder and director of Group Dimensions International, research, training, and lecturing have taken Janet to over 70 countries. Her clients include foundations, hospitals, universities, and government agencies in Canada and the U.S.; the World Bank Group, Inter-American Development Bank, and the African Development Bank; development research organizations such as IDRC (Canada) and FASID (Japan); and United Nations agencies (UNWOMEN and UNESCAP). Her work has contributed to social policy and programmatic shifts at all levels. Her most recent research is based on interviews across world regions: "Review of The World Bank's Global Gender Strategy—Progress toward Closing the Gender Gap" (2020) and "Review of IMF's Private Sector Education Investments: Engagement with Global Civil Society Organizations, Local CSOs, World Bank Education Specialists, IFC Education Sector Staff and Managers, and Global Education Experts" (2021).
A Woodrow Wilson Fellow and Danforth Associate, Janet was Alumni of the Year, Baldwin-Wallace College (1999) and has received the Award for Sociological Practice (Society for Applied Sociology, 2000), the Stuart A. Rice Achievement Award (District of Columbia Sociological Society, 2001), and the Lester F. Ward Distinguished Contributions to Applied and Clinical Sociology Award (AACS, 2008). Her keynote speech for the 2019 Association for Applied and Clinical Sociology Annual Meeting focused on the Sustainable Development Goals as a roadmap for sociological practice.
This event is co-sponsored by The Center for the Study of Race, Ethnicity, and Social Justice at Stonehill College and the Canadian Studies Program at Bridgewater State University.