Biography
Dr. Pederson received her B.A. in Biochemistry in 1983 from Princeton University, NJ. As an undergraduate she worked in the laboratory of Dr. John C. Wooley and studied chromosomal proteins in Drosophila melanogaster.
In graduate school she worked in the laboratory of Dr. Ross C. Hardison in the Department of Biochemistry and Molecular Biology at The Pennsylvania State University. Her doctoral research focused on the transcriptional regulation of the rabbit alpha- and beta-globin genes. She taught at East Carolina University and Providence College before attaining her current appointment at Stonehill College.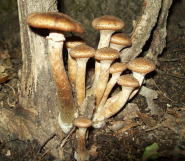 The main interest of our research is to learn more about the enzymes and the genes in the honey mushroom Armillaria gallica (pictured at right), that allow this fungus to degrade the root of infested trees. We have started to assay cultures of Armillaria gallica to determine which specific enzymes (i.e. cellulases, laccases, lignin peroxidase, and/or manganese-independent peroxidases) are present in this white-rot fungus. Our hope is that we will be able to isolate each of these enzymes and compare their enzymatic activities to those found in other fungi.
Our research is also interested in cloning and sequencing the genes that code for these degradative enzymes and study their expression and regulation under different growth conditions.
Education
Ph.D. in Biochemistry & Molecular Biology, Pennsylvania State University
B.A. in Biochemistry, Princeton University
Accomplishments
National Science Foundation S-STEM, Division of Undergraduate Research, "Access to the Science Education of a Four-Year Liberal Arts College for Economically Disadvantage Students" (2009) PI: L. J. Liotta, Co-PIs: R. Hirst, M. James-Pederson, M. Hall (NSF 0849728. funded - $600,000)
National Science Foundation RUI, Division of Integrative Organismal Biology, "The Potential for Dynamic Remodeling by Selection among Cell Lines within Armillaria gallica Individuals" (2007) PI: D. C. Peabody, Co-PIs: M. G. Tyrrell, R. B. Peabody, M. James-Pederson (NSF 0637623. funded - $267,548)
National Science Foundation Directorate for Education and Human Resources, Division of Undergraduate Education, Science Technology, Engineering, and Mathematics Talent Expansion Program (STEP) Grant. "A Public - Private Partnership to Increase Enrollment, Retention, and Diversity in Chemistry, Biology and Biochemistry" (2006) PI: L. J. Liotta, Co-PIs: C. A. Almeida, M. A. Curtin, M. James-Pederson, & K. Twomey. (NSF 0622540. funded - $813,486l )
Member of the American Association for the Advancement of Science
Member of the American Chemical Society
Courses Taught
Biological Principles I Laboratory
Biochemistry I
Biochemistry II
Biochemistry Labratory
Genetics
Molecular Biology
General Chemistry I
General Chemistry II
Organic Chemistry I