How to Apply for International Admission
Submitting Your Application
Stonehill only accepts online applications via the Common Application. Your local EducationUSA office may be able to assist you with this if you have problems connecting to the internet or submitting your application.
We recommend that all students start by completing and submitting the Common Application first, and then requesting that their school submit supporting documents (i.e. transcripts, recommendations, and the Secondary School Report) on the student's behalf. Stonehill does not accept transcripts or recommendations submitted by the student. Each document should contain your full name and your date of birth so that they can be correctly assigned to your application file.
While we prefer to receive the school forms online via the Common App, we can accept them via email, fax, or postal mail. For quicker service, your school counselor (or other administrator) may send documents to us by fax (+1-508-565-1545) or as an attachment to an email sent to admission@stonehill.edu. The cover letter of the fax or email should clearly indicate that it is being sent by the high school (not the applicant) in order for us to accept the documents as official.
The Common Application is an easy-to-use college application system. You'll need to provide some basic information about yourself and your family; and some more detailed information about your education and your extracurricular activities. You'll also be asked to write a 500-650 word essay.
The Stonehill member questions section of the Common Application gives us a few more details that are not included in the main section of the Common Application. After adding Stonehill to your list of colleges through the college search function of the Common Application, you will be able to answer the Stonehill questions. Stonehill does not have a separate writing supplement, but the Stonehill member questions section does contain an optional essay question.
Stonehilll Application Essay Question (250 word maximum)
Students have many choices in their college search and application process. Please share why you have chosen to consider Stonehill among your possible college options.
The Moreau Honors Program  draws its members from applicants whose high school experiences demonstrate strong academic, extracurricular, service, and leadership qualities. Students interested in being considered for the Moreau Honors Program must indicate their interest in the program on the  Common Application.
Your official High School Transcript will need to be submitted by a school official or university placement counselor as part of your application. Your transcript should show your cumulative grade point average (GPA) and your class rank (if your school calculates one).
If your original school transcript is not in English, you must submit your original transcript in your native language along with a copy of the transcript that has been translated into English. If you send them by mail, the original document must have a school stamp and signature and the English translation. We prefer that transcripts be submitted through the Common Application website by a school official. We will accept documents submitted via fax or email attachment, but only if they clearly indicate that they are being sent to us by a school administrator or EducationUSA officer. If there is any cause for concern regarding authenticity of documents, we reserve the right to contact school officials for confirmation and/or request original, stamped and signed documentation in order to complete the application file. Your school counselor may also include a school profile or grade conversion chart as part of the Secondary School Profile they submit via the Common Application.

Your school counselor or administrator should submit a photocopy of your official transcript. Take your only copy and have several certified copies made and translated into English if needed. These documents should be stamped by the legal notary who made the copy and/or translation. We do not accept copies submitted directly by students.
We attract applicants from all over the country – and all over the world. The Secondary School Report helps us get to know your high school a bit better. The report asks questions about the classes you've been given the opportunity to take, the size of your graduating class, and how your GPA has been calculated.

This document is typically submitted by your high school through the Common Application's interface for school officials.
Teacher Evaluations help us get to know you from a different perspective. The evaluation form will ask your teacher to provide insights into your intellectual promise, creative thought, leadership, integrity, and self-confidence. Ask for evaluations from teachers who know you well, and be sure to ask far enough in advance for them to thoughtfully consider your time together. We require that you provide at least one Teacher Evaluation.

These documents are typically submitted by your high school through the Common Application's interface for school officials.
The Midyear Report should be submitted when your grade 12 midyear or first trimester grades are available. Your school counselor should also submit an updated official High School Transcript at that time, including courses in progress. Remember: grade 12 first quarter grades are required and must be submitted as soon as they become available, prior to the Midyear Report and Final Report. 

This document is typically submitted by your high school through the Common Application's interface for school officials.
The Final Report should be submitted when your grade 12 final grades are available. Your school counselor should also submit an updated official High School Transcript. 

This document is typically submitted by your high school through the Common Application's interface for school officials.
You may need or want to submit other supplemental forms along with your application. Early Decision applicants must submit the Early Decision Agreement form. Supplemental forms are available on the Common Application website.
In order to ensure equitable standards for admission, Stonehill will continue to pilot a test-blind process for all undergraduate applicants for the fall 2021 (Class of 2025), fall 2022 (Class of 2026) and fall 2023 (Class of 2027) entry terms.
We understand that COVID-19 continues to disrupt the ability for students to both prepare and sit for the SAT and ACT.  Our hope is to alleviate any anxiety students may have regarding access to testing as it relates to eligibility among a competitive application and scholarship pool.
Considering this change, students applying for the fall 2022, spring 2023 and fall 2023 entry terms should not submit the results of their SAT or ACT exams when applying to Stonehill.
International first-year and transfer applicants whose native language is not English are required to submit Test of English as a Foreign Language (TOEFL), International English Language Testing System (IELTS), or Duolingo English Test (DET) scores as part of their application for admission.
The recommended minimum TOEFL score is 80 on the internet-based exam. The recommended minimum IELTS score is 6.5. The recommended minimum Duolingo English Test score is 120.
While U.S. Citizens and Permanent Residents whose native language is not English are not required to submit the TOEFL, IELTS, or DET, applicants are welcome to do so to better demonstrate their English proficiency.
The International Student Certification of Finances must be filled out and returned with supporting documentation (Bank Statements, Affidavits of Support, etc.) dated within 3 months of the submission of the form before a decision can be made on your application and eligibility for a student visa.

While Stonehill offers competitive merit scholarships that range from $10,000 to $30,000 per year, international students are not eligible for need-based financial assistance.
Application Fee Waivers
In order to remove any potential barrier in your consideration of Stonehill, we would like to provide you with an application fee waiver. Simply enter our founding year, 1948, in the fee waiver code section of the Stonehill College screen on the Common Application, and you will not be asked to pay an application fee.
Supplemental Application Materials
Additional materials are not required for admission, but we will gladly accept additional writing samples, essays, letters of recommendation and other appropriate documents if you feel they will enhance your application.
Your Stonehill Applicant Portal
After you apply, you will receive access to your Stonehill applicant portal account, which will include a checklist and status for all required supporting documentation. The specific documentation required of you will depend on the application plan you select, but please know that no matter the application plan, supporting materials may be submitted in the days following the application deadline. Please note that, per College policy, information and materials submitted to the Office of Undergraduate Admission cannot be returned to students.
If you have any questions about your Stonehill applicant portal account or supporting documentation checklist, please contact the Office of Undergraduate Admission at (508) 565-1373 or admission@stonehill.edu.
Contact Information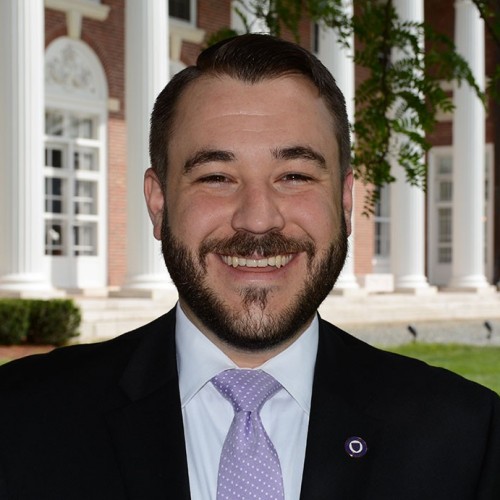 Senior Associate Dean of Admission, International Recruitment