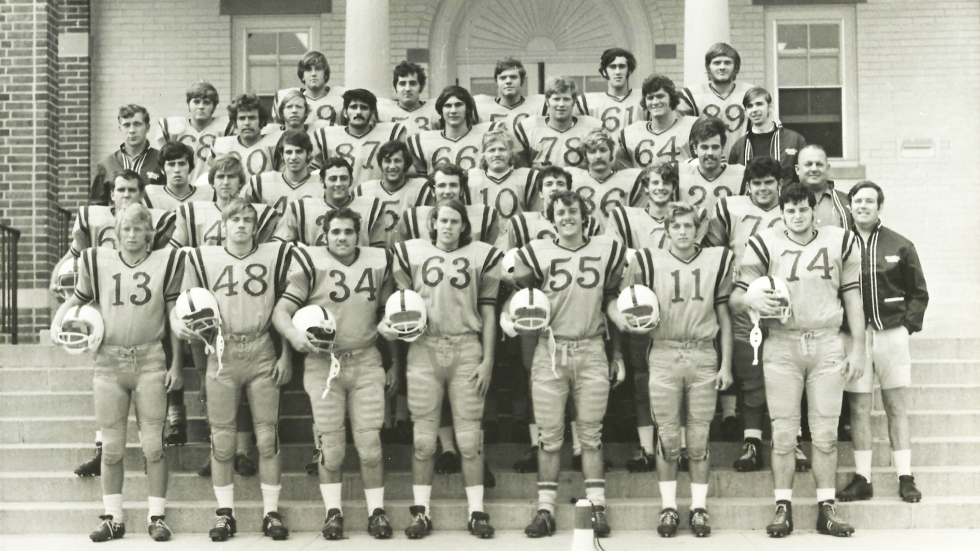 Summer | Fall 2020 - Skyhawk Talk
Football Celebrates 50 Years
On September 18, 1970 Coach David Knight wrote in a letter to Stonehill's first football team, "The effort of a keen mind, a prepared intellect, a capable and fit body, and a heart filled with spirit will be richly rewarded as you meet the tests of the future weeks and years."
Since that day over 50 years ago, football at Stonehill has continued to grow, develop and excel. The founders of the first football club—with a team roster of close to 40 players along with a volunteer head coach, three assistant coaches and a trainer—helped pave the way for the thriving program at the College today.
"It started with a bunch of guys sitting in the Student Union wanting to put a football team together," recalls Mark Welch '71, who served as the president of the Stonehill Football Club in its first year.
With the College focused on basketball at the time, the idea of a football program wasn't met with enthusiasm or support from the administration. The first team took it upon themselves to establish a program.
Keeping costs as lean as possible, the players fundraised with mixers, raffles, pass-the-hat rallies and guest speaker events to buy used equipment and uniforms. According to some recollections, a few players even washed airplanes at Logan Airport, donating their wages to the program.
In that first year, the team purchased and wore powder blue jerseys with maroon trim, the uniforms of a disbanded Long Island football team.
Nicknamed the "Knights," the team practiced and played on the old Eldon B. Keith Field at Brockton High School. While this home field was overgrown, it had bleachers and goal posts and players lined the field before each game.
The Knights played six games that first season, against Worcester State College, Western New England College, Bristol Community College, Boston State College, Saint Michael's College and Assumption College.
Five games into the season, the Knights had their first and only win, in a 14-12 home game against St. Michael's on October 31, 1970.
Go Figure!
Stonehill Skyhawks
Stonehill Alumni Magazine