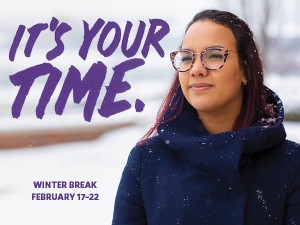 Winter Break 2020 Visit Options: February 17-22
This February vacation, meet current Stonehill students looking to maximize their impact and learn how Stonehill is empowering them to accomplish their goals.
Register Now
Daily Campus Visit Options
The best way to get the most out of your visit is to attend a campus tour and information session led by an admission counselor and current students. The information session will give you an insider's perspective and answers to all your questions. Immediately following the information session, you'll take a campus tour for a more complete view of life and learning at Stonehill. The total time for a campus tour and information session is approximately an hour and a half.
If your time is limited, jump right in to a campus tour with our friendly and knowledgeable student guides. You'll be provided with essential information while seeing Stonehill's campus inside and out. Campus tours take an hour and fifteen minutes, and are offered Monday through Friday.
While not required for admission, if you are seriously interested in Stonehill we recommend scheduling an interview through the Office of Undergraduate Admission. These 30 minute interviews are conducted by an admission counselor or our highly trained student interviewers. We offer interviews from January of your junior year through December of your senior year.
Stonehill welcomes large groups of visitors from schools and community-based organizations. With advance notice, we can tailor a visit experience to ensure that everyone in your group leaves with a better understanding of Stonehill College.
Related Pages