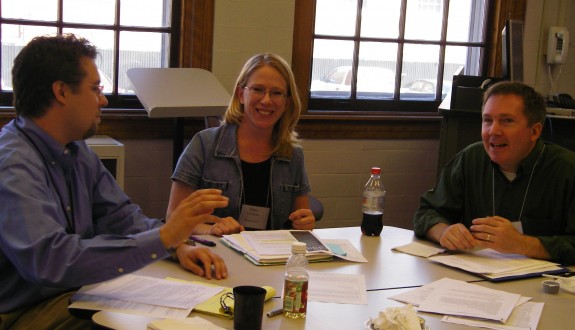 Every August the CTL partners with the Dean of the Faculty to organize a two-day orientation for all new full-time faculty and fellows.
Faculty, administrators, and staff from across the College come together during New Faculty Orientation to welcome our new faculty and introduce them to the resources available to them.
In addition, orientation serves as an opportunity for the new faculty to get to know each other and to begin what we hope is an on-going conversation during their time at Stonehill about teaching and learning and their roles as educators.
2014 New Faculty Orientation Schedule
All programs are held in Duffy 201 unless otherwise noted.
Tuesday, August 19th
8:30-9:00 Coffee and light breakfast
9:00-10:00 Welcome and Introductions
10:00-11:30 Identifying Campus Resources, Part 1 (self-guided tour)
11:45-1:00 Lunch with Faculty Mentors: Finding the Balance (Merkert-Tracy 250)
1:15-2:30 Planning for the First Day (Merkert-Tracy 250)
2:30-4:00 Cultivating Inclusive Classrooms (Merkert-Tracy 250)


Wednesday, August 20th
8:30- 9:00 Coffee and light breakfast
9:00-10:30 Who Are Stonehill Students?
10:45-12:15 Identifying Campus Resources, Part 2 (self-guided tour)
12:30-2:00 Lunch: Faculty Responsibilities/Curriculum Basics
2:00-3:00 Creating an Engaged Classroom
3:00-3:30 Wrap-up and Q&A
3:30-4:30 Afternoon reception with the President (families invited)