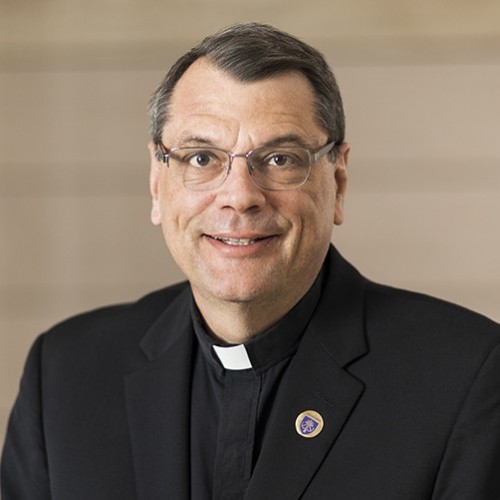 Rev. Anthony Szakaly, C.S.C.
Director of Campus Ministry and Alumni Minister
Rev. Anthony "Tony" Szakaly, C.S.C., was named Director of Campus Ministry and Alumni Chaplain in 2013. He has served on the senior administration team since 2017. In these roles, he oversees liturgical, sacramental and service-oriented programs that facilitate community members' faith formation and help them to create a more just and compassionate world.
As Director of Campus Ministry, Fr. Tony has undertaken several initiatives designed to help community members grow closer to God. He established chapels in O'Hara Hall (Holy Cross Chapel) and Villa Theresa (Mother Theresa Chapel). He refurbished the old postulant's chapel in the Holy Cross Center (Our Lady, Queen of Heaven Chapel). He instituted weeknight Masses in various residence halls across campus. He also installed cameras in the Chapel of Mary to allow for the live streaming of Sunday Mass and other liturgies.
Fr. Tony originally came to Stonehill in July 2012 as the local superior of Easton's Holy Cross community. He is a member of the College's Board of Incorporators, the chair of Stonehill's Board of Fellows and the chair of the Catholic Identity Committee. He previously led efforts to produce Lux et Spes (the Stonehill prayer book) and oversaw the installation of religious artwork across campus.
Outside of his service to Stonehill, Fr. Tony is the Chairman of the Board of My Brother's Keeper, an Easton-based not-for-profit ministry for those in need. On the provincial level, he also serves on the organization's Finance and Properties Committees. While he was pastor, he served the Diocese of Fort Wayne-South Bend as chairman of the Diocesan Endowment Trust, and as a member of the Diocesan School Board, the Diocesan Building Committee and the Diocesan Capital Campaign Committee.
Fr. Tony was ordained in 1992. His first assignment was as associate pastor at St. Clement's Parish in Hayward, California. In 1995, Fr. Tony was assigned as pastor of St. Joseph Parish in South Bend, Indiana. In 2003, he was named assistant provincial and treasurer of the Indiana Province. When the Indiana Province and the Eastern Province of Holy Cross merged in 2011, Fr. Tony continued in this role until a new provincial was elected in 2012.
Fr. Szakaly, who hails from Indiana, is a total educational product of Holy Cross. He was taught by the Holy Cross Sisters at St. Joseph Grade School, the Holy Cross Brothers at St. Joseph High School and the Holy Cross Priests at the University of Notre Dame. Fr. Tony is what is known as a "triple domer," having three degrees from Notre Dame. He earned a Bachelor of Arts degree in 1982 and a Master of Business of Administration degree in 1985. He received a Master of Divinity degree in 1991.