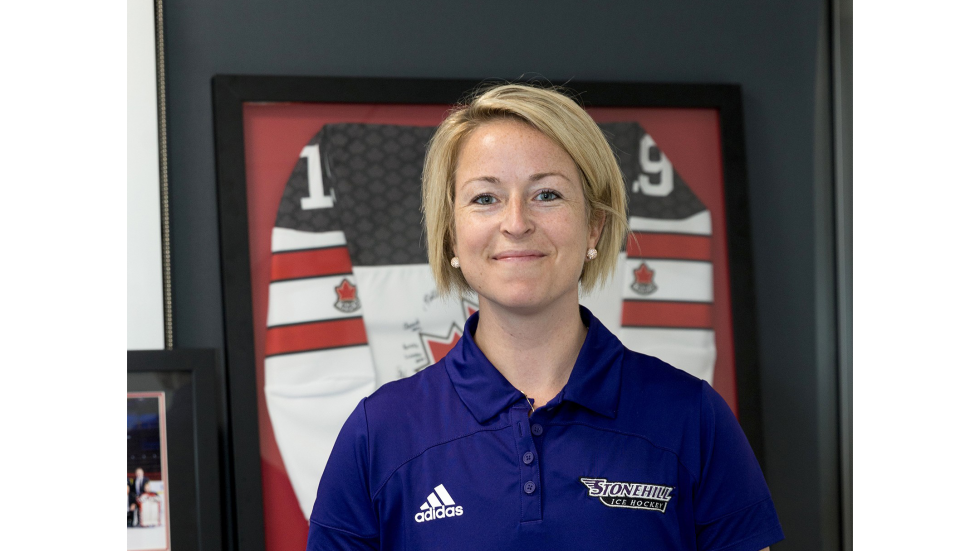 Summer | Fall 2021 - Skyhawk Talk
Meet Olympic Gold Medalist Tara Watchorn
Head coach of the inaugural women's ice hockey team talks about falling in love with hockey, what it was like to win gold and her hopes for the women's team at Stonehill.
When Tara Watchorn was 4 years old, she just wanted to do what her big brother Tyler was doing. And Tyler was playing hockey.
She begged her parents to play. Watchorn, who grew up in Newcastle, Ontario, recalls her father saying, "I'm not going to wake you, but if you're up for 6 a.m. practice, you can come with us." In the pre-dawn, the preschooler was sitting on her hockey bag by the front door.
Soon after, she joined the local boys' league. By 17, Watchorn had won silver as a member of the Canadian team at the 2008 International Ice Hockey Federation Under-18 Women's World Championship.
In college, she became a defensive phenom for Boston University's women's ice hockey program. As a junior, she made the Canadian national team.
After graduating in 2012, Watchorn played defense for Team Alberta in the Canadian Women's Hockey League. In 2014, she achieved a lifelong dream: an Olympic gold medal as a member of Team Canada in Sochi.
She played pro hockey with the Boston Blades before turning to coaching. After four years as an assistant women's hockey coach at her alma mater, Watchorn has become a Skyhawk.
As Stonehill launches its inaugural program, Watchorn is the first women's ice hockey coach. She started in May; the first players will take the ice for the 2022-2023 academic year.
We caught up with Coach Watchorn to talk hockey, Sochi gold and her Skyhawk ambitions.
Q: What made you fall in love with hockey?
A: I think it's understanding the game—to make that first pass, to have that poise on the back end to get the play started. I was 12 during the 2002 Salt Lake Olympics. That's the first time I saw women's hockey at the Olympics [it had become an Olympic sport in 1998]. That's when my dream solidified.
Q: You played at BU.
A: Ironically, it's similar to what I'm doing now: BU was only four years into their program when I decided to go there. I saw it had potential. When I graduated, I thought, "Do I start my life, or do I try to make this Olympic dream happen?" I went all in. I moved to Calgary to train in hopes of making the team. It was grueling training, but one of the most amazing years of my life. By the Christmas before Sochi, I was named to the Olympic team.
Q: How did it feel to win gold?
A: A relief. After the initial excitement of making the team, my first thought was: "Oh no. Now we have to win." Canada had won the last three Olympics at that point—it's an expectation in our country—and you feel that weight. It was pure relief and joy.
Q: How did you arrive at Stonehill?
A: The thing that kept drawing me was the ability to build a program from scratch. When I came to Stonehill and met the people, the deal was sealed. The community feel, in a lot of ways, was like coming home. I want to build off the amazing culture the College already has.
Q: What's your vision?
A: I truly believe I made the Olympic team because I wanted the best for everyone. I felt I was a part of something bigger than myself. That's the team culture I want to create.
Q: What's your goal?
A: I want every young woman who comes through to feel they left their mark, built something special and grew as a person on and off the ice. I'm always going to want to win, but if you put that together with culture, the wins will come. You only get a handful of unforgettable experiences with teams in your life, and the ones that you do get leave a mark.
Q: You're the first women's hockey coach at Stonehill.
A: It's an amazing time to be a woman, especially in a field like this. It's time to have more women head coaches who have gone through what their players are going through. I'm honored to be a part of this school, this community and to start this team.
Find out more about the Women's Ice Hockey Team.
Stonehill Alumni Magazine