Summer | Fall 2021 - President's Letter
Shared Purpose and Passion
This semester, we returned to campus in person as a community of scholarship and faith dedicated to learning and growing together.
Walking on our beautiful campus, one can feel the renewed life and energy all around. I witnessed this firsthand at Family Weekend and Homecoming, where students, alumni and families gathered and celebrated after a long hiatus of on-campus activities.
Another celebration where we gathered recently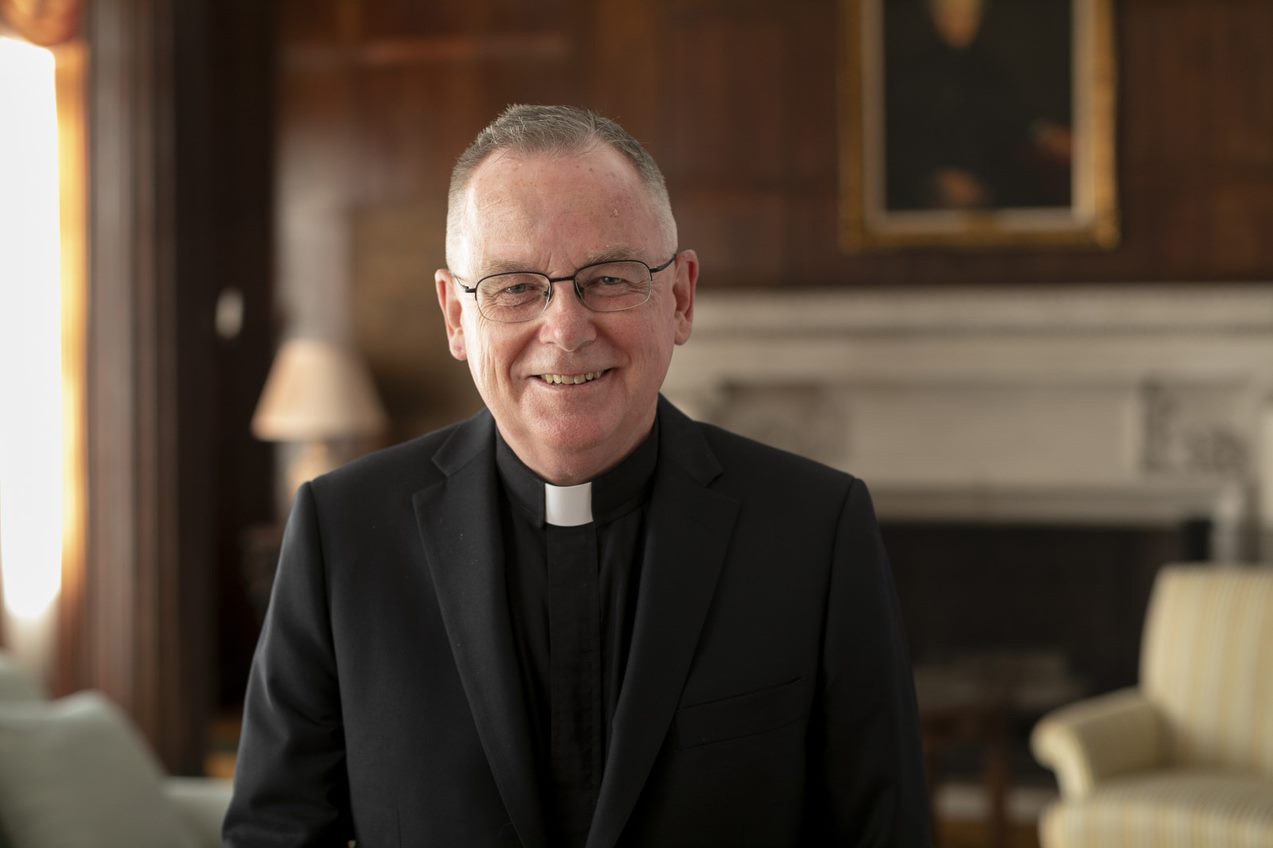 was in honor of Deb Salvucci, longtime professor of business administration and founding dean of the Leo J. Meehan School of Business, as she retires after 37 years of dedication to the College. Deb was recognized not only for her significant contributions to our business program, but also for her enduring mentorship of students and alumni.
The myriad ways that the Stonehill community comes together with shared purpose and passion—from the College's earliest days through now—to build a more just, equitable and compassionate world are explored in this issue.
Seventy years ago, 19 women were admitted as students, and Stonehill became coeducational. We continue to break barriers for women on campus even as recently as this past May, when we welcomed Olympic gold medalist Tara Watchorn as the first head coach of the new women's ice hockey team.
Another major milestone for the College is the 25th anniversary of the Stonehill Undergraduate Research Experience (SURE) program. This summer, 63 students worked closely with faculty, researching spring bloom in the Gulf of Maine, mental health treatment and genetic ancestry testing—just to name a few of the projects. "SURE helps students build confidence in themselves to do things they never thought they could do," says program founder Professor Louis Liotta. More than 700 students and 100 faculty members have participated in SURE over the years—studying, researching and presenting innovative solutions to some of the greatest challenges of our time.
Current students and faculty are not the only ones leading transformative change in the world. At a Board of Trustees meeting, Liz Hayden '76 learned of the idea for a Center for the Study of Race, Ethnicity, and Social Justice at Stonehill. Liz shares her profound story of love and tragedy—and her journey of healing. Most recently, she gave a gift to establish an endowed academic chair in her husband's memory. The James E. Hayden Chair for the Study of Race, Ethnicity, and Social Justice will lead the College's effort for a more equitable world. "I know he would be honored by this bold idea to address diversity and inequity and to promote social justice at Stonehill and beyond," says Liz.
Liz's generosity embodies the spirit of the To Be BOLD campaign, which seeks to make an impact on the Stonehill community through student opportunities, faculty excellence and academic innovation. Learn more about the campaign by visiting tobebold.stonehill.edu.
And thank you for being a part of Stonehill. Whether you graduated 70 years ago or last year, you remain a cherished member of this beloved community always.
Sincerely in Holy Cross,


Rev. John Denning, C.S.C.
President
Stonehill Alumni Magazine