by Lauren Daley '05
This story begins at a Manhattan Starbucks, with a man who had no way of knowing the ripple effect he was about to create when he handed the barista $100 and told her to run it out on the customers behind him.
It was the morning after the Sandy Hook shooting, and at a nearby office, Mary Latham '09 was in her cubicle, reading about the tragedy on her computer and feeling sickened over the senselessness of it all when a coworker popped in and told her about his free coffee.
A little later, Latham called her mom, Patricia, and told her about the coffee man, before launching into
her despair over the school shooting.
"Mary, you have to focus on that other story you just told me—think about that man who just made so many people's day by buying them coffee," her mom said. "There will always be horrible and tragic things that happen—but there will always be more good out there. You just have to look for it."
A Personal Mission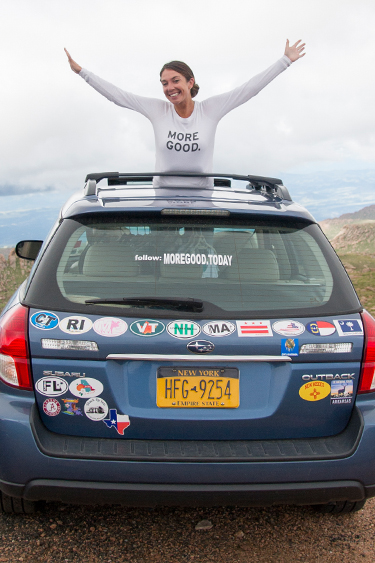 Ten weeks after that conversation, her mother died of cancer.
Latham has since hit the road in her mom's Subaru Outback—she calls it Old Blue—to look for "More Good." Her personal mission is to travel to all 50 states collecting stories of kindness to compile into a book she'll donate to hospital waiting rooms.
The Skyhawk has traveled some 30,000 miles through 35 states and stayed at 115 homes—often hosted by strangers who have heard of her journey—collecting tales of hope.
The Orient, N.Y., native has done a TED talk about her mission. More Good has been covered by the Today Show, MSNBC and dozens of other newspaper, television and radio outlets across the country.
Help Along the Way
Along the way, "a lot of Stonehill people have reached out and helped me," says the former graphic design major and full-time wedding photographer.
For example, when she was traveling through Missouri, Kathryn (Wheeler) Neckermann '09 helped connect Latham with a story of a mom and her daughter, who had been shown kindness after the daughter was diagnosed with cancer. Ellen Brown '09 hosted her in Portland, Ore.
Kimberly Riker '09 hosted Latham for a week in Phoenix while Latham collected stories there. One Arizona story featured a woman who, after noticing that homeless people tended to congregate outside a laundromat she passed each day, went weekly with McDonald's Happy Meals, food, clothing and quarters to hand out.
Stonehill alumni have also helped in other ways. "I was collecting a story in Los Angeles, and I got back and found a parking ticket for $93," Latham recalls.
She posted it on Instagram, and within minutes Janine (Connors) Block '09 sent her $93 via Latham's GoFundMe page.
"This journey has changed my life," Latham says. "It's so important for people to see that these tiny little acts are so huge and that we are all capable of them."
After tragedies like Sandy Hook, people often feel powerless. While we can't change everything, Latham admits, "we can do something." Her collected stories illustrate that "giving a tiny bit of our time can make a massive impact. Some of the smallest acts of kindness…can change a stranger's life."
Latham's favorite story comes from a Rhode Island woman who shared her memory of working as a bank teller about 20 years ago:
It was a crazy, busy day, and I was tired, stressed and grumpy. My customer…and I exchanged pleasantries. She mentioned I looked stressed out. I casually answered it was nothing some M&M's couldn't cure… When I looked up to call the next customer a half hour later, she walked up and handed me some peanut M&Ms. I'm 52 now, and I've never forgotten that day.
Stories of Hope
Patricia Latham was diagnosed with breast cancer when Mary—the youngest of her four children—was 11. The cancer came back 11 years later, and she had been sick for three years before Sandy Hook. She died in 2013, at age 61.
"She was always my biggest cheerleader and supported whatever I wanted to do," Latham says of her mom. "She was also the kindest and most generous woman."
Latham plans to turn the stories that she is collecting into a coffee table book for hospital waiting rooms, "where I spent a lot of time with my mother before she died," she explains. It's "a hopeless, depressing place that I thought could use some stories of hope for the people who had to sit there next."
For her work with More Good, Latham was named the 2018 Person of the Year by her hometown newspaper, the Suffolk Times. In an Instagram post about the honor, Latham wrote to her followers:
"I am so incredibly grateful for this recognition, but the truth is, it's for all of you, too. You are all people of the year for supporting this mission…There was a moment when I drove into South Dakota a few months ago that has stuck with me.
I pulled into the spot and got out of the car to pay the meter. A woman came running down the street waving her arms. 'Don't pay! Take my spot!'… She was parked next to me and had just put a bunch of quarters in but ended up not needing to stay…I can't get it out of my head. She could have just left, but she ran to stop me. Every day, all around us, there are people doing small little acts of kindness for others. Tiny little acts that are changing lives. They might not make the news. We might not talk about them to our friends. But they are happening."
Capturing What is Real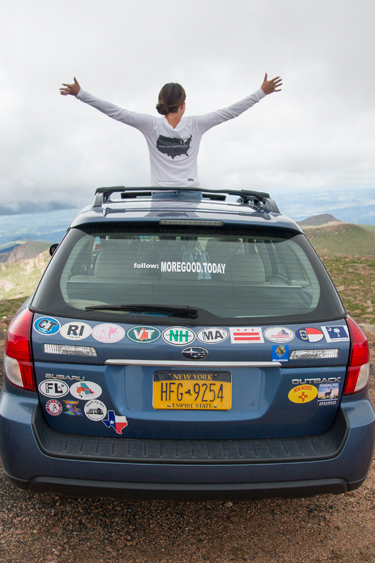 Latham says Stonehill helped shape her into the person she is today, both as a photographer and with supporting More Good.
"My photography professor, MJ [MaryJean Viano Crowe], turned me into the photographer I am today. She taught me how to capture something raw. Something real," says Latham, who also studied photography in Florence, Italy, and was the photo editor at The Summit.
Her Stonehill friends, meanwhile, help her emotionally and have supported her More Good journey. "The group of girls I met at Stonehill had one of the largest impacts on me," she reflects. "They have been such solid rocks."
Latham posts her collected stories to her website, Facebook and Instagram, wanting readers to feel "comfort and inspiration." She hopes these stories help readers "cope with whatever they are facing in their own lives," she says. "I want them to feel they are not alone, that we are all going through something, which is why it is so important to be kind. To smile at a stranger. To hold the door. To be a good person. No matter what."
This past December, Latham started the 100 Movement on her Web site, encouraging people to spend $100 (or less) on a stranger, in the vein of the Starbucks man who started her on her journey. "If you're only able to spend $1, $5, that is just as important to…the stranger you spend it on," Latham wrote on her site. "Go into a diner and pick a table to pay for...Go to a Walmart and buy a bunch of sweaters to give to the homeless people you drive by on your way to work. Figure out something good and creative you can do for someone with your money… It can change someone's life. I wish I could tell the man who bought the coffee gift card that morning that he changed mine."
Follow Latham's journey at www.moregoodtoday.com and on Facebook and Instagram.