Meet Seven Alumni Working with Man's Best Friend
From doggy day care to medical care, canine therapy to stylish grooming, Stonehill has quite a few dog-loving alumni working with man's best friend. We caught up with seven to hear their tails—er, tales.
THE "DOG"TER IS IN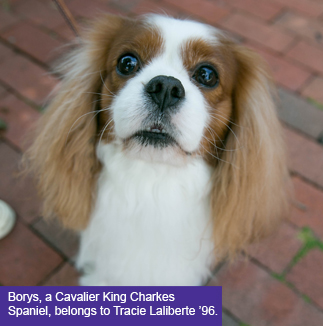 Tracie Laliberte '96 fell in love with the world of dog shows at age 9 when her teacher—who raised and showed Golden Retrievers, Doberman Pinschers and Lhasa Apsos—invited her to attend a show. Laliberte got to show one of the puppies. She was hooked.
Between assisting her teacher at shows and grooming dogs at her family's kennel, Laliberte was eventually named Westminster Kennel Club Best Junior Handler of the Year in 1983—and she still shows dogs today.
The communication major groomed dogs while attending evening classes at Stonehill. "The minute the kennel doors would close, I'd hop in my car and dash off to class," she says. "I'd calculate the number of poodles I'd have to groom in order to pay for my textbooks and tuition each semester. What's more, I worked about 70-plus hours a week, so it wasn't unusual for me to have my textbooks open on the grooming table or for tufts of dog hair to waft to the floor in class when I opened my books!"
After Stonehill, Laliberte continued grooming while earning her master's degree from Salve Regina University. She recently received her Ph.D. in the humanities with her dissertation, "Digging the Dog: Anthropology and Archeology in Human-Canine Relationships and Encounters with the Sacred."
"My dissertation is about how humans have feelings of profound awe through their relationships with dogs. I use archeology and anthropology to look at where relationships with dogs provide openings for people to experience the sacred," she says. "Stonehill is at the foundation of everything. I wrote a research proposal for Professor Richard Shankar that sparked an interest in animal studies. Rabbi Ben [Lefkowitz] taught me how to find the sacred in the profane," says Laliberte, who owns Cavalier King Charles Spaniels.
She still shows dogs and volunteers with her certified therapy dog. And now that she's a doctor, she notes,
"My longtime Stonehill friends call me dog-ter Laliberte."
THERAPY DOGS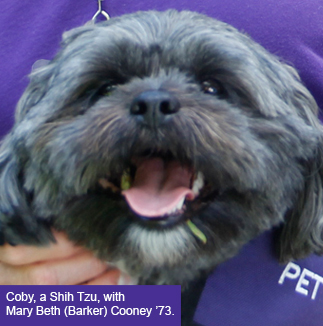 You've likely heard of, or perhaps felt the love of, therapy dogs—four-legged friends visiting hospital rooms, nursing homes, hospices and the like to brighten someone's day. For Mary Beth (Barker) Cooney '73, a sociology major and dog lover long drawn to the world of nonprofits, pet therapy is a perfect fit.
"I've always worked for nonprofits, been interested in natural forms of healing and loved animals," says Cooney, a former social worker, and now executive director of Creature Comfort Pet Therapy in Morris Plains, N.J. The company certifies pets as therapy animals and has 250, mostly dogs, who make 3,500 visits a year to hospitals, nursing homes, special needs schools, libraries, veterans' homes and more.
"I grew up with many different kinds of animals, so I knew how important the role of animals could be to health and healing," says Cooney.
Therapy dogs with their owners "go into situations where people are suffering from illness, grief, addiction, disability, mental illness, homelessness and abuse," she explains. "The special dogs who pass our certification test have calm temperaments, are comfortable with loud noises and medical equipment, happy with being hugged by people of different ages and genders. They love their job and get very excited when their owner takes out their therapy vest."
Cooney credits Stonehill with getting her into the nonprofit field. "A favorite professor was Professor Herb Wessling, head of the Sociology Department," she recalls. "I knew I wanted to help other people when I graduated, but I wasn't sure what that meant when I first got to college. His direction was very helpful in guiding me toward my goals."
While Cooney's own rescue Shih Tzu, Maggie, is too shy to become a therapy dog, Maggie's pup Coby—owned by Cooney's daughter, Cristin Cooney '98—"has made a wonderful therapy dog, visiting nursing homes, hospitals, corporations to de-stress staff, schools to help special needs kids and more," she says.
GOLDEN DOGS
The Golden Girls retired to Miami—but where's a senior dog to go? That's what Kristen (McManus) Peralta '03 and her husband, Marc, realized shortly after adopting the elderly Maltese, Rue McLanahan—yup, named after Blanche from The Golden Girls.
The couple founded Vintage Pet Rescue in 2017. The Foster, R.I.-based nonprofit is a senior animal retirement/hospice home committed to rescuing senior—or "vintage"—pets and caring for them for their remaining days. They currently house 30 dogs, all over age 8, rescued from across the East Coast.
When Rue passed, "we adopted another senior in her memory, and we just started 'collecting' old dogs," says Peralta.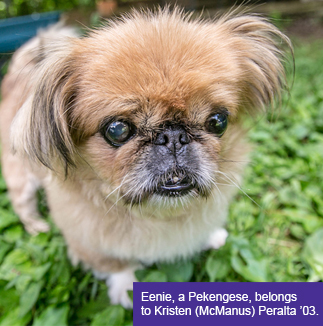 "Technically all of the dogs at Vintage Pet Rescue are owned by us, so yes, I currently own 30 dogs! I know that sounds crazy, and it is crazy, but it's our life."
Every dog is unique, she notes, but Peralta is partial to Pugs, Pit Bulls, and, most recently, Chihuahuas. "We currently have seven Chihuahuas, and they're all so special."
What does she love most about working with senior dogs?
"I love seeing their personalities emerge. We take these dogs in as seniors, so you would think they would be pretty stuck in their ways, but we see new things every single day," Peralta says. "I love it when they find a best friend."
THE HOLISTIC APPROACH
Anyone who lived in the Sem remembers that long walk to campus. Kerry Scott '74 endured those hikes with two special friends, Dionysius and Apollo—Professor Bill Braun's German Shepherd and Malamute crosses. "Those dogs were the best of company on trips to and from campus," says Scott, a lifelong dog lover who founded Good Dog Goods on Martha's Vineyard.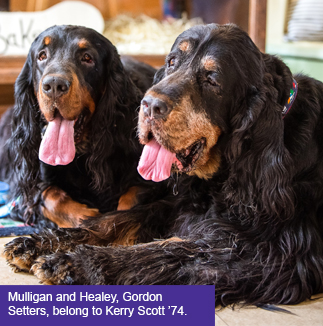 The specialty shop, in a Victorian cottage in Oak Bluffs, offers largely earth-friendly boutique supplies, goods and supplements—from milk thistle liver-support supplements, to doggy life jackets, to lighthouse or seashell-shaped pup treats.
Scott founded the shop 20 years ago out of her concern for the health issues dogs were facing. "It was my mission to advance their well-being by providing all things healthful and safe, and at the same time, to offer beautiful products that celebrate the human-canine bond," she says.
Scott lives with her two Gordon Setters, Mulligan and Healey. She fell in love with the breed after meeting her Stonehill roommate's Gordon, named Ivy.
"I missed Ivy so much after we graduated that I got my own Gordon as soon as I could," she recalls. "I ended up involved in the sport of dogs, showing, field trialing and breeding several litters over the years."
The shop has also raised money for Vineyard animal shelters and nonprofits, Scott says, adding that Stonehill helped solidify her sense of social responsibility and civic duty.
Her science courses, meanwhile, "inspired my lifelong interest in issues of health generally, and dogs' health in particular, learning to regard dogs as sentinels for the human population relative to matters of health."
THE VET
"Stonehill takes all of the credit for my being in veterinary medicine," says Maine-based veterinarian Jonathan Gagnon '03.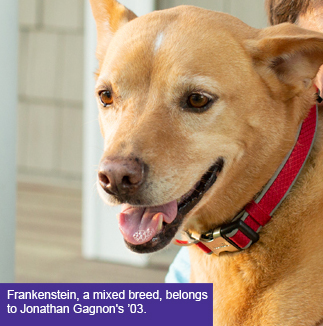 A biology major, Gagnon went on to receive his Veterinariae Medicinae Doctoris from the University of Pennsylvania's School of Veterinary Medicine in 2008. Now an associate veterinarian at Saco Veterinary Clinic and the Animal Hospital of Saco, Gagnon practices clinical medicine, surgery and dentistry, primarily on dogs and cats. He, his wife and son live with their adopted Pit Bull mixes, Frankenstein and Chloe.
"I credit Professor Maura Tyrrell, my advisor, for opening the door to be in the position I am now, because it would not have been on my radar otherwise," he says.
Gagnon recalls that he had always had an interest in zoology and animals though never actually had any pets growing up—except for a ferret—because of his brother's allergies. "Throughout most of my time at Stonehill, I didn't know exactly what direction my career would go," he says. "It was at Professor Tyrrell's recommendation to think about veterinary medicine."
In veterinary school, Gagnon referenced his notes from Professor Craig (Almeida) Kelley's immunology course. "It was a testament to his ability to explain complicated concepts."
A RESORT FOR DOGS AND CATS ALL UNDER ONE "WOOF"
It was Jeni (Dwyer) Mather's '96 childhood dream to work with dogs. As a biology major at Stonehill interested in veterinary science, Mather trained dogs for extra income. Then in 1998, she saw an opening in the business market.
"I'd read about doggy day cares in California, and I thought they were a good idea," she says. "A lot of people thought I was crazy to open one. But I saw a niche, and I just went for it. I bet on the fact that if we added services, we could be successful."
In 1998, Mather opened her dog training and PLAYtrain® doggy day care business. Today, located in Brockton, JM Pet Resort has added many services, including pet boarding, grooming, pet taxi, pet sitting, a premium retail store and a full-service veterinary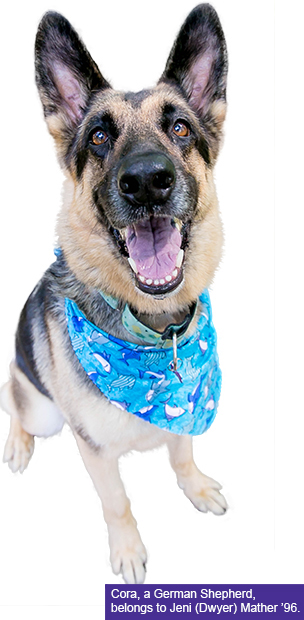 clinic, JM Pet Vet, rounding out all services to offer 360º of Happy Health™ to her clients. Mather's company is in the midst of an expansion, adding a second story to the facility to better accommodate new and existing clients, including Mather's staff of 62 employees.

Mather is a certified level 2 master dog trainer and a veterinary technician, using the biology and parasitology she learned at Stonehill, particularly from Professor Maura Tyrrell's classes, to help run her business.
"Professor Tyrrell ran her classroom in an out-of-the-box fashion. She included field trips, encouraged discovery and promoted teamwork. All of those principles are applied in my current business," says Mather, who lives with her husband, three kids and their five dogs—Blueberry, Cora, King, Nicki and Sakari. "I felt like I could do anything I wanted to do. And that's the confidence Stonehill gave me."
FOR THE DOGS
An economics major and lifelong dog lover, Charles Maneikis, III '09 developed his business plan for a dog-walking business as part of a Stonehill small business administration course.
Days after graduating, he opened The Modern Dog Boston in Dorchester. "Most people thought I was crazy for doing it, but it was a good way to transition out of college with the potential to grow into a legitimate business," Maneikis says.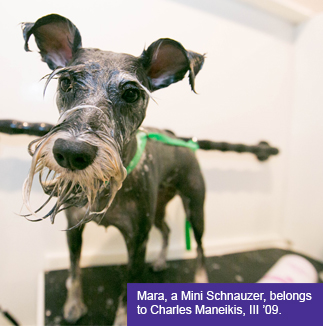 Today, Modern Dog Boston offers much more than dog-walking. The shop aims to provide humans with a one-stop shop for all their canine needs—from play groups and walking to a DIY dog wash with shampoo and conditioner treatment, teeth cleaning and nail care.
"I love developing relationships with our clients and their dogs," says Maneikis, who lives in Dorchester with his wife, son and their Plott Hound named Georgia.
And he still maintains his Stonehill connections. "I stay in touch with my economics advisor, Professor Akira Motomura, whose daughter shadowed at the store for a day this past year to see what working with animals is all about."