Leo J. Meehan School of Business Building Opens
Opened on time for the new academic year in August then dedicated in September with flair and style, the Leo J. Meehan School of Business building is the most ambitious capital project in Stonehill history.
The three-story Meehan building is very much an investment in the future. Costing $35 million and comprising 63,450 square feet, it is designed to enhance our strong business programs with cutting-edge technologies and adaptive, modern classrooms and collaboration spaces. Located on the main quad, it is home to 34 faculty members in accounting, finance, international business, management, marketing, economics and healthcare administration.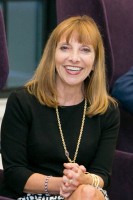 "Everything we do at the College is focused on providing our students with rigorous, in-depth and high-impact learning experiences, and the Meehan building allows us to do just that but at a higher level. Among business faculty and students, there is so much excitement as we settle into our new home. Our task now is to get on with the job of preparing our students to become not only talented but also ethical business leaders," says Dean of the Meehan School of Business Debra Salvucci.
With the opening of the Thomas and Donna May School of Arts & Sciences building last year and now the Meehan building, the quad is being transformed into a dynamic hub of academic, intellectual and social activity.
"With foresight, we are redefining and energizing the very heart of our campus. This is an inflection point in the College's history, one that bodes well for us moving forward with care and confidence," adds Salvucci.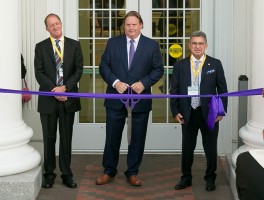 In 2017, President and CEO of W.B. Mason Leo Meehan '75 along with his W.B. Mason partners Steven Greene and John Greene pledged $10 million in support of the building that bears Meehan's name.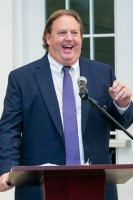 "This gift is a no-brainer. Stonehill is a great school for business. I know, I hire their graduates. They're very good," said Meehan, a member of the College's Board of Trustees, at the announcement.
Over the years, Meehan, W.B. Mason and Stonehill have developed a deep and lasting relationship. Meehan was the first Stonehill alumnus to work at W.B. Mason. In fact, he was the first college graduate the company ever hired. Today, W.B. Mason employs more than 120 Stonehill alumni.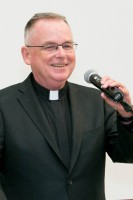 "Without Leo's passionate support for Stonehill and his generosity towards the College, we would not be blessed with such an outstanding addition to the campus. The generosity of Leo, Steve and John, and the W.B. Mason Company means more to us than just a monetary gift. Representing great faith in us, their gift helps us to make a quantum leap in terms of our ability to be very successful going forward," says President John Denning, C.S.C.
That success comes from marrying a business education with experiential learning, leadership opportunities and a rigorous program in the liberal arts. "We do more than sharpen a student's business instincts," says Salvucci. "Our students learn how to think, act and lead with intelligence and compassion."
Meehan Building Features
The Meehan building comprises 300,000 pounds of mortar and 194,759 bricks.
Modeled after the one at W.B. Mason's Brockton headquarters, the board room allows students to practice their presentation skills in an authentic setting.
Gigi's Café is named after Leo Meehan's wife, Sara, whose nickname is Gigi.
Multipurpose great room (lobby)
Two 36-seat classrooms: one active learning and one traditional learning
Seven 30-seat classrooms: one active learning and six traditional learning
Forty-two faculty offices
Two 18-seat seminar style classrooms
Team-based learning

hall with 124 tiered seats

Capital markets/trading lab
Thirty-two-seat

Bloomberg classroom

One-button recording studio
Thirty-two-seat computer classroom
Thirty-two-seat computer resource lab
Two reading rooms
Two conference rooms
Five group study areas
Collaboration zone