Skyhawk Beginnings Pre-Orientation Experience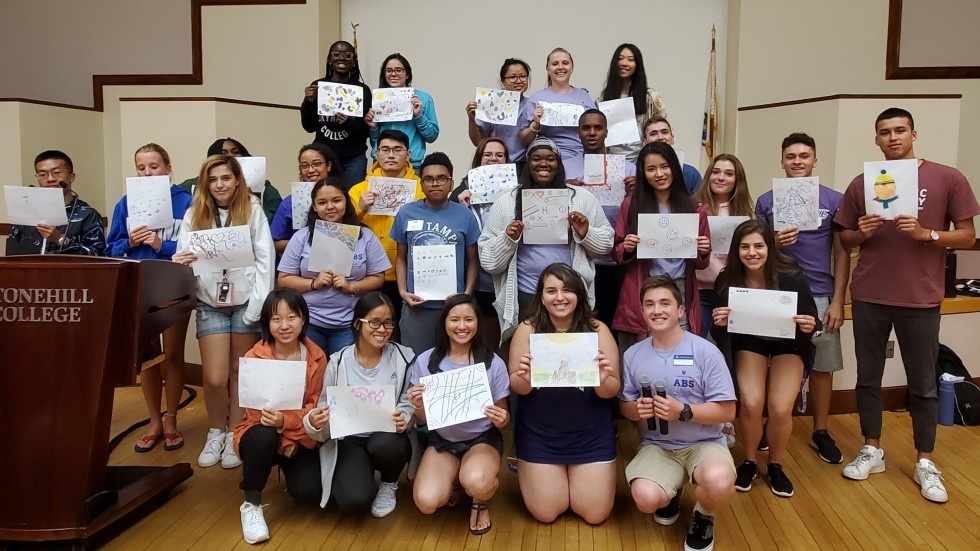 Skyhawk Beginnings provide select members of the incoming Class of 2026 with the unique opportunity to participate in an August pre-orientation experience with a small cohort of classmates. Lead by Stonehill College staff and assisted by returning student leaders, Skyhawk Beginnings will help students ready the mind by arriving early and getting a head start, inspire hearts by providing an intentional pre-orientation experience, spark connections with a small group of students and staff, and empower excellence by commencing the Stonehill leadership journey before college begins.
While each program differs in theme, at the heart of each of these carefully curated experiences is an opportunity for students to begin their Stonehill adventure with a deeper connection to the community and each other through intentional activities, engaging workshops and fun social opportunities.
Though is no cost to participate in Skyhawk Beginnings, and each program is limited to a small cohort of students.
Please find the application to these programs HERE. Applications are due July 24, 2022. We encourage students to apply early.
Intercultural Experience Program (IXP)
The Intercultural Experience Program (IXP) is a pre-orientation experience for first-year students that provides a mix of social activities and discussion groups to explore identity and build relationships. Participating in IXP also pairs students with a mentor to support them as they begin their journey at Stonehill.
This program is open to all incoming first-year students who are interested in meeting students from diverse backgrounds. International students are strongly encouraged to attend this program.
IXP will be held Friday, August 19 – Saturday, August 20, 2022.
For more information, please email diversity@stonehill.edu or visit us in Duffy 149.
Preparing to Lead
Everyone wants to be a good leader. In order to attain this goal, you must put in the work necessary to develop the skills that will assist you in leading others. As you prepare to begin your college experience, you may be looking to continue the leadership development you began in high school, or you may be ready to start actively pursuing your own growth. In this Skyhawk Beginnings program, you will be prepared to lead through the discussion of the fundamentals of leadership as well as the many and varied leadership opportunities offered at Stonehill. This program is designed for students who are interested working with their peers to further their understanding of what it takes to be a strong leader.
Preparing to Lead will be held Thursday, August 18 – Saturday, August 20, 2022.
Skyhawks Serve
The Skyhawks Serve program at Stonehill College will provide first-year students the opportunity to immerse themselves in an enriching experience of building community among their peers and local community members. First-year students will challenge themselves to consider what their place as a community member and active citizen will mean for them during their time at Stonehill. Following the program, they will then have various opportunities to share their experiences with their peers to encourage further participation in community engagement efforts.
Skyhawks Serve will be held on Thursday, August 18 – Saturday, August 20, 2022.
Wellness Pre-Orientation Program
The keys to a successful first year at college include learning time management skills, the importance of sleep, good nutrition and physical activity as well as managing stress and practicing good habits for one's mental health. This pre-orientation program will explore these and other concepts to help students succeed during their first year in college.
The Wellness Pre-Orientation Program will be held Friday, August 19 – Saturday, August 20, 2022.
The Spirit of Stonehill
As a school founded and shepherded by the Congregation of Holy Cross, Stonehill College seeks to form the mind, heart, and spirit. Join Campus Ministry student leaders in a program that will introduce you to the spirituality and faith life of Stonehill through group discussions, fun activities, and an exploration of some of the many sacred places on campus!
Faith and spirituality are integral parts of the human experience, and you will hear from peers who have grown closer to God and to one another through Campus Ministry. This program is open to all first-year students of all faith and spiritual backgrounds. Whether you want to grow your faith, connect with it for the first time, or just have some questions, we look forward to meeting you!
The Spirit of Stonehill will be held Thursday, August 18 – Saturday, August 20, 2022.
Contact Information
Roche Dining Commons – 103
The Office of Student Engagement provides opportunities that will empower students to create a fun and positive campus community. The office enjoys a strong working and advising relationship with the Student Government Association, class committees and many of the student clubs and organizations.