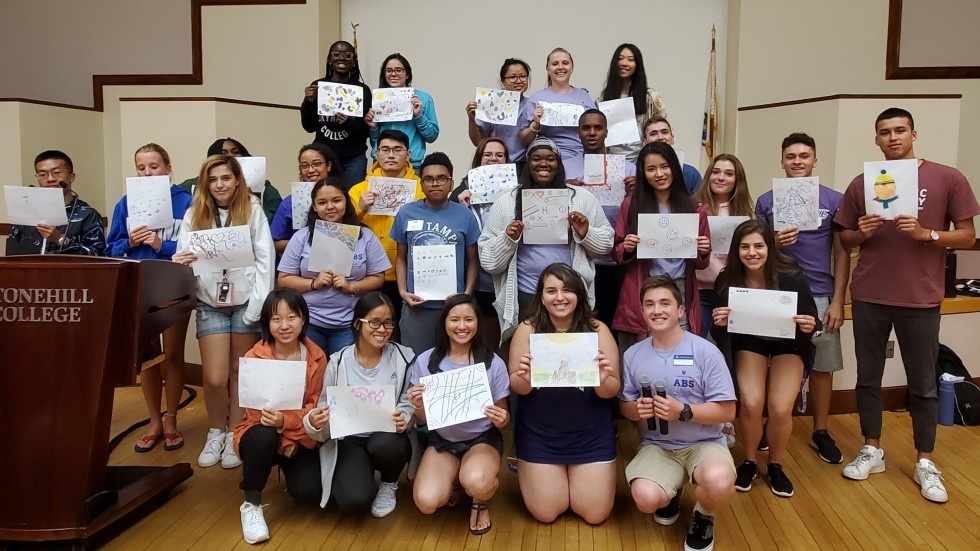 Stonehill offers two student experiences to begin creating community before Fall Orientation. These programs are a unique opportunity to participate in an engaging experience with a small cohort of first year students. Led by Stonehill staff and assisted by student leaders, both Skyhawk Beginnings and Intercultural Experience (IXP) help students ready the mind by arriving early to get a head start, inspire hearts by providing an intentional beginning experience, spark connections with a small group of students and staff, and empower excellence by commencing the Stonehill leadership journey before college begins.
Though is no cost to participate in these programs, and space is limited to a small cohort of students.
Skyhawk Beginnings
Skyhawk Beginnings provides first-year students the opportunity to immerse themselves in an enriching experience of building community among peers. This program is designed for students interested in journeying alongside their peers in faith, service and leadership. Join student leaders in a program that will introduce you to the life of Stonehill through group discussions, fun activities and exploration of campus!
Following the program, students will have various opportunities to continue growing together as a community.
Skyhawks Beginnings is held Thursday, August 24 – Saturday, August 26, 2023. To register for the program, please click here.
Intercultural Experience Program (IXP)
The Intercultural Experience Program (IXP) provides first-year students with a mix of social activities and discussion groups to explore identity and build relationships. Participating in IXP also pairs students with a mentor to support you as you begin your journey at Stonehill.
This program is open to all incoming first-year students who are interested in meeting students from diverse backgrounds. International students are strongly encouraged to attend this program. For more information, please email diversity@stonehill.edu or visit us in Duffy 149.
IXP is held Friday, August 25 – Saturday, August 26, 2023. To register for the program, please click here.
Contact Information
Roche Dining Commons – 103
The Office of Student Engagement provides opportunities that will empower students to create a fun and positive campus community. The office enjoys a strong working and advising relationship with the Student Government Association, class committees and many of the student clubs and organizations.