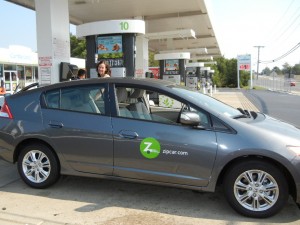 Zipcar in Action!
Professor Sue Mooney demonstrates how easy it is to use a zipcar around campus.
The Stonehill Zip car program began in the fall of 2011. There are currently 2 zip cars in use on campus and are located in the Duffy Academic Center parking lot. Beyond the money you will be able to save on gas, oil, maintenance, insurance, a parking sticker, and parking tickets, using Zipcar can eliminate pollution and emissions that your car puts into the atmosphere. According to statistics presented by Zipcar, each zip car in use takes 20 cars off of the road. By using a Zipcar, only when you need to go somewhere, you are a part of helping to take excess cars off roads, and reducing the amount of pollutants that are entered into the atmosphere.
How to Sign Up
Interested in signing up for some "Good Clean Fun" with Zipcar? Here's how to get started:
Follow the link to the Stonehill College Zipcar Registration page

Fill out username and password information. Make sure the email you put in is one you check regularly, as you will be notified of special deals through it.
Tell Zipcar your driving plan, or 'where you'd like to zip.'
Fill out your personal information and payment plan. Check online to see if any online coupons are available for free driving.
Tell them where to send your Zipcard.
When your Zipcard arrives in the mail, activate it on the Zipcar website.
Start zipping around!