Stonehill Service Corps - India is an 10-month post-graduate cultural service experience. Corps members teach at Holy Cross School, a K-12 school with 450 students serving Aymanam in Kerala State. The school is operated by the Congregation of Holy Cross.
The program is open to graduates of Stonehill College in the current year or previous two years and the service term is June to April.
2018-2019 India Corps
David 'Trey' Blaskey '18, Major: Marketing; Minor: Philosophy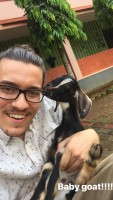 "The time I have spent in Aymanam has been the greatest offering I have taken advantage of from Stonehill. This year is a once in a lifetime growth experience. Every day is filled with new challenges, as we live without the traditional comforts of America. You have a truly authentic experience with a new culture. You are fully immersed in a fantastic community that wishes to share everything with you. Outside of school you get to enjoy social events, visit students, and dine on Indian cuisine. I spend most days teaching English to students from grades 4-9, and am learning something every day from each one of them. The Stonehill Service India year is something anyone at Stonehill looking for a new adventure should consider."
Elizabeth 'Lizzy' Revay '18, Majors: Early Childhood Education and Psychology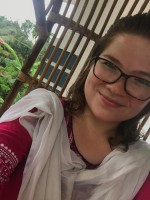 "Teaching at Holy Cross School has been an amazing experience, everyday is filled with laughter, love and learning. The students here can make you laugh on even your worst days, there is a ever present love of community and learning present in each classroom, and learning here extends not only to the students but to us as teachers and volunteers. I often question who is learning more, me or the students. But our days do not end as the final bell rings, the other half of the day is having tea with teachers and students, playing football (soccer) or cricket with the other residence of the seminary and the neighborhood kids, and going to religious ceremonies. Being involved with such experiences and in such a different culture I have been given the opportunity to not only see how other people live around the world but also examine my own, American culture. Never before have I been so immersed in such a caring community, which as it turns out is the best place to grow!"
2017-2018 India Corps
Marissa Jordan '17
"Most of the time I find myself learning just about as much as I teach. The kids all have such a curiosity about where Molly and I come from and how we live our lives in America, but they also have a strong desire to share their culture and way of life with us as well. We have definitely become members of this small and extremely tight knit community. I personally feel blessed to now be able to call this place home. The students' high spirits and thirst for knowledge makes me feel that what I am doing is worthwhile. Although, while I am supposed to be the one serving this community, I feel as if the community has done an ample amount of serving me. We have people here that we are starting to consider family who watch over and care about us. They always are willing to share their way of life with us and genuinely love to see our assimilation into it. I've found that their life here is both the same and different as our life at home, it just depends on what you're focusing on. While I've only been here for a short time, I have learned more than I ever would in a lifetime and I will be forever grateful to Stonehill College and Holy Cross School of Aymanam for giving me the chance to serve in this remarkable community."
Molly Powers '17
"A year of service is many things. It is a change, a challenge, a learning opportunity, a beautiful insight into a new community and so much more. This year in India will have taught me more about life than I could have ever imagined. Having stepped into a radically different culture, I am constantly learning to love and appreciate the different ways people across the world live their lives. I am exposed to new ideas, traditions, and activities almost everyday. As a teacher, I certainly learn as much from my students as they learn from me. The students of Holy Cross School Aymanam will forever be a part of who I am. Their humor, their smiles, their tears, their outlook on education will all become solidified in my memory, and will change the way I see the world. While teaching is no walk in the park, it is an incredibly soul-fulfilling job. I am eternally grateful to the Stonehill Service Corps for providing these extraordinary opportunities, and the global community is grateful for their dedication to service in all corners of the world!"
2016-2017 India Corps
Dan Gordon '16
"In my time teaching English at Holy Cross School in Aymanam, I have donned the hat of student as well as instructor. Every day I get the privilege of working with students that will challenge me and force me to constantly think on my feet. Large classes of students learning how to speak English as a second language certainly calls for a challenging days work, but what makes everything worth it is seeing the energy and enthusiasm they bring to our school every day. Besides academics, our days are filled with learning about local traditions and culture, meeting our ever-curious neighbors, and experiencing all the incredible beauty and diversity that India has to offer."
O'Shane Morgan '16
"Every day I get to witness the joy-filled community that is Holy Cross School – Aymanam. Teachers and students are constantly engaging in the pursuit of academic excellence and I'm happy to play a role in their pursuit. When I'm not at school teaching History, Politics, or Geography, I spend most of my time tending to my garden, learning how to play cricket, helping with our livestock, and cycling around our village. By socializing with everyone I meet, I'm learning so much about the culture, the traditions, and the issues that shape the community I'm serving. Some of my favorite moments are seeing my students performing at the local temple or engaging in traditional dances during festival holidays. I am grateful to be part of a community that helps students develop their talents both inside and outside of the classroom, rooted in the holistic values of compassion, tolerance, and concern for people in poverty."
Sarah Dunsing '15
"My days at Holy Cross School were spent with eager students and a heart-warming staff. Taking on a position I have never experienced was an exciting challenge with benefits that will last a lifetime. I felt a wave of creativity come over me when teaching my students and the adults trying to improve their English. Not only did I use that creativity for my every day schedule, but also to prepare and control any last minute arrangements. I looked forward to the end of every day, sitting with my students waiting for their rickshaw home, as they shared their curiosity about America, and showed off their artwork and other accomplishments. I was able to grow closer to my students and the staff by immersing myself into our community, and it wasn't long before I found myself adopting their culture and habits."
Responsibilities
Corps members teach English and commit to the program's principles of service, spirituality, community and simple living.
Affordability
Program resources will cover the cost of room and board, medical insurance, and travel expenditures to and from the destination country at the start and end of the program. A modest monthly stipend and in-country travel subsidy will also be offered.
Student Loan Deferment or Forbearance
This service experience may also allow participants to defer their student loans during their time in service. For student loan deferment or forbearance information, contact Eric Newnum, Associate Director for Loans, at 508-565-1394 or by email at enewnum@stonehill.edu.
Program Requirements
The India program is open to Stonehill College alums of the current graduating class and the prior two graduating classes. No professional teaching experience is necessary, but those with a strong interest in teaching are encouraged to apply. English is the only language requirement.
Orientation and Training
Corps members participate in a four-day orientation program at Stonehill College immediately prior to departure. On-site orientation is also provided upon arrival in India.
Learn More
Follow Lizzy's blog or email her at ehrevay@gmail.com. Email Trey at tblaskey96@gmail.com. Also check out Marissa's blog and Molly's blog for more great stories!