Stonehill Service Corps - Dominican Republic is a cultural service experience in which Stonehill graduates live in La Romana, Dominican Republic and work at Hogar del Nino, a daycare and school that serves over 1,500 local children aged newborn to 18 years old.
The program is open to graduates of Stonehill College in the current year and previous two years, and runs from late July through June.
Roles & Responsibilities
Corps members primarily teach English to children in pre-K through high school, depending on Spanish fluency, and often coordinate extra-curricular programs. One Corps member is usually placed in the school for the hearing impaired which is located on-site. Graduates of any area of study are encouraged to apply.
Corps members commit to living by the program's core principles of service, community, spirituality and simple living.
Affordability
Program resources will cover the cost of room and board, medical insurance, and travel expenditures to and from the Dominican Republic at the start and end of the program. Meals are provided at Club de la Costa where the Corps members reside. A modest monthly stipend of $120 and a subsidy for in-country travel of $500 are also provided.
Student Loan Deferment or Forbearance
This volunteer experience may also allow participants to defer their student loans during their time in service. For student loan deferment or forbearance information, contact Eric Newnum, Associate Director for Loans, at 508-565-1394 or by email at enewnum@stonehill.edu.
Requirements
The Dominican Republic Corps is open to Stonehill alumni of the current and previous two graduating classes who have some Spanish fluency. No prior teaching experience is necessary, but an interest in working with children is required.
Orientation and Training
Corps members participate in a four-day orientation program at Stonehill College immediately prior to departure. Orientation and job specific training will also be conducted onsite at Hogar del Nino upon arrival.
2018-2019 Corps
Amanda Blair '18, Major: Spanish; Minors: Communication, Gender & Sexuality Studies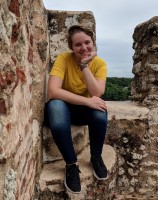 "I am absolutely loving life with the Stonehill Service Corps. I have formed so many close relationships both in and out of school, and I find something fulfilling in every day. I teach English to grades 9-12 in the secondary school as well as grades 4-6 in the deaf school. I also run an extracurricular middle school recorder group four days a week. It's certainly given me a few headaches. My youngest student is eleven years old, as I initially did not want to work with young children, but I nonetheless find myself hanging out at primary recess just for fun. The kids here are just so friendly and curious you can't help but love them! "
Azariah Boyd '18 , Major: Biology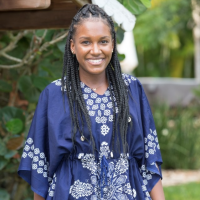 "The opportunity to serve with the Stonehill Service Corps – DR has been a blessing to my life thus far. My comfort zone has been altered drastically yet, I have found that is where growth happens. Committing to doing a year of service was difficult for me however, the support system at Stonehill and in the DR made it easy. Currently, I am relearning the importance of service and what service means to me.
Serving at the Hogar requires me think on my feet, while at the same time, give extra consideration into everything I do. I teach English to 4th through 8th grade with group sizes ranging from 4 students to 8 students. However, spending time with students outside of class during breaks are my favorite parts of the day. Here I am able to play games, provide extra help with English or even braiding their hair. I enjoy being a resource and being present throughout the day. Choreographing for the Dance Club co-curricular allows me to teach different styles of dancing such as, Latin Pop, Hip-Hop and Afro-beats. Music and dance are important to me and it has been exciting learning some of the Dominican culture through this passion. Although I am a teacher, I learn from students more than anything. Daily I am confronted with my privileges, discovering things about myself and the world we live in."
Julia Holland '18, Major: Marketing; Minor: Studio Arts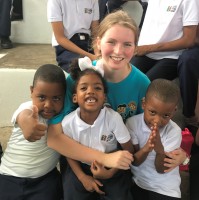 "I thought that it was important to have an "abroad" experience before I joined the real world. I researched many different service programs. I decided that this program was the best fit for me. I was really attracted to having the opportunity to practice Spanish and the support of Stonehill.
At the Hogar, I am an English Teacher in the preschool for both the hearing and deaf schools. I usually work in small groups of 8-12 students to help them develop their vocabulary and comprehension. We sing songs, read books and practice pronunciation. I teach about 8 half hour classes a day. I also co-coach volleyball for 5th graders with Maggie. We practice fundamentals of bumping and setting. I really enjoy getting to have fun with students in a relaxed atmosphere.
I love getting the opportunity to practice different languages and work with so many patient and supportive people. I truly feel lucky to get to live in such a beautiful country."
Maggie Kelley '18, Majors: Elementary Education and History; Minor: Spanish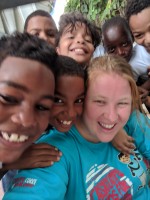 "After my experience studying abroad, the idea of a year of service started to make a lot of sense. As an education major, I was very interested in working with children, and the Stonehill Service Corps in the Dominican Republic had everything I could have asked for.
At the Hogar del Niño, I have the opportunity to work with students in another language and culture by teaching primary grades 1 through 3, as well as grades 1 through 3 in the deaf school. I also work with an inclusive class of 3 grade deaf and hearing students, coordinate volunteers from a bilingual school in La Romana to come tutor middle schoolers in English, as well as co-teach a volleyball co-curricular with Julia. Working at this school and living in the Dominican Republic has changed my perspective and made me a better and more flexible teacher. I can't wait to bring back the skills and knowledge that I am gaining from this year of service to my future classroom, wherever that may be!"
2017-2018 Corps
Lauren Ireland '17, Majors: Elementary Education and Visual & Performing Arts; Minor: Spanish
"When I decided to attend Stonehill College I was very attracted to the school's commitment to service and social justice. As I considered what path I would take after graduation I saw service as a valuable chance to live out that commitment in an even greater capacity. The Stonehill Service Corps has given me the opportunity to join my passion for service and teaching with the support of my alma mater.
At the Hogar del Niño I teach English to students in grades one through four. I also co-coach a volleyball extracurricular to fifth grade students. These roles have allowed me to develop professionally as an educator, adapting the skills I learned at Stonehill to meet the needs of my students. Living in a new country and being immersed in a foreign culture has empowered me outside of the classroom as well. Every day presents a unique challenge be it language, lifestyle, or personal, but with the support of the other Corps members - past and present - and the vibrant community of students and friends we have found in La Romana, I have experienced tremendous personal growth and interpersonal rewards. In addition to meeting incredible people and becoming familiar with the Dominican culture, I have learned a great deal about managing unfamiliar situations, fulfilling difficult commitments, and overcoming personal challenges. These lessons will prepare me for ventures - personal and professional - I take on in the future, wherever that may be."
Sydney Kelly '17, Majors: Psychology and Spanish
"This year, after deciding to forgo my original plan of graduate school, I decided on a year of service. The Stonehill Service Corps was perfect because I wanted to improve my Spanish, immerse myself in another culture, and gain teaching experience. In my time here so far, I've learned so much about the culture, the people, my students and myself. Every day I'm challenged to be a better teacher and community member. I teach English in the preschool, ages 3-6, for 8 classes a day. We sing songs in English and learn different vocabulary words, depending on the lesson. I am so impressed with their ability to learn a second language and how quickly they start to retain it at such a young age. They are a very energetic and curious bunch who love coming to English class, always ready to learn! The teachers here have been very welcoming, whether that's taking us under their wing here at school, or inviting us to events on the weekends. I love spending my free time on weekends going out with them, exploring the La Romana area or spending the day at the beach. I strongly recommend a year of service and the Stonehill Service Corps has been great. My time here in the Dominican Republic has already made a tremendous impact on me!"
Sarah McCracken '17, Major: Business Management; Minor: Education
"During my time teaching English at the Hogar del Nino I have been exposed to so much love. What I enjoy most about my classroom is whom I share it with. My students love teaching me as much as I love teaching them. At the Hogar del Nino I teach in the hearing impaired school to students ages 3-22. I started the year without knowing any sign language, but quickly learned with the help of the teachers and students. The Hogar is a great community and I have learned so much during my time here; I have gained a new outlook on life. I am very grateful for this amazing opportunity to learn Spanish, sign language, and about the Dominican Republic traditions and culture."
Alison Smith '17, Major: Biology; Minor: Spanish
"I was really excited by the opportunity the Stonehill Service Corps offered me to spend a year serving with a community while being able to improve my Spanish fluency. This year I am working at the Hogar del Niño teaching English at the high school level (7th-12th grade). I have five 50-minute classes a day in which I teach small groups of about ten to twelve students from all three of the English levels (beginner, intermediate and high ability). I enjoy this because it allows me to interact with the high school students as well as being able to see the progress of everyone. My students are a very energetic, talkative and loving group and I truly enjoy all of the conversations I have with them in English, Spanish or Sign Language. During the day I co-lead a co-curricular activity with Lauren that is volleyball with a group of about twenty fifth graders. They are a very energetic bunch who are currently working towards mastering bumping and setting so we can move on to spiking and serving. Check out my video testimonial on YouTube."
Our 2016-2017 Corps
Marisa Adams '16, Majors: Political Science: International Relations & Foreign Languages: French/Spanish
"After visiting The Hogar del Niño on two separate H.O.P.E. Spring Break Service trips, I am lucky enough to be spending an entire year here volunteering. This year I am one of two English teachers in the primary school. I have six classes of over 30 students, two each of 1st, 2nd, and 3rd grade. While the classes can be crazy at times, I absolutely love the time I get to spend with my kids who are full of endless amounts of love and energy. Additionally, I am teaching English to students in grades 4-7 of the deaf school. Communicating can be a bit of a challenge at times since I am still learning sign language, but I am blessed to have so much support from the other teachers here. Finally, in the afternoons I coach about 25 students in grades 7-12 who are preparing to run in the PBO's annual marathon fundraiser. It is incredibly rewarding to get to see how all of my students have been learning and growing so far, and I can't wait to see what they achieve throughout the rest of this year."
Haela Booth-Howe '16, Major: Interdisciplinary Health Science
"This year I am teaching English at the Hogar to children ages two to six. Although our classes are brief, I meet with the students several times a week. We sing songs in English and practice a variety of vocabulary words each class. It is such a delight to be around so many smiling, young faces all day. I am also teaching Natural Science classes in the Deaf School every day to students in second through seventh grade. I meet with each grade level once a week and we do activities and experiments based on what they have been learning with their homeroom teacher that week. Thus far I have prepared activies based on the human body systems, animal kingdoms, gardening, photosynthesis, metamorphasis, native species, and more! Additionally, twice a week in the evenings, I teach an adult intermediate-level English class. I have a wonderful group of ladies that are dedicated and passionate about learning English. I am enjoying the unique balance between age levels and capabilities of the people I am working with throughout the day here. This has already been such an incredible learning experience and I am looking forward to all that is to come."
Sofia Przybylek '16, Major: Criminology
"This year I am teaching English to 8th-12th graders at the Hogar del Niño. In the high school, students are broken up into three levels of English and I have the honor of teaching the highest level of approximately 15 English learners in each grade. All of my classes have been working hard to advance their skills especially in regards to reading, writing and speaking. It is amazing to see the progress that each student is making every day. I love getting to know my students and being able to help them express themselves in English. I am also responsible for teaching beginner level English to adults twice a week. These classes challenge me to use my Spanish to effectively communicate English grammar and concepts to beginners. My group is very driven and determined and I am very proud of how much they have learned in a short amount of time. It is definitely a great experience being able to teach such different levels and ages of students. In addition to teaching I have been coaching a coed group of 25 energetic 4th and 5th grade students in volleyball. They have been perfecting their bumps and sets and soon we will work on spiking and learning the positions on the court. I have loved the diversity of experiences that I have been able to participate in, both inside and outside the classroom. I have felt welcomed and loved by students, teachers, and friends and I am excited to see what is next to come!"
Our 2014-2015 DR Corps
Larissa Chassman '14, Majors: International Studies and Spanish
"As a member of the Stonehill Service Corps DR, I am serving as an English teacher at the Hogar del Niño. I teach three kindergarten classes that each have 45-50 students. It's difficult having so many students in one class, but it is amazing to watch the students grow and learn each week. Together as a group this year we are striving to create a curriculum for the English program in the preschool and kindergarten. Every week we create our own lesson plans and materials for the students in hopes of creating a fun and interactive learning environment for our kids. I have also been working in the Sala Cuna, or the daycare area in the afternoons. Soon I will be working in the high school's English honors program as well."
Nina Garambone '13, Major: Biology
"This year I am fortunate enough to return to the Hogar del Nino as a second year volunteer. In tandem with our supervisor, Virginia, I am working on improving the curriculum for the preschool (Nivel Incial) based off the Common Core Standards utilized in the States. In addition, we are here to support all of the teachers of the school and our community of volunteers in the English program. In the afternoons, I work with a group of 30 students in an empowerment program. During this time, we broach a wide variety of subjects such as self-confidence, STI's, professionalism, etc. I could not be happier with my decision to serve a second year here in the Dominican Republic. I have enjoyed watching my students grow and learn from the past year to this one. They are the reason I love to get up for work each day! This has been the most beautiful journey of my life and I cannot wait to see what the rest of this year has in store for us."
Carola Melendez-Rios '13, Major: Neuroscience
"This is my second year here in the Dominican Republic working at the Hogar del Niño, and I couldn´t be any happier that I made the decision to stay. This year I am working on a discipline plan for the Nivel Inicial or the pre-school, which aims to work with teachers and assistants to improve class management in order to improve the education. Together with Angie and another teacher, I am also teaching a class for children ages 6-10 with a wide range of learning and behavioral difficulties where our goal is to improve literacy, conduct and over-all social skills. I am so lucky to wake up every single day excited to go to work to be with the incredible children of the Hogar del Niño. Every day is filled with laughter, heartbreak, hope, strength, and love and I would not change this beautiful organized chaos for anything."
Angela Moskwa '14, Majors: English and Spanish
"At the Hogar del Niño, I volunteer as an English teacher in the primary and secondary classrooms. I co-teach three Kindergarten classes with my fellow Stonehill Corps member Larissa. Our students love learning through singing and playing so we work together to plan lessons and activities that are interactive and engaging for our Kindergarteners. It is amazing how much English they have learned already! I am also teaching 8th and 9th grade English classes. I am looking forward to getting to know my students and help them improve their English through conversations, group projects and games. In the afternoons, Carola and I work with children who have learning difficulties and behavioral issues to improve their literacy and social skills. I am proud of the progress our students have made and will make as the year continues!"
Connielyn Ramos '14, Major: Neuroscience
"During my year here at the Hogar del Niño, I teach English in the Preschool, specifically to about 150 two to three year-old children every morning. In the afternoons, I teach Spanish Reading and Writing in the Deaf School to students in the Preschool, 1st, 2nd, 3rd, and 4th grades as well. While my title may be 'Teacher,' this school is very different from the ones we are familiar with in the United States, and I also find myself in the positions of nurturer, friend, caretaker, and mentor at times. The Hogar is a special place with extraordinary students, and I feel so blessed with the opportunity to see not only my students, but all the children here, grow and learn throughout this year. Additionally, I too am learning and growing just as much as my students are."
Melissa Ulcena '14, Major: Health Sciences
"As a volunteer at the Hogar del Niño this year, I am the pre-school English teacher for about 150 four year-old children. Each class has 50 students and it is my responsibility to create lesson plans and materials for them each week. On Tuesday and Thursday afternoons I work alongside the yoga instructor and teach the kids about nutrition, the importance of being active, and how to make good choices. On Monday, Wednesday, and Friday, I coach the Hogar del Niño's running team. The kids are in grades 8 through 12 and it is a lot of fun to use my passion for running to help these kids stay disciplined and work hard towards a goal. I'm always proud to see their improvement each week and smiling faces post-race every Saturday. My different roles at the school and the range of ages I work with makes each day different from the next and my experience here worthwhile. I couldn't be happier!"
Our 2013-2014 DR Corps
Nina Garambone '13, Major: Biology
"As a volunteer at the Hogar del Nino, I am responsible for teaching English to pre-school students ages 3 to 4 years old each morning. In addition, I teach English in the elementary school, specifically second and fourth grade. Each of these classes contain 30 to 45 students which is different from many classrooms in the states. In addition to being a teacher, we are friends and mentors to students throughout the school, giving love and support whenever it is needed. In the coming months, we will be assisting with the high school English honors program and are soon to begin a women's empowerment group at the Hogar. I have enjoyed each moment with my students and look forward to seeing them grow and learn."

Carola Melendez-Rios '13, Major: Neuroscience
"At the Hogar del Nino I am teaching English to Pre-School (ages 4-5), 1st and 3rd grade as well as assisting Nina in her 2nd and 4th grade classes. The Hogar del Nino is very different then most traditional schools and therefore come very different responsibilities then a normal teaching position. I am responsible for making lesson plans for all of my classes. I teach three groups of 45 Pre-schoolers every morning and 1st and 3rd graders (about 30-40 per class) twice a week. In addition to tearching English, we are responsible for the discipline and care of each and every one of our students which could mean anything such as giving hugs to kids having a bad day or disciplining those who need a firmer hand. Within the next few months, Nina and I will be starting a Women's Empowerment group with the middle school aged as well as high school aged girls at the school. I couldn´t be any happier or loving it more, these kids really could not be more wonderful."

Ramses Montero '13, Major: Graphic Design
"This year I am fortunate enough to be a volunteer, teacher, grant writer, mentor and friend to many amazing children at the Hogar Del Niño school. I teach English to about 120 five and six year olds every morning. In the afternoons, I teach art in small groups in the extracurricular after-school program to first and second graders. Carola, Nina and I are all working with kids from the high school to the primary school on a music project with the goal of releasing an bilingual album showcasing the Hogar´s many talents. I also work with the Patronato Benefico Oriental (PBO), the organization that helps fund the school and many other community resources, as a grant writer."
Related Pages