The OIP is proud to announce Kristen Devoid and Nicholas Howard were awarded the prestigious Benjamin A. Gilman International Scholarship for study abroad during the fall 2012 semester. Kristen Devoid will be participating in the AIFS Sustainable Community Engagement Program in Stellenbosch, South Africa. Nick Howard will be studying poetry, creative writing, and literature at St. Andrews University in Scotland.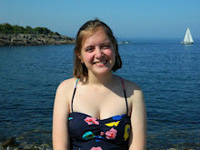 Kristen is a junior at Stonehill, a member of the honors program, and a double major in History and Sociology. Originally from Goffstown, NH, Kristen has chosen to spend her fall 2012 semester abroad in Stellenbosch, South Africa. Kristen will be enrolled in courses at Stellenbosch University and will also be participating in the Sustainable Community Engagement Program, a for-credit service learning course in which she will be working directly with schoolchildren in Lynedoch, a small community outside of Stellenbosch. Follow Kristen's blog here.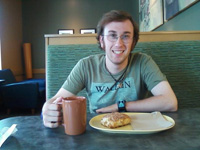 Nicholas is a Senior English major from North Attleboro, Massachusetts. This fall he will travel to the University of St. Andrews in Scotland where he will be studying English literature with an emphasis on the Romantic writers. This summer he participated in Stonehill's SURE program, working with Professor Matthew Borushko of the English department on a project entitled Romanticism and Beauty. Nick has also participated in the Orientation process as a Peer Mentor, wrote opinion pieces for The Summit, and recited his original poetry at coffeehouses. After college, Nick is considering going to graduate school for a PhD in English or joining the workforce in a capacity which puts to use his writing skills. Follow Nick's blog here.