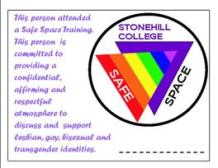 If you self-identify as lesbian, gay, bisexual or transgender and would like to participate in a supportive group that meets weekly on campus, please contact Intercultural Affairs at x1409 or email diversity@stonehill.edu
Consistent with our Catholic identity, Stonehill supports a diversity of persons, of opinions and of cultural and religious perspectives. The College affirms that appreciation of this diversity is integral to the acquisition of personal and intellectual breadth.
Community members who have engaged in Safe Space Training(s) and who wish to identify as allies have been encouraged to display their Safe Space card in a visible location. Individuals who access the Safe Space will be welcomed, encouraged, and supported.
Our Safe Zone program is designed to educate students, staff and faculty who want to serve as allies to individuals who are lesbian, gay, bisexual, and transgender (LGBT). Community members particpate in Safe Zone workshops to better understand information, terms, and experiences of those who identify has LGBT. At the conclusion of the workshop, indivdiuals may choose to post a "Stonehill Safe Space" card on his or her door. This card symbolizes that the person has engaged in conversations to serve as a resource for LGBT community members.
We encourage members of the community who have attended Safe Zone workshops at other institutions to post their cards on their doors. We reserve the "Stonehill Safe Space" cards particularly for those who attended a training at Stonehill because we have conversations unique to our Catholic identity and mission.
Workshops will be offered in the Fall and Spring. For questions, please contact diversity@stonehill.edu.