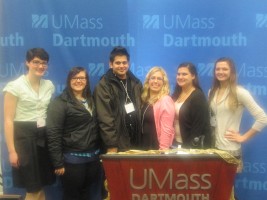 Of the six attendees from Stonehill, four gave presentations of their own.
Sarah Figalora '14, a computer science tutor from Massapeque Park, N.Y., and Praveen Jain '17, a mathematics tutor from Agartala, India, gave a presentation on tutoring strategies for logic-based disciplines.
Their presentation, titled "Alohomora! Unlocking Creative Critical Thinking," highlighted the importance of using visuals and of asking the right questions to encourage students to venture out their comfort zones when looking for solutions.
"I definitely recommend the conference to all tutors," said Sarah. "It was a great way to share ideas and a fun way to see the different practices other tutors use. I learned how to communicate effectively with different types of tutees, how to make use of handouts in my sessions and how to use social media to promote a tutoring center."
Viki Pace '15, an Italian tutor from Everett, Mass., and Morgan Pillar '15, a writing tutor from Monroe Township, N.J., gave a presentation on promotional strategies tutors can use to increase visibility of student support centers.
Their presentation, titled "#promoteyourcenter: How to Network on Campus," covered tools such as Facebook, Twitter, poster sessions, class visits, flyers, emails and other ways peer tutors can take their leadership skills outside of the tutoring context and interact with the student body.
"It was such a fun and amazing experience. Getting the chance to meet and talk with tutors from all over New England was really interesting," said Morgan. "I can't wait to do it all again next year!"
Also in attendance were Kayla Andrade '15, of Rehoboth, Mass., and Meaghan Foley '14, of Salem, N.H., who gave high marks to this year's presenters.
"I attended and presented last year and I got a lot out of it, so I wanted to have that experience again," said Meaghan. "I would definitely encourage tutors to go next year, not only to gain specific skills from presentations, but to connect with other tutors from different places and talk about a range of experiences in the tutoring field."