The Controller's Office has new options to set up your event in order to accept electronic payments through Marketplace or Mobile Pay.

Marketplace can be set up prior to the event and accept payments online.

Marketplace is a program that securely collects on-line credit card payments. Marketplace's stores have collected a wide variety of campus activities including; Theater Productions, Athletic Games, Hope Trip Deposits, Event Registration and many others.
Click Here for Marketplace Request Form
Mobile Pay (Clover GO) is like a check out register and can accept payment during the event onsite.
An easy-to-use electronic reader providing a fast and secure way to accept credit and signature debit payments virtually anywhere your business takes you – using a College iPad. Accept payments on the go.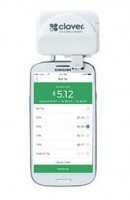 Please contact Mary Garland (ext. 1098) or Colleen MacDonald (ext. 1247) for more information.
Click Here for Mobile Pay Request Form