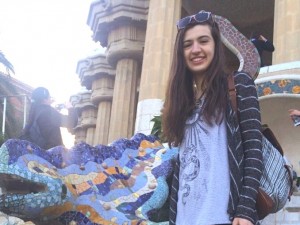 Elise Cavanaugh '18 Receives Fulbright ETA Award
Elise Cavanaugh, an English major with a minor in Secondary Education, was awarded a year-long Fulbright English Teaching Assistantship (ETA) to Taiwan. The Fulbright ETA is a highly prestigious and competitive award that provides opportunities for recent college graduates to teach English in 140 countries…
Alina Shklyarenko '17 Awarded Fulbright ETA to Germany
Alina Shklyarenko, a Psychology and Foreign Languages major with a minor in Business, is spending a year teaching in Germany. Alina says, "Learning Russian, Ukrainian, English, German and French has enabled me to gain a greater awareness of the history, culture and mentality of countries around the world…
Emily Van Auken '18 Named 2016 NOAA Hollings Scholar
"The application seemed overwhelming at first, but working with Dean Almeida and Kris Silva made it feel like something I could accomplish. The process allowed me to reflect on myself and my goals, and now I have a stronger sense of who I am and what I wish to accomplish here at Stonehill and beyond…
Read more
Meghan Maciejewski '18 Named 2017 Goldwater Scholar
Meghan Maciejewski '18, a biology major, has been named a 2017 Goldwater Scholar, one of the most prestigious national awards for undergraduate students. The award comes as a result of her work investigating the molecular mechanisms underlying the behaviors of marine organisms.
Erica Cordatos '19 Receives Fulbright Summer Institute Placement
Erica Cordatos '19 has received a place on a Fulbright Summer Institute in Wales, UK. One of the most prestigious and selective summer scholarship programs operating world-wide, it provides an immersive learning experience that involves both academic and cultural components in the country.
Evan Wolstencroft '16 Awarded Critical Language Scholarship
Evan Wolstencroft '16, a political science/international studies and Chinese studies double major and anthropology minor, received a Critical Language Scholarship, offered through the U.S. State Department, which will allow him to study for eight weeks this summer in Taiwan.
Emily Zygiel '16 Receives NSF Graduate Research Fellowship
A student in the Ph.D. Program in Chemistry at MIT, and a member of the Nolan Lab, Emily recently received the National Science Foundation Graduate Research Fellowship (NSF-GRF), a highly competitive and coveted award. While a student at Stonehill, Emily received the prestigious Barry M. Goldwater Scholarship…
Katherine Morelli '16 Receives Fulbright Award
Katherine Morelli '16, a biology major and German minor, has been awarded the Fulbright English Teaching Assistantship (ETA) and will spend the 2017-2018 year in Germany. Following her Fulbright year, she plans to obtain a master's in sociology while in Germany.
Anna Tallmadge '15 Named Global Health Corps Fellow
Anna Tallmadge has been awarded a competitive fellowship with Global Health Corps. She will spend the year in Kigali, Rwanda as a Monitoring and Evaluation Officer for the nonprofit organization Health Builders.
Exceptionally strong students who have distinguished themselves in their academics, extracurricular activities, and personal lives are strongly encouraged to apply for these prestigious awards. Craig Kelley, Associate Provost for Academic Achievement, and Kris Silva, Prestigious Awards Advisor are available to assist students in the identification and pursuit of awards for which they would be competitive applicants.