Peer Advisors
OIP Peer Advisors mentor Stonehill students considering a study abroad experience. They serve as a resource for information about their host country and for the study abroad experience in general.
Alyssa Cataldo
SYDNEY, AUSTRALIA
Office hours: Mondays, 1PM-3PM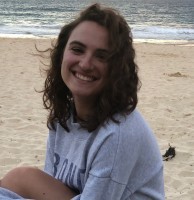 Hi everyone! I am in my senior year as an accounting major.I studied abroad at the University of New South Wales in Sydney, Australia. Although nerves initially prevailed, I soon adjusted to my new environment and used every day of the semester to my full advantage. I was able to travel to and explore new cities within Australia as well as well as venturing off to New Zealand and Indonesia. Traveling soon morphed from one of my biggest fears into one of my favorite hobbies. I quickly learned that Sydney had so much to offer and I soon found many favorites spots within a short distance of my apartment. I was lucky enough to have beach side housing which allowed me to enjoy the beauty of the beach which became part of my every day routine. As an accounting major, I was able to take a mix of business and interesting elective courses. My favorite course was my Personal Finance class as it showed me how to properly budget my finances. I would love to talk to you about my experiences and I am eager to answer any questions or concerns you have regarding your future plans to travel abroad.
Caroline Colbert
ZANZIBAR, TANZANIA
Office hours: Fridays, 11AM-3:30PM
Hi everyone! I'm Caroline Colbert and I am a senior Biology major. In Spring '18, I studied abroad in Zanzibar, Tanzania, where I studied Coastal Ecology and Natural Resource Management. Most of my classes consisted of field excursions during which we learned hands on research methodology. Some of my favorites included snorkeling in the Indian Ocean and a two-day safari in a protected national park. I lived with two host families, who taught me how to eat, dress, and speak like a Zanzibari- I even learned Swahili! My time abroad opened my eyes to a culture entirely different than my own. I was challenged on a daily basis, and I believe that these experiences shaped me into the person I am today. I'm so happy to be a part of this team and to assist you in all your abroad endeavors!
James Coppinger
GRANADA, SPAIN
Office hours: Tuesdays, 1:30-3:30PM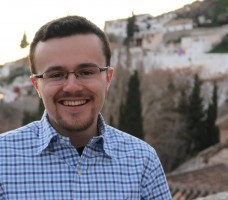 Hi everyone! I am a senior Communication major with a double minor in Business Administration and in Spanish. I spent the spring of my junior year in Granada, Spain and was more than grateful for my experiences. I lived with a host family and spent a lot of time meeting locals and immersing myself in the language and culture of southern Spain. I accelerated my Spanish skills tremendously while being able to explore corners of the world I might not have seen otherwise. Having never been to Europe before studying abroad for five months, I was pretty nervous going into the process. But after talking to Peer Advisors and friends who had studied abroad before, I felt so much more comfortable and confident before I embarked - and I hope I could be that resource for you!
Madalyn Fernbach
COPENHAGEN, DENMARK
Office hours: Tuesdays, 9:30AM-11:30AM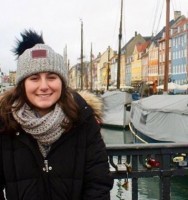 I am a Senior Neuroscience major and I studied abroad in Copenhagen, Denmark in the Spring of '18. I was a part of a program that toured hospitals and attended lectures at medical centers throughout Europe. This program gave me an entirely new perspective on different healthcare systems and was amazing for a premedical student like me. I was fortunate enough to explore 16 different countries through weekend trips and during academic breaks. The focus on academics, the Danish culture, and travel was what made this program perfect for me. I absolutely loved trying new things and meeting and talking with interesting people. I am so excited to share what I have learned and answer any questions about my study abroad experience as both a science major and a varsity student athlete. I can't wait to converse about how getting lost in Europe helped discover so many of my new passions!
Tyler Hanlon
DUBLIN, IRELAND
Office hours: Thursdays, 1PM-3PM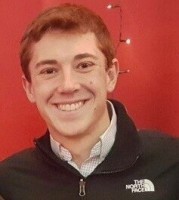 I am a senior Political Science major focusing on American Politics. I studied in Dublin, Ireland in the Fall 2017 semester. I took classes about Irish history, culture and European history. During my time abroad, I had the opportunity to travel around Europe and Ireland. While in Dublin, I lived in an apartment within walking distance of the city center. I'd love to answer any questions and I look forward to meeting you before your time abroad!
Sebastian Patino
SIT/IHP MULTI-COUNTRY
Office hours: Wednesdays, 1PM-3PM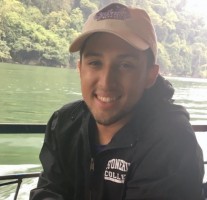 Hi friends! I am a senior Political Science major with a minor in Communications. During the Fall of '17 I was fortunate enough to study in Buenos Aires, Argentina, Hanoi, Vietnam, and Cape Town, South Africa. In my program entitled "Cities in the 21st Century" we had classes on speaking on issues like displacement, environmental problems, gentrification, while looking at the political and cultural areas of the country. We also had a full semester comparative analysis research project that we independently worked on. I couldn't be happier that I had this experience because my semester abroad changed me in so many different ways and it made me so confident in who I am and how I carry myself. I can't wait to talk to you and talk more about study abroad.
Megan Michaud
LONDON, ENGLAND
Office hours: No Hours, Available to Education Majors Upon Request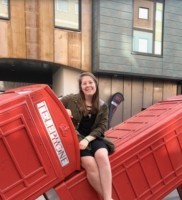 I'm a junior Education & English major. I studied at St. Mary's Univ. in England in the fall of '17. I traveled to many places throughout Europe and experienced many other cultures, while also truly emerging myself in the British culture. The best part of my experience was my internship as Asst. Teacher in a Year One classroom in a Primary School. I learned many things applicable to my major and future and grew personally and learned many life skills. I'm excited to share my experiences and help you become more prepared for an amazing experience ahead!