11th Annual Diversity Conference Develops Change Agents
What does it take to become a change agent for ourselves, our community, and our world?
Participants at the College's 11th Annual Conference on Diversity and Inclusion spent an afternoon focused on that question and more, hearing from a panel of keynote speakers, attending guided information sessions, and taking part in educational workshops.
"Our goal was to meet people where they are and provide them information that enhances their understanding of inclusivity," said Latesha Fussell, the College's Director of Intercultural Affairs. By all accounts, they did that and more.
Eye Opener
"The conference opened my eyes to what it really means to be an active citizen and has inspired me to want to learn more about the importance of diversity in my community here at Stonehill and beyond," said Anastasia Pumphrey '21.
In particular, the breakout sessions—each participant chose two to attend from the nine available—made an impact on Pumphrey. "I attended a seminar about being an active citizen and how small things each day can be considered activism, and it really made me look at things in my own life and how I could improve upon making sure my actions match the ideology I want to spread when it comes to diversity and inclusion."
The seminar, Becoming an Active Citizen Through the Lens of HOPE, was presented by Jaclyn Shuttleworth '20, Kristina Holle '20, and Briana Lamari '20. It approached topics through a Stonehill lens, as did other sessions including Beyond "Stonehill Nice" and Talking to the Manager, and Library Classification Structures: Effects on the Stonehill Community.
Alumni Insight
"I really enjoyed listening to Karen Madison ['94], an alumnus of Stonehill, share her experience from transitioning from the small 'bubble' that Stonehill really was," said  Caroline O'Sullivan '21. "One quote that really spoke to me was the one she presented at the beginning of her discussion: 'diversity is having a seat at the table. Inclusion is having a voice, and belonging is having that voice be heard.' I think that this is something that the world needs to take into account more."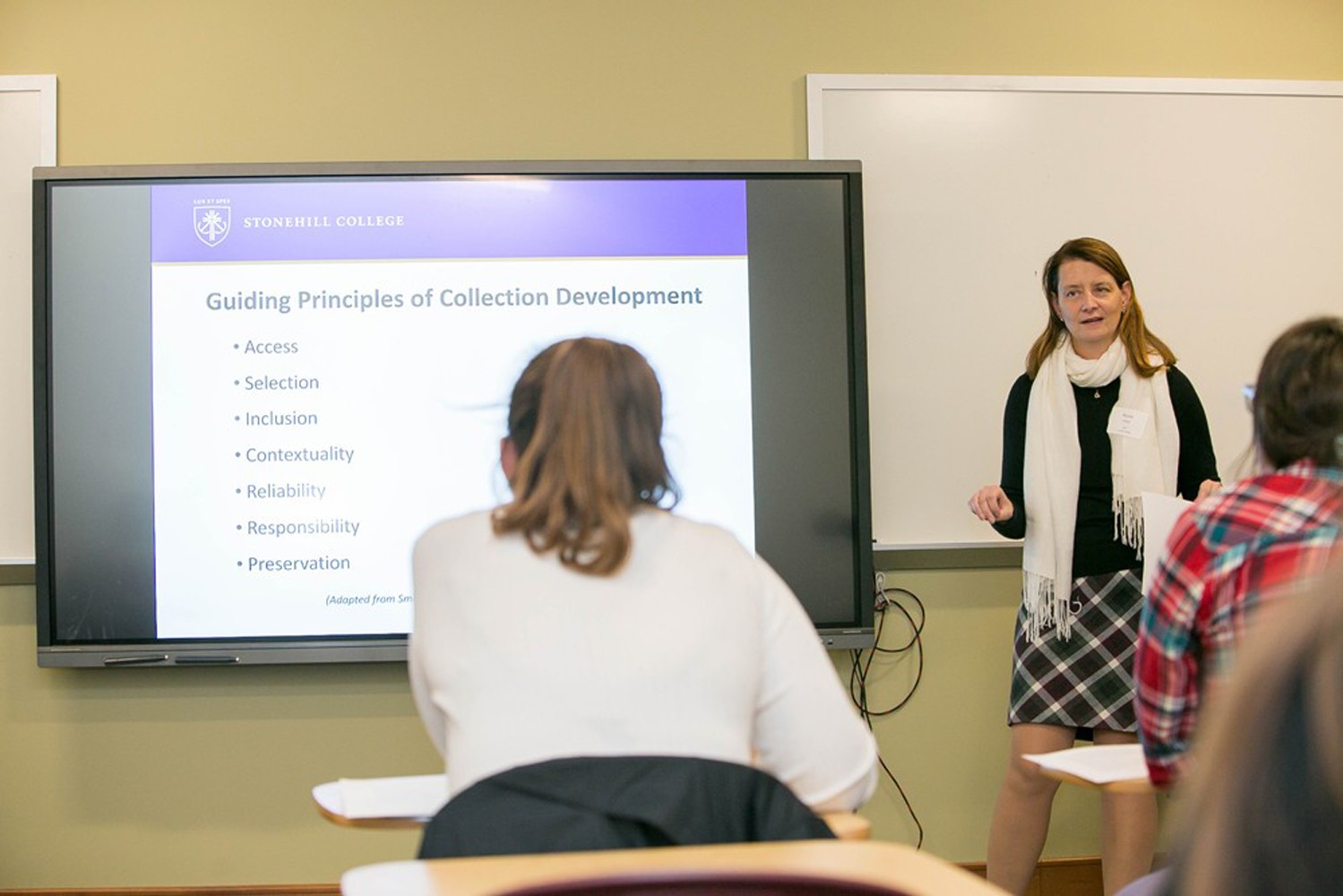 O'Sullivan '21 and Pumphrey attended the Conference with peers from a course on Media Criticism—taught by Associate Professor of Communication Wanjiru Mbure. The class examines inclusion and diversity in U.S. media representations across various identity groups, primarily: gender, sexual orientation, race, and class.
Madison's session, Transitioning from Campus Life to Corporate Life, offered students her real-world insight—drawn from a move to Washington D.C. after Stonehill—on how to navigate being the sole representative of a marginalized community in a workforce.
Get more information on the keynote panelists and breakout sessions at the Conference's homepage.
Terrific Trio
The conference featured a keynote panel addressing how to "start from within" when working to become a true change agent. A trio of diversity and inclusion experts, Tiffany Enos, Patricia Lowe, and Andy Petigny, offered decades of experience from higher education institutions across the Commonwealth on how to do just that.
Enos, a proud Boston native who has spent her career in higher education in the diversity and inclusion arena, currently serves as the Director of the Center for Diversity, Equity, and Inclusion at the Questrom School of Business at Boston University.
Lowe, a lawyer and Executive Director for the Office for Institutional Diversity/University Title IX and ADA Coordinator for Boston College, oversees the University's inclusion and diversity efforts, policies and procedures that ensure compliance with relevant federal, state and local regulations and guidelines.
Petigny, a longtime career counselor and academic support assistant, leads assessment, cultural competency workshops and events, and supports undergraduate Students of Color succeed at Boston College's Thea Bowman AHANA and Intercultural Center (BAIC).
They each shared their experiences in dealing with self-care in the higher-education space, highlighting it's importance in enabling professional and personal success, offering strategies to approach mental health, and connecting effective self-care to solving the challenges faced by Stonehill's campus community.
New Leadership
This year's Conference was the first organized by Fussell, Elizett Pires, Assistant Director for Mentorship & Advising, and Jemima Pierre, Assistant Director for Programming & Training. The trio joined the College this summer, and along with Administrative Assistant Teddi Nguyen Lydon, lead our efforts to create a diverse and inclusive community on campus.
"The OIA was excited to welcome alumni, faculty, staff, and students to an event that will broaden their understanding of inclusivity and diversity," said Fussell. "We hope that each participant learned something new or validated their understanding of diversity."
Learn more
The Office of Intercultural Affairs helps to lead Stonehill College in creating both a diverse and inclusive community. We believe in the inherent dignity of each person and seek to affirm, honor and embrace the differences that shape a more robust living and learning community.

The Intercultural Experience Program is a pre-orientation experience for first-year students that provides a mix of social activities and discussion groups to explore identity as well as a mentor to walk with you as you begin your journey.

This culmination of dance (traditional and contemporary), fashion, and theatrical performance pulls from the talents of the Stonehill Community. Various aspects of diversity are represented through artistic form as we explore social issues that impact our community today. Part celebration, part education—support the many students who work to shape a more just and compassionate community.