The College's 10th Annual Conference on Diversity and Inclusion, hosted on Tuesday, November 6th, was an afternoon of learning, sharing, and dialogue about ways to shape a more inclusive community at Stonehill.
Sponsored by the Office of Intercultural Affairs, the participant-driven conference included a number of educational workshops facilitated by members of the College community, including:
Global Climate Change and Social Justice, which explored the topic of climate change as a scientific phenomenon while also looking at the social, economic, and political implications of the issue.
Assistance and Comfort Animals on Campus: Why They're Needed, which, along with featuring two comfort animals, helped participants develop a deeper understanding in regards to the necessity of comfort and assistance animals and how to support individuals who require them.
Being Everything to Everyone: Perspectives from Stonehill's Current First-Generation College Students, which highlighted the significant hurdles faced by first-gen—a label that cuts across boundaries of race, class, gender, and religion—students, used an intersectional approach to discuss current trends in first-gen support, and give Stonehill first-gen students a chance to share their experiences.
Centering Communities of Color, LGBTQ, and Women's Voices in the Cornerstone Curriculum, a session that showcased reflections from faculty and students on the impact of diversifying the Cornerstone curriculum, and how making diversity the central axis of a class can empower students and change the course's overall story.
What's On Your Mind, a training that fostered discussion on identity, culture, and experience while educating young people about mental illness and healthy coping skills.
Whose Identity? Placing Stonehill in the Context of Southeastern Massachusetts' Native American History, which explored the College's connection with Wampanoag and Massachusetts history, and considered how Stonehill can address contemporary issues facing Native American communities.
To Track or Not to Track? How Ability Grouping Impacts Access and Equity in Schools, a session exploring the effects of tracking—segregation based on perceived ability levels that occurs as early as elementary school—on students, and new more inclusive perspectives on student groupings and academic trajectories.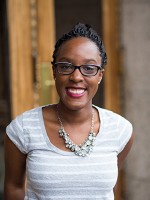 Along with the educational workshops, the Conference was keynoted by Amma Marfo, a higher education professional, writer, and editor based in Boston, MA.
Marfo's Keynote, Rethinking Equity and Justice through a Design Thinking Lens, urged participants to re-think the conversations we have regarding diversity, social justice, and inclusion work. Marfo highlighted how those discussions surround adoption of best practices and replication of strategies that have worked elsewhere, but how they rarely discuss, especially at the outset, how these strategies fit our populations, and what adaptations will be needed for our game plans to feel "at home" at our institutions.
Marfo shared her own design thinking model and a creativity framework, giving participants a greater understanding of what institutional knowledge, creative thinking, and a commitment to exploration can do to promote justice and equity on campus, as well as helped test those strategies out with real issues facing the College.